IAPA award shortlist in summary
There has been an outstanding response from the industry to this year's International Awards for Powered Access (IAPA), with a record nunber of entries received.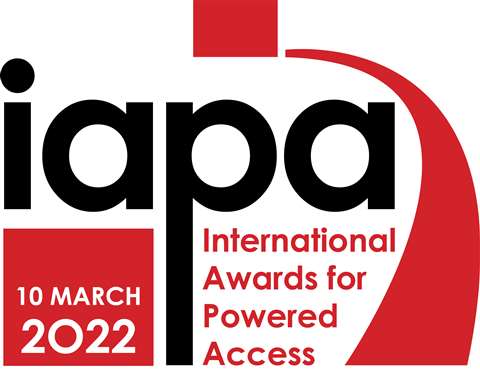 The winners will be announced at the IAPA awards ceremony and networking event on 10 March in London, UK, following the IPAF Summit, which will take place during the day.
Here follows a summary of the IAPA award entries that made it onto the shortlist, including a new category for this year, The Sustainability Award. 
Euan Youdale, editor of Access International and non-voting chair of the judging panel said, "There has been a fantastic response to the 2022 IAPAs. On behalf of the organisers IPAF and KHL Group, I would like to thank all those who have taken the time to enter.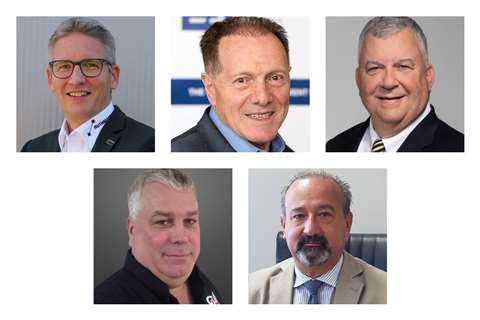 "We received a large number of top-level submissions across the award categories, not least for the new Sustainability Award, meaning the five IAPA judges had a huge amount of high-quality information to take into consideration. Thanks again to them for their hard work in going through all the entries."
For more details about the judges, click here 
Here follows the full shortlist: 
THE SUSTAINABILITY AWARD
Hoogwerkt – electric and digital rental model
Based in the Netherlands, three-year-old Hoogwerkt has developed a fully paper-free online booking platform and has a 100% Lithium-ion powered fleet. Machines are charged with solar and wind energy at Hoogwerkt's locations, while its telematics system monitors travel distance and improves logistics for customers.
JLG – Electric conversion kit
As JLG points out, the investment to convert large fleets to electric could be huge, in the wake of evermore stringent compliance regulations. This new offering from the manufacturer allows customers to 'simply' convert a conventional boom lift to an electric boom lift: reducing acquisition costs, extending the life of equipment and removing CO2 from fleets.
MEC – Leak Containment System (LCS)
This patented LCS system for slab scissor and vertical mast lifts comprises a series of integrated trays that do not interfere with other basic safety functionalities of the machine – including deployment of the pothole protection system, front wheel operations, access to the emergency stop and ground controls, or operation of the static strap.
Nationwide Platforms – Environmental initiatives
With over 13,500 machines for hire, plus delivery and car fleets, reducing environmental impact is a key priority. To achieve this goal, the company has embarked on a series of investment and research programmes, including: new hybrid/electric MEWP fleet and delivery fleet investment, alternative fuels research project, battery management regeneration programme, 'green' depots and sourcing of sustainable PPE.
Riwal – Lifting sustainability strategy
The rental company has embraced sustainability as an integral part of the whole company, including social, environmental and economic factors in its operations and decision making process. It linked its sustainability targets to the United Nations' Sustainable Development Goals (SDG) in creating a 2030 sustainability plan.
IAPA INNOVATIVE TECHNOLOGY PRIZE
CTE – S3 EVO stability system
Developed entirely in-house, the advanced stability system calculates in real time maximum performance depending on the basket load, geometrical configuration and stepless position of the outriggers. Forward and backward stability, wind influence, dynamic and manual forces are all taken into consideration.
EQSS – OverWatch secondary guarding
This Australian-designed system for scissor lifts and vertical masts focuses purely on the movements of the operator and cuts the machine out when the operator moves erratically or into a dangerous position. It uses a LIDAR sensor; a mix of laser and radar technology that continuously detects the operator and their position.
Kiwitron – Kiwi eye
The Kiwi-eye is a camera with artificial intelligence, and able to detect pedestrians and obstacles. It can learn to detect various obstacles and measures the distance from the obstacle and activates safety measures to avoid collision. Kiwi-eye can also slow down the machine to prevent severe accidents.
Nest Rentals (Mills) – Nest Express
The Brazil-based company's Nest Express Stations for low level access equipment are remote self-service rental stations, that allow customers to carry out the full rental process 24/7 for to 20 units. The 'pay per use' system starts from 1 hour and payment can be made by credit card and in the future via mobile phones apps.
Snorkel – 2100SJ mega boom
The world's largest boom lift, when it was launched in 2020, reaches up to 22 storeys and features a number of patent-pending innovations, as well as an industry-leading working envelope. For example, on the heavy-duty chassis, the static axle transformation mechanism enables the axles to be extended while the lift is static.
DIGITAL DEVELOPMENT AWARD
AFI – MEWP Hire app
The UK-based rental company launched the fully integrated AFI MEWP Hire App, which allows users to create a trade account and register their details and browse machines for hire. With a range of features, customers can also request, retrieve, view and accept or decline quotes on selected machines, wherever they are.
Alimak – BIM project
Berkeley Group's South Quay Plaza 4 (SQP4) project at Canary Wharf was one of the first projects at which Alimak was able to use its BIM gallery. The objective was to place construction hoists into a tightly constrained lift shaft, along with an external triplex hoist application, to ensure safe and efficient goods and personnel movement.
Cramo – Equipment Pool
This digital service provides an easy solution for renting and returning lifts on site. Via the Equipment Pool function Cramo customers order a selection of personnel lifts and receive a PIN code to get access to it. Main objectives were to save costs, decrease CO2 emissions and ensure the lifts are constantly available on site.
Manlift Middle East – My Manlift portal & app
The company developed a high-level customer portal and app to provide a digital solution not seen in the region that supports the rental process, including hire, off-hire, track and trace and report breakdowns. Customers can measure the CO2 emissions and fuel consumption of machines and compare electric and diesels.
Nationwide Platforms – myNationwidePlatforms suite
The new myNationwidePlatforms suite provides key functionality needed to allow users to manage their accounts online. From creating or amending orders to making use of telemetry data, the system can also integrate with a customer's enterprise resource planning (ERP) and it accommodates new customers as 'guests' as well as existing account customers.
Serious Labs – PAL Card conversion
Though extensive development, Serious Labs created a scenario within its MEWP virtual reality simulator to allow an operator to renew their PAL Card with the exact same elements as a real MEWP. This involved replicating the 3a and 3b practical training, then tuning them to match the scoring by a skilled IPAF instructor.
ACCESS RENTAL COMPANY OF THE YEAR
Advanced Access Platforms, UK
The rental company has introduced a range of initiatives over the last two years, including its Eco Green drive, including 'green depots', The Apprentice School with a full program for new apprentices, safety initiatives like QR stickers to access a machine's emergency lower procedure, as well its transport safety and environmental drive.
Joly Location, France
The company was instrumental in helping to restore the Notre-Cathedral in Paris that was partially destroyed by fire in 2019. Providing a range of equipment, including big truck mounts, Joly carried out a number of very complex operations, including dismantling scaffolding that was onsite before the fire.
Kranpunkten, Sweden
Long- and short-term operational goals include being the best in the industry in terms of service, machinery and working environment, as well as having the industry's least environmental impact and becoming completely climate neutral. This includes investment in 'green' products but also areas like employee wellbeing.
Mills, Brazil
The company successfully merged with Solaris – they were previously the two biggest rental companies in the region. It has achieved 69% IPAF training market share in Brazil, received Great Place to Work (GPTW) certification, along with Women on board (WOB) and has a strong organic and inorganic growth strategy.
Nationwide Platforms, UK
Since January 2020, the company developed the Harness On innovation to reduce the risk of falling, created a multi-channel approach to customer interactions and engagement, developed new ways to deliver training during the pandemic, improved fleet sustainability and educated its management team on managing mental health wellbeing in the workplace.
UKTH Group, UK
Apart from playing a major role in supporting key workers and charities throughout the pandemic, the company saw huge growth in equipment, employees, vehicles and depots, supported the opening of sister company Plant Transport Management and developed new training courses in engineering, PDI, familiarisation and mental health.
CONTRIBUTION TO SAFE WORKING AT HEIGHT
Genie – Online training
The manufacturer delivered free online MEWP supervisor training beyond the pre-planned OSHA National Safety Stand Down Week, throughout May last year. As part of the Safety Week Genie provided in-person Lunch & Learn safety events on steel erectors jobsites across the US, videos containing short safety tips, shared on social media, and the creation of a Safety Week-specific website for equipment operators.
Halo4Safety – Halo protection helmet
Halo is an attachment that secures onto a safety helmet and alerts the user of potential hazards from above or behind, when working at height. It alerts the user of potential hazards with an audible alarm. When the unit detects no movement the audible alarm stops until it detects movement again.
Hinowa – Safety devices and components
The manufacturer's automatic boom extension control for raising/lowering the boom on its TeleCrawlers TC13 and TC22 spiders, means the operator does not need to worry about basket load and extension at the different heights. Also new are the cable anti-entrapment system, and the new DSE (Dual Side Entry) basket option.
Nationwide Platforms – Safety initiatives
Nationwide adapted its MEWP Masterclass from classroom-based programme to a virtual class through the pandemic, set up a customer and supplier collaboration project to safely access false ceiling hatches in a hospital, digital pre-use check forms to make them faster, easier and more robust, and introduced the visual Remote Assistance (VRA) video chat to help customers with technical issues.
PRODUCT OF THE YEAR – SELF PROPELLED BOOMS & ATRIUM LIFTS
AlmaCrawler – B1890 EVO Quick-Pro tracked boom
Part of the new Billennium Series of 'spiderbooms', the model's XXL undercarriage adjusts from 79cm to 139cm width. Sensors provide accurate measurement of the undercarriage extension to 1mm. The ATS System guarantees constant tensioning of the track, while the patent pending SPS System allows the machine to drive at up to 9m working height within +/- 10° longitudinal inclination.
Dingli – BT30RT telescopic boom
The model has a range of significant features, including a 30.3m working height combined with 454kg SWL and horizontal outreach of 23.4m. Gradeability is 50%, while gross weight is a relatively light 18,100kg. The lowered engine and component design, includes a 100% hydraulic differential lock system. The series has 38 international patents.
Haulotte – SIGMA 16 articulating boom lift
The Sigma 16 and Sigma 16 Pro electric models offer high up and over clearance and excellent outreach. The jib, with horizontal rotation ensures precise and safe approach without repositioning the machine. The two simultaneous movements and a ultra-fast elevation speed are also features for this compact outdoor and indoor product.
JLG – 670SJ self-levelling boom
The 20.36m platform height 670SJ can navigate rough terrain, driving at full height with full functionality, and has the ability to work on slopes up to 10 degrees. It means there's no need for cribbing or grading the job site prior to work. Horizontal outreach is 17.40m, while restricted basket capacity is 340kg, accompanied by an advanced control system.
Platform Basket – RR9200 railway unit
The new RR9/200 boom lift is extremely light and compact and can be transported using a standard pick-up trailer and driving licence. Its maximum weight is 3.5 tonnes, and it can work up to 9.5m height with 200kg and two people in the basket. It can also be used for non-railway work using its tracks.
Snorkel – A46JRTE electric boom
The four-wheel drive 16.3m working height machine has three 111Ah lithium-ion battery packs as standard. An integrated BMS significantly reduces running costs, while a high frequency smart 50A battery charger keeps the machine charged. It has an oscillating front axle and gradeability of up to 45%.
Teupen – LEO39GTplus spider lift
Characterised by its unique boom design and increased platform capacity of 400kg, the completely new boom design is unique in the spider market, enabling an impressive work envelope with great outreach at high basket loads. The new jib allows 2 x 220 degree basket rotation, and boom can operate in a negative working area up to 13.15m.
PRODUCT OF THE YEAR – SCISSOR LIFTS & VERTICAL MASTS
Airo – XL20RTE Superdeck scissor
The pure electric machine includes driving at maximum working height of 20m with basket load of 700kg (up to six people). The variable tilt sensor allows lateral inclination of 4 degrees up to 10m, 3 degrees between 10m to 13m, and 2 degrees above 13m. Two 1.5m deck extensions offers up to 7.4m platform allows capacity up to 750kg. Proportional lifting and lowering with just one lifting cylinder.
GMG - 94-ERT Ultra Deck scissor series
Direct electric A/C drive and coupled with GMG's I-Power system, provides an emission-free machine. The scissor series has a 33ft, 46ft and 60ft platform height. The Electric Powered scissor lift addresses the challenges of large rough terrain scissors on the jobsite. With a GVW of up to 20,000 pounds, it has independent drive, using I-Power.
Haulotte – Pulseo electric RT scissors
The HS15 E and HS18 have gradeabilities up to 45%. The oscillating axle and 4-wheel drive complements the manual differential wheel lock and provides extra traction, getting the machine in and out of challenging terrain. The models can work on slopes up to 5° with outriggers and can lift up to 750kg and up to 4 persons. The platform is 7.40 m long (19 ft) when both extensions are deployed.
JLG – DaVinci all-electric scissor
This 19ft lifting height scissor, with 275kg in the basket, has seen all unnecessary parts removed, including all hydraulics, and replaced with electric components, and requires virtually zero maintenance. Energy is recovered while platform descends, while quick, 30-minute charge leads to hours of productivity. The DaVinci GO app provides real-time platform information.
PRODUCT OF THE YEAR – MAST CLIMBERS/HOISTS
Elevek by CF - SL20 all-in-one tower crane elevator
The all-in-one solution assists storage, transport and assembly of the elevator. A 30m-high fully configured unit can be stored in a container, with pre-assembled elements. Several units can be stacked for transportation. The same container can be installed as the base structure to support the vertical work of the machine.
Fraco (Torgar) – PL-20 EXT 2V
The new Torgar transport platform provides multiple options with one machine. The cabins are modular and interchangeable, rather than having different cabins with different characteristics and capacities. It is part of a range-wide initiative to streamline manufacturing, allowing customers to buy the minimal amount of equipment.
Maber – MBA2000-EU construction hoist
With the experience of larger units, the manufacturer developed this unit with 2,000kg capacity and running speeds between 40 and 54m/min, following requests for quick transport and installation features, plus a large C door to load on the long side of the mast, remote connection and modularity.
Scanclimber – Glide Rail
The Glide Rail is installed on the mast and can move up and down to any desired height and can support a payload of 600kg. Using a mast climber equipped with a glide rail reduces the requirement of a standard crane significantly, thereby reducing the waiting periods and downtime.
PRODUCT OF THE YEAR – VEHICLE/TRAILER MOUNTED
Dinolift – 230VTH hybrid truck mount
The new 3.5 tonne vehicle mounted diesel electric hybrid unit has a 23m working height with safe working load of 230kg. All electric lift operation is possible thanks to a 5kWh LiFePo battery capacity for a typical day's use. The 23m working height and 23m outreach machine is designed to be lightweight with high strength steel and easy to use.
Multitel Pagliero – MZ 350 truck mount
The 35m working height machine is very compact at less than 7.49m length and 2.3m width. The high load capacity of 400kg and large basket up to 3m x 0.9m is available on the extendable version. Innovations allow 17m up and over and a jib that allows the operator to work behind the obstacle. Outreach is up to 20m with a stabilisation area of just 2.9m.
Socage – ForSte 24D Speed truck mount
The 3.500kg GVW model is an innovative double-articulated truck platform. It is fitted with automatic stabilisation and automatic closing, even from the basket. It has 23.6m working height, 12.3m outreach and a large load capacity up to 230kg. The new hydraulic installation and control console allows smooth and proportional movements.
IPAF MEMBER-ONLY AWARDS
IPAF Training Centre of the Year
AST, Germany
Mills, Brazil
Nationwide Platforms, UK
UKTH Group, UK
IPAF Training Instructor of the Year
Anna Sarah Costa Morais, Mills
Rob Foster, 2 Start
Phil Drayton, Nationwide Platforms
ACCESS INTERNATIONAL/IPAF LIFETIME ACHIEVEMENT AWARD
To be announced at the awards ceremony.
ACCESS PHOTOGRAPH OF THE YEAR AWARD 
The photo of the year award is still open for entries. There are €750 and €250 cash prizes for the winner and runner-up, respectively, provided by award sponsor, UK-based specialist film and TV access equipment rental company, MAS. Both will be announced at the ceremony. Visit the awards website to enter before the 28 February deadline.
NEWSLETTER
Delivered directly to your inbox, International Rental Newsletter features the pick of the breaking news stories, product launches, show reports and more from KHL's world-class editorial team.
CONNECT WITH THE TEAM
CONNECT WITH SOCIAL MEDIA