How Zeppelin Rental is collaborating on e-procurement
Zeppelin Rental is working on a project to integrate its fleet offering into its rental customers' e-procurement platforms. Belinda Smart spoke to Lars Schmitt, Zeppelin's Digital Product Owner for e-procurement, and Benjamin Hoeck, Director - Digital Business and Partnering.
Sparked in part by investment in e-commerce driven by the pandemic, the digital transformation in construction and equipment rental is being widely observed.
Within that, an important area for construction companies and other rental customers is e-procurement - the online purchase of products, equipment and services. For rental, where transactions concern both physical products and services, e-procurement presents challenges: for example, how do you factor in intangibles such as maintenance or service into an online purchase?
German-based Zeppelin Rental is currently grappling with such questions. In fact, in early 2021, it created a new role specifically for that purpose. Lars Schmitt was appointed in April as Digital Product Owner for e-procurement. He brings relevant B2B e-commerce experience across a number of sectors to the role and is also looking at e-procurement and related topics via a PhD at the Technical University of Munich.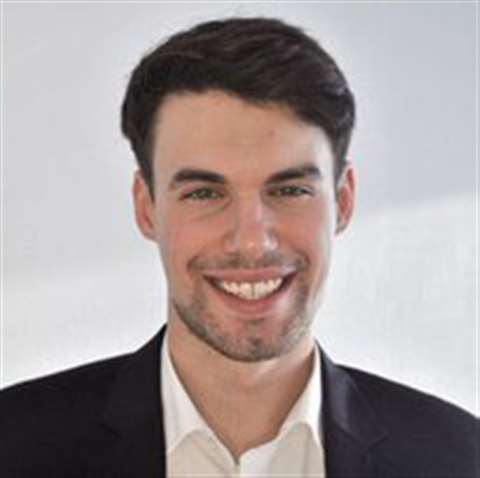 Benjamin Hoeck, Zeppelin's Director Digital Business and Partnering, tells IRN that while the company has been harnessing feedback from its customers to develop solutions for many years, Schmitt's recent appointment is significant.
"You need a dedicated person who can drive these projects; someone who can be a single point of contact when customers request new digital features. Lars brings fresh perspective, having worked with other industries, and he also has the ability to bring diverse stakeholders and ideas together," he says.
Schmitt tells IRN the project and related research "has looked first at how digitally enabled Zeppelin's large customers are when it comes to procurement, and secondly, what areas does Zeppelin need to develop to be prepared for widespread uptake of e-procurement."
The project, which is being undertaken by Schmitt and his colleague, Antje Baumann, encompasses larger rental customers in Zeppelin's home market, Germany. (The company also operates in Austria, Czech Republic, Denmark, Slovakia and Sweden).
"We've conducted a large number of interviews with customers," Schmitt says. "Typically, we're focusing on large customers because they are proactively investing in these e-procurement systems."
e-procurement drive
Zeppelin sees clear benefits in e-procurement; broadly speaking they encompass efficiency, transparency, and cost reduction on the transactional side. Deeper integration of data, processes aligned with customer systems and improvement of the user experience are benefits for the customer, Hoeck tells IRN.
"For larger organisations, e-procurement reduces incidences of 'maverick buying', in other words the purchase of items outside the company's procurement channel," he says. And for companies with several different subsidiaries – each with a different procurement approach – it helps streamline procurement via a single channel.
It also helps procurement agents to compare different supplier offerings, while other benefits include more efficient communication between buyers and suppliers.
Ultimately the aim is to enable customers using Zeppelin e-procurement "to integrate Zeppelin Rental assets directly into their fleet management system, where they can see the Zeppelin Rental fleet and integrate it into their scheduling," says Schmitt.
"Direct connection of the Zeppelin rental fleet to the customer's procurement system provides an overview of the entire Zeppelin Rental offering. This is then value-added through the introduction of relevant information such as accessories, parts lists or supplementary products."
The e-procurement interface enables customer orders and their site-specific details to be imported into Zeppelin's contract management system and then integrated into upcoming contracts and machine reservation or allocation. These details might include site address, project name, required machines, equipment, attachments and services, rental period and contact person on site.
Connected customers using the interface have a full view of Zeppelin Rental's fleet, he says, including specifications. They can select a desired machine via a catalogue interface and request it directly from the system.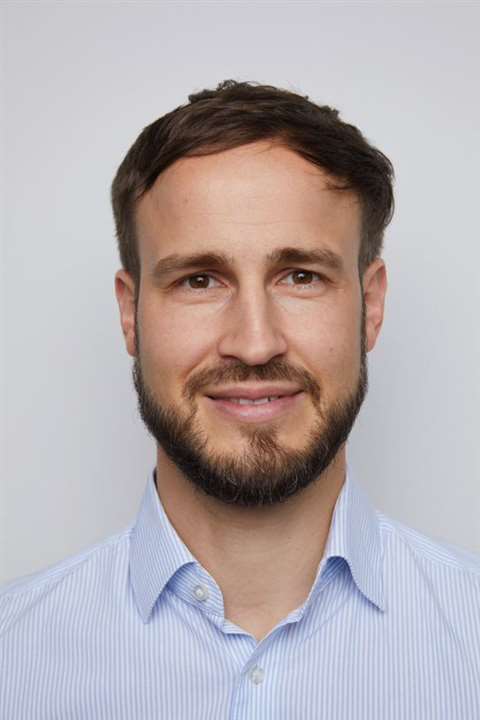 How does Zeppelin's e-procurement work?
Zeppelin offers three e-procurement options, Schmitt confirms, starting with a static customer-specific catalogue file that contains product information and customer-specific price information. "We make this file available to our customers for import into their procurement system - either independently or with the support of their system provider."
The second option is a dynamic catalogue. Also known as a 'punch-out' catalogue, it typically 'pops up' as an icon in the customer's e-procurement interface at the click of a mouse, leading the customer to the relevant supplier's e-store.
"An advantage of this is that the customer needs to be logged in, so when the punch-out happens, customer specific pricing is running in the background. So, for example when 'excavator' and the rental period are entered, the customer specific pricing is already factored in."
The third is a Request for Quotation (RFQ) function, which enables a procurement agent to digitally request a quote from a supplier.
"The supplier creates a quotation and makes it available digitally to the agent, either by e-mail or directly via the supplier portal of the relevant procurement system."
Schmitt points out that customers without an e-procurement system can of course still use Zeppelin's online store or communicate via phone, email or in personal at a branch.
Rental-specific approach
Zeppelin is engaging with both e-procurement suppliers and rental customers to ensure e-procurement processes are optimised.
This focus on optimisation is important, says Hoeck; "If somebody is looking for a machine, say for example their own fleet has no capacity, they're going to turn to rental as an alternative. It's important that their purchasing enquiry is efficient. They only get this opportunity in terms of increasing efficiency if the e-procurement on the construction company side is optimised."
As well as capturing information from rental customers, engaging with technology suppliers has also proven critical. Many of Germany's larger construction companies and infrastructure operators already work with e-procurement solutions from software providers and e-procurement platforms such as SAP Ariba, Onventis, Newtron or OpusCapita.
"Firstly, there are different standards used by e-procurement system providers," says Schmitt. "For example, SAP Ariba uses the cXML standard, while many others use OCI standard (open catalogue interface), so we need to be prepared for these different standards."
There are other challenges in the rental context. "These platforms have mainly been used in the construction industry to purchase physical goods such as construction materials, spare parts, safety clothing or office supplies.
"Existing e-procurement system providers have to date demonstrated a low awareness of the special rental characteristics entailed in e-procurement; and a key observation we've made in terms of rental in the digital context, is that rental businesses behave differently to the classic purchase of physical product," says Schmitt.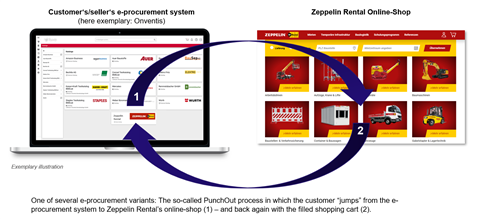 "If we're buying shoes in an online shop, we add them to the shopping cart and we see the price.
However, in the rental context, if you add rental equipment to a shopping cart, the pricing or invoice amount will vary, because the rental period might change over time, or the equipment might come back earlier than expected.
"It also needs to be cleaned and the tank needs to be filled, for example, so additional services need to be calculated. The result is that the initial shopping cart is only an estimate."
The changing availability of rental products presents another challenge. "Most e-procurement systems are made for products that are 'in stock' but in rental the exact product you've selected might not be free at a dedicated rental store in the desired timeslot."
In short, current e-procurement standards are not 100% aligned for the rental application. "For example, most e-procurement platforms don't have an entry field for an input about the rental period; they only account for quantities, and don't allow for a period start and end date to be entered. Another field that's currently missing is for the specific employee who is going to use the item of machinery on the site; that is an important field for rental."
Zeppelin rental roundtable event
Looking ahead, Zeppelin plans to form an industry cluster or roundtable to bring relevant stakeholders into the discussion around topics such as standardisation. Along with customers and e-procurement providers, other rental companies will be invited to engage.
"Our view is that we are not operating alone," says Schmitt. "We believe other rental companies need to join the discussion to come up with some standards for rental companies engaging with e-procurement, as well as addressing other related issues."
Meanwhile a white paper on the findings from Zeppelin's customer interviews, and including technical guidance on e-procurement, is also planned for publication in the first half of 2022.
Zeppelin's approach is to help drive digital transformation for rental and construction support services, primarily through information sharing and partnering, says Benjamin Hoeck.
"We are convinced that e-procurement will not only increase efficiency and transparency for our customers, but also further enhance the quality of our partnerships," he says. "Together, the aim is to optimise data exchange and make our collaboration even easier, better and faster."
Lars Schmitt adds; "We are essentially trying to understand the behaviour of our customers when it comes to digital procurement in order to improve the experience and functionality.
"The project is at an early phase, but we have a feeling that something is starting here. More and more companies are going to be using e-procurement systems. We believe that as a rental supplier or service provider in the construction industry, we have to get ready."
NEWSLETTER
Delivered directly to your inbox, International Rental Newsletter features the pick of the breaking news stories, product launches, show reports and more from KHL's world-class editorial team.
CONNECT WITH THE TEAM
CONNECT WITH SOCIAL MEDIA