How the Pandemic and 5G can spur construction innovation
By Graham Anderson08 October 2021
The increasing adoption of 5G will speed up the digitisation of construction and should bring its benefits to all of the industry, writes Graham Anderson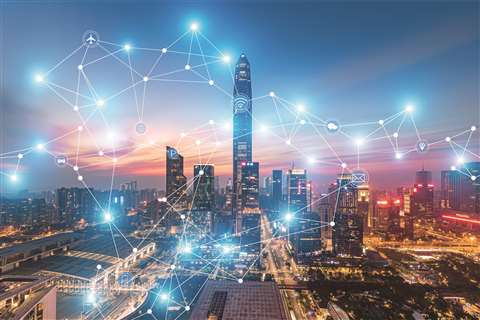 Construction is on the verge of a pandemic and telecoms-inspired revolution that will change the way the industry does business all the way from the site to the boardroom, according to a growing number of international experts.
The industry has long grappled with thin margins, low investment and poor productivity. The Covid-19 pandemic has stimulated many companies to take a renewed look at their practices, a process that is being given further impetus by the ongoing expansion of 5G mobile services, and the impending ending of the old 2G and 3G networks.
How much quicker is 5G?
In simple terms, 5G will deliver huge increases in download speeds coupled with low latency, opening the door to increased innovation all the way along construction's often complex supply chains.
One industry leader heavily involved in such debates is Dale Sinclair, EMEA Director of Innovation for AECOM, the American multinational engineering giant.
Sinclair is an expert in the delivery of large-scale projects and sits on the board of the UK's influential Construction Industry Council, the representative forum for professional bodies, research organisations and specialist business associations in the construction industry.
"We are on the cusp of a paradigm shift in the construction industry. We have been constructing buildings for thousands of years and the process has not fundamentally changed – so change is tough, but it is coming," says Sinclair.
"Many players are just looking at the technology to optimise the way they do things currently. But now more people are thinking about how we can do things very differently."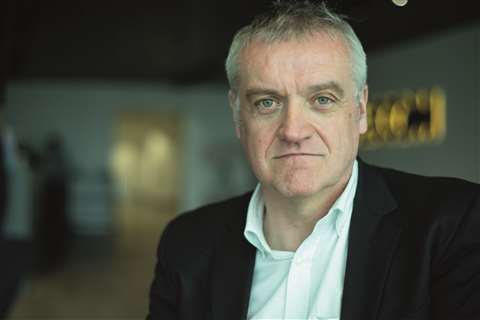 The growth of 5G is not the only reason for such a development, but it is an important piece of the jigsaw and will help to drive changes in behaviour.
BIM Models and the 3D experience 
"For example, we have been doing BIM models for a while, but we still produce drawings. But instead, let's look at the customer experience here – can we offer the client a 3D experience or detailed slices of a model?"
Sinclair believes that pivotal to the sort of structural changes he is talking about will be how the industry uses data, a development that 5G's speed will accelerate. "People are really beginning to get the value of data for the whole life cycle of a project," he comments.
With the next generation of buildings, the data will be available on how they were planned and built, how they are used, and how they can be best demolished and recycled. All of which has huge implications, not just for the industry's efficiency, but also for issues such as maximising sustainability.
"Contractors and their suppliers are using more and more data in the cloud and the benefit from faster connectivity is that it facilitates changes of behaviour," said Sinclair, and he is far from a lone voice when it comes to this opinion.
At the end of last year, US international management consultants McKinsey published a paper called 'Rise of the platform era: the next chapter in construction technology'.
The paper represented the views of McKinsey's Private Equity & Principal Investors and Engineering Construction & Building Materials divisions and argued that the pandemic will accelerate changes that were already underway, especially in data-driven management of projects and companies.
"The Covid-19 pandemic has only served to provide additional urgency to the pre-existing productivity and data-visibility issues facing construction companies...further efficiencies will be unlocked with deeper integration of technology solutions directly on the job site and with predictive analytics leveraging data from connected teams and equipment," said the report.
"Both investors and the industry overall can create significant value by developing analytics and insights platforms that leverage the growing pool of inter- and intra-company data. These platforms will enable more proactive, data-driven management of both individual projects and companies overall."
The potential of 5G-oriented change has inspired a growing list of projects and trials as construction clients, contractors, OEMs and their suppliers alike all grapple with how to exploit the new possibilities.
Volvo Construction Equipment explores 5G
Volvo Construction Equipment (Volvo CE) has been exploring the potential for 5G in construction by testing a remote-controlled wheeled loader. Volvo CE and its Swedish telecommunications partners Telia and Ericsson started the multi-year project – claimed to be the first industrial application of 5G – before the pandemic hit in mid-2019. It involves exploiting the speed and capacity of 5G to test the development of remote-controlled machines while finding out the real-world potential for autonomous solutions.
On a 25 hectare test site, a remote-controlled L180H wheeled loader is controlled from a simulator inside a tent about 100m away behind a concrete wall. The test track itself has a number of physical barriers, uphill and downhill tracks and rough terrain; all designed to mimic the real conditions of a construction site.
The idea was to iron out any problems, before expanding the trial to a larger number of machines with the aim of understanding in detail how 5G will work for industrial purposes when it is rolled out more widely.
The immediate impact is that 5G's more reliable connectivity overcomes the delays that can hamper the previous iterations of remote-control technology, along with far better picture quality for the remote simulator.
The use of 5G will help the development of Doosan Infracore's Concept-X, the world's first unmanned automated and integrated control solution introduced by the OEM for construction, quarrying and mining sites. It can perform work unattended by having drones measure the workplace, automatically analyse the data, establish the work plan and transfer the data to machinery, such as excavators.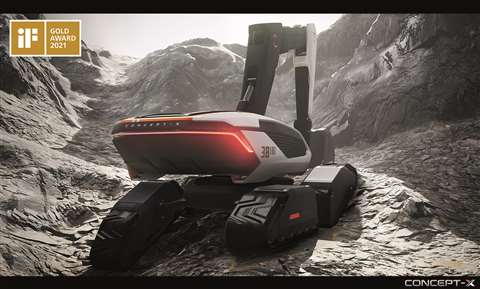 The use of 5G technology will aid the progress of this concept, which recently won a Gold Award at the International Forum Design (iF Design) Awards 2021 for its Concept-X Excavator design. One of only 75 entries to have won a Gold Award from a total of 10,000 put forward from 52 countries, the Concept-X Excavator was chosen by a 98-member jury.
In its statement accompanying the Gold Award announcement, the organisers, iF International Forum Design GmbH, the world's oldest independent design organisation, said, "This concept raises the bar and pushes the bounds of technology with an ambitious vision for the future of construction equipment.
"Unmanned trucks and excavators supervised by drones introduce sci-fi systems and automotive styling to a conventional sector. The possibilities are endless: improved safety, productivity, precision and quality."
Impact of 5G
One of the many major contractors exploring 5G's potential is the UK firm BAM Nuttall. The civil engineering contractor, a subsidiary of the Dutch Royal BAM Group, earlier this year joined a government-funded trial.
BAM Nuttall's project is one of nine to receive funding as part of a £28.3 million (US$38.8 million) joint investment between the UK government and businesses to test how to seize and fully exploit the benefits of 5G.
BAM Nuttall will test 5G-powered cameras, drones and sensors at three Scottish construction sites, in Kilsyth, Glasgow and Shetland.
The project, called 5G AMC 2 (Accelerate, Maximise and Create for Construction) seeks to explore how 5G can enable the use of data to maximise productivity of construction processes and track assets.
Similar projects are running in many companies and countries around the world. In Australia, Taylor Construction has been trialling onsite 5G services with partners Cradlepoint, the leading technology firm, and telecommunications company Telstra.
China State Construction Engineering has been overseeing a 5G construction site that includes detailed monitoring of workers' health and using AI to check if they are wearing masks or the right protective equipment.
Skanska's DAQRI Smart Helmet trials
The UK arm of Swedish international contractor Skanska has conducted onsite trials of DAQRI Smart Helmets – professional industrial grade wearable technology that provides users with instant and relevant information, overlaid on their line of sight.
The helmet is wearable Augmented Reality (AR) technology, meaning it provides additional and intelligent information about the world around you, directly in your field of view. It is configurable and can utilise many different types of project data, expanding the possibilities for project teams and clients alike.
Skanska said the initial trial, which is now complete, helped them identify how to use VR and AR on site and that they would be working with more helmets and headsets in the near future.
To date, some in the industry have felt that such technological advances were only relevant to well-funded global engineering and design firms working on major projects, and not smaller contractors. However, a growing number of voices disagree. One is Robert Herman, a construction and property technology expert and CEO of California-based 3D mapping company REscan.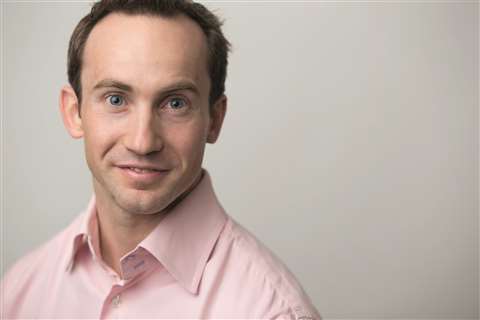 REscan digitises and streams the physical world starting with large commercial real estate portfolios, making spaces remotely viewable, editable, and ready for spatial computing applications.
"Given the near real-time monitoring possibility of 5G, projects will be delivered faster and risks mitigated better by having clear end-to-end visibility and better quality assurance," Herman said.
"The network standard will bring certain tech solutions within reach of SME contractors, for example visualisation using VR and AR will become highly accessible."
Herman also believes that the changes now being seen in construction would have happened anyway, with or without the pandemic.
"I don't think it has anything to do with the pandemic directly. 5G development has been going on for quite some time – just like 6G development is already happening in the background – and it 'just' hit the mass market recently.
"There may be traces of the pandemic in the adoption but that, in my view, is more linked to the entire sector embracing remote solutions, be they IoT, collaboration, AR/VR and so on. To have a great user experience you need a stable and fast connection."
He adds that the 5G currently available is not the one everyone is waiting for – mmWave. The term mmWave refers to a specific part of the radio frequency spectrum between 24GHz and 100GHz, which has a very short wavelength. This section of the spectrum is little used, so mmWave technology will greatly increase the amount of bandwidth available and transfer of data.
The one major downside is that it can be blocked by concrete, steel and glass walls – it does not transition very well from indoors to outdoors, although there are ways round that.
"Though the high frequencies of 5G require a direct line-of-sight, 'fixed wireless' will allow for cellular coverage within buildings and homes, without the use of cables or lines," Herman explains.
"Fixed wireless antennae are placed on top of homes and buildings to communicate with nearby small cells or macrocell towers. While these fixed wireless antennae must maintain line-of-sight with the nearby cells, they are able to extend cellular coverage into homes and buildings."
Why will the network standard benefit SME contractors? "First of all, because the barrier to entry will come down – no longer do you need large upfront costs to provide services and SMEs can be more competitive. Second, because once there are clear standards it will help adoption."
5G digital revolution
Another firm excited at 5G's pan-industry potential is communications provider UK Connect, whose clients include some of the UK's most prestigious housebuilders.
PJ Farr, the company's founder, said, "The door is open for the construction industry to walk through. As technology advances, we are already seeing a shift in the way construction companies are now embracing a more efficient, sustainable and productive new way of working.
"The digital revolution is reimagining building sites. Construction's near future promises self-driving vehicles and autonomous machinery, drones, 3D printing and AR gadgetry. All are designed to help build faster, with less manpower and fewer costly errors."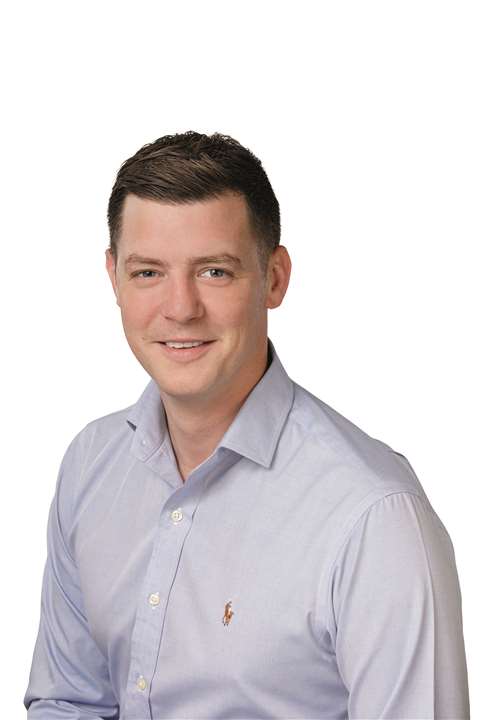 He continued, "In a nutshell, 5G is smarter, faster and more efficient than the current 4G. This latest standard delivers three major elements: enhanced mobile broadband, ultra-low latency for time-sensitive applications, and the ability to connect massive amounts of IoT and rapid-capture solutions.
"Thanks to high bandwidth, combined with 5G's very low latency, the technology is set to improve data capture significantly across a host of project delivery processes."
He said that 5G will also improve the way site teams can view and update project data sets on smartphones, and will encourage further IoT integration with internet-connected sensors used on building sites in a wide variety of scenarios, from monitoring equipment to spotting health and safety issues.
Farr added that being able to more effectively capture and analyse data across a development's life cycle will enable those in construction to make better real-time decisions and enable higher profit potential.
"There's no doubt these tech advancements are powering the next wave of digital transformation in our industry," he concluded.
There will, of course be hurdles to overcome. There are the difficulties posed by the fastest connections being hindered by materials such as concrete, glass and steel unless they have direct line of sight to the antennae.
There are the security concerns that have meant Huawei, the leading Chinese 5G player, has run into serious opposition in many parts of the world.
And then there is the view expressed by some industry leaders that an over-focus on great (but narrow) vertical innovations mean we miss the big picture and lose the opportunity to transform how construction as a whole does business and the chance to make dramatic improvements in productivity, margins and safety.
AECOM's Dale Sinclair argues that the industry has an opportunity to embrace change like never before. Offsite manufacturing, VR headsets, robotics and AI delivering hazard warnings and safety checks could all have a huge impact.
"People are searching for changes that will make a real difference," said Sinclair. "But the real challenge is to rethink how we work on site and how we use the data that will be available to us."
NEWSLETTER
Delivered directly to your inbox, International Rental Newsletter features the pick of the breaking news stories, product launches, show reports and more from KHL's world-class editorial team.
CONNECT WITH THE TEAM
CONNECT WITH SOCIAL MEDIA