How is technology being used in wind energy construction?
Wind energy lifting jobs around the world are on the rise, and new technology is making their construction greener. Niamh Marriott reports.
Renewables are taking on an increasingly important role in supplying electricity within Europe. One of the main sectors in this respect is wind power.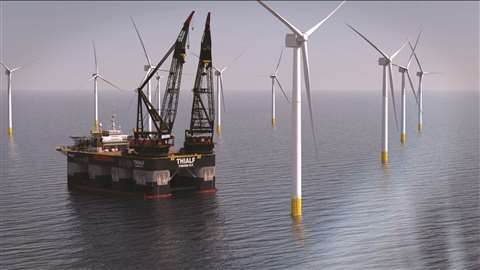 Austrian group Felbermayr and its cranes has been involved in this sector for decades. Recently, the crane and transport specialist has been using its third Liebherr LR 11000 crawler crane to erect Enercon wind turbines in Burgenland to the south-east of Vienna.
Working with a 750 tonne capacity LR 1750/2, the 1,000 tonne capacity lattice boom crawler crane has erected a total of thirty wind turbines. Felbermayr has also just sent an additional LR 11000 to the wind farm to support the rest of the work.
Together, the cranes hoist three steel tower segments onto the waiting concrete towers and then install the gondola, generator, hub and rotor blades. The work is always carried out when the wind conditions allow. Felbermayr has 13 large cranes with lifting capacity classes of 600 tonnes and higher, primarily working on the construction of these massive wind turbines.
Elsewhere in Europe, crane and heavy transport company Transbiaga is working with three new Liebherr LG 1750 lattice boom wheeled mobile cranes on the Gecama wind farm. Owned by Enlight Renewable Energy, it is the largest wind farm in Spain built in one phase.
There, 67 wind turbines with a hub height of 120 metres are being erected to feed energy into the national power grid. These turbines are immense; the components of the concrete towers weigh up to 255 tonnes. The nacelle, including the generator, weighs 140 tonnes. The rotor blades weigh 21 tonnes and are 74 metres long.
"In addition to our three new LG 1750s, there is also an LG 1750 from Grúas Ibarrondo, our partner in this wind project," says Jon Usabiaga, Transbiaga CEO. The turbines were manufactured by the Nordex Group, one of the world's largest manufacturers of wind turbines, based in Hamburg and Rostock, Germany.
"We chose this crane model because of its high load capacity and mobility, factors that meet the needs and requirements of a wind farm."
How can existing wind farms become sustainable?
"While new wind farm construction is vital for the transition to sustainable energy, the maintenance and upgrade of existing facilities will play an increasingly important role in renewable energy delivery," says Mammoet's Ronald Kleinjan. Kleinjan is director at Mammoet Heavy Duty Pavements, which produces Enviro-Mat; a solution to improve the bearing capacity of soil for heavy lifting and transport operations.
The last couple of years have been pivotal for the global wind industry. In 2020 it recorded its best twelve months with the installation of more than 93 GW of wind power.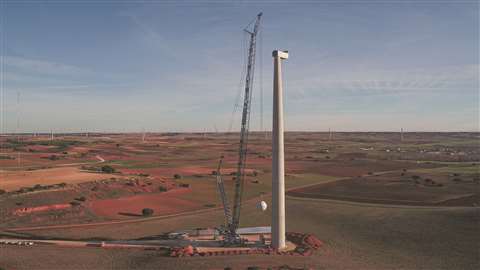 "In Europe specifically, 14.7 GW of new wind capacity was reported in 2020; 80 per cent of which was installed onshore," says Kleinjan.
"Wind turbines typically require preventative maintenance checks two or three times a year to ensure optimum operational efficiency, performance, and to streamline costs. A good quality, modern turbine that has been routinely maintained has an expected lifecycle of 20 to 25 years.
"However, as the turbine ages, maintenance costs increase, and power capacity diminishes. During which time smaller, more effective turbines are introduced into the market, making it necessary for wind farm owners to upgrade or repower facilities to meet the increasing demand for renewable energy."
Ground testing for turbine construction
"It is extremely important that ground conditions are accurately assessed; especially given that no two wind farm sites have the same conditions underfoot," continues Kleinjan.
"There are many methods available to improve the condition of the ground and increase or maintain its load bearing capacity. However, these methods are subject to deterioration of the ground surface – and what lies underneath can further complicate what is already a complex process to execute a project in a safe, efficient, and cost-effective manner.
"Cone penetration tests (CPTs) can provide clarity on what the layers beneath the surface consist of. Mammoet can calculate the pressure exerted at the point the ground will be loaded most heavily - when the crane's boom goes up – and allow for planning based upon the highest level of loading.
"Wind farms are installed in remote or isolated environments, along coastal paths, farmland or on river deltas where the soil is weak and prone to settlement issues, creep or wash-outs. Ground conditions can change over time and are not typically monitored in the same way as other maintenance factors, such as the condition and performance of the turbines. This means that the extent of any deterioration is often unknown, making the specification of maintenance works unclear.
"Understanding the composition of the subsoil and identifying potential weak spots is vital to ensure the safe and efficient completion of lifting and exchange works."
New methods for floating wind structures 
Dutch offshore installation giant Heerema Marine Contractors has developed a new method for installing offshore floating wind structures that doesn't require a wet tow and removes the need for marshalling yards.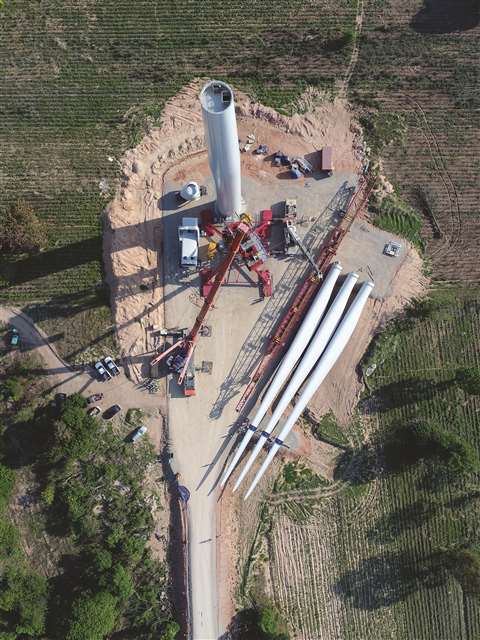 The company says while floating wind farms are seen as essential for the world's energy transition, methods under development can be costly, time-consuming and, ultimately prevent, the commercial upscaling of this new frontier in offshore wind.
"Appreciating the logistical challenges for deployment at scale, Heerema has developed a new method for offshore floating wind installations," says the company.
The "Floating to Floating" installation method was developed to deliver solutions to industry challenges, such as efficient use of resources, and reaching the required scale and rate of installation.
Currently, Heerema says, there are various proposed methods that involve assembling floating foundations (floaters) in port before wet-towing to the field. This presents logistical challenges, as well as there being pressure on the number of suitable harbours, the company explains.
"Using the floating to floating installation method floaters can be constructed on land before being dry-towed on a transport vessel to the location. After arrival, they will be installed using Heerema's floating installation frame to lift the floaters from the vessel.
"Heerema's floating installation frame will submerge the floaters down by weight, removing the need for high-tech ballasting or tensioning systems and reducing installation duration. The bottom foundation work can be executed in parallel by optimising the capabilities of Heerema's semi-submersible crane vessels," Heerema explained.
Jeroen van Oosten, Heerema's business unit director of wind says, "We want to show an alternative solution for installing offshore floating wind, especially targeting some of the bottlenecks for scaling up.
"The crane-supported floating to floating installation method is built on proven technologies from the oil and gas floating platform industry. It allows the saving of tons of steel per floater and will reduce overall project capex," he continues.
Offshore wind: Technology used to improve lifting safety
In other offshore news, Deme Offshore US has contracted Barge Master for a high-tech US offshore wind solution that improves the safety of lifting.
In late 2021, Deme secured a transport and installation contract for the 62 GE Haliade offshore wind turbines for the Vineyard Wind 1 project, off the coast of Massachusetts in the USA.
In addition to the installation of the turbines, the company will handle the transportation and installation of the monopile foundations, transition pieces, offshore substation and scour protection for the wind turbine foundations, as well as the offshore substation foundation and platform.
The company has developed special seafastening releasing technology and new lifting tools in close collaboration with GE and Barge Master. Deme Offshore US, Foss Maritime and Barge Master are set to launch the new concept, which consists of two fully-equipped smart feeder barges, in spring 2023.
The Barge Master uses patented technology, whereby control systems and hydraulic cylinders are supporting a platform and actively compensating for the motions of the barge. The wind turbine components are fastened to the motion compensated platform.
Barge Master has two existing and proven platforms which have been used on several offshore energy projects already. These two platforms and two larger newbuild platforms will be specifically adapted to cope with the needs for the Vineyard Wind 1 project.
NEWSLETTER
Delivered directly to your inbox, International Rental Newsletter features the pick of the breaking news stories, product launches, show reports and more from KHL's world-class editorial team.
CONNECT WITH THE TEAM
CONNECT WITH SOCIAL MEDIA