How are pumps tackling climate events?
Climatic volatility - from drought to floods - is increasingly the norm, and pump specialists are responding with fit-for-purpose products, along with conventional solutions for construction and infrastructure end-uses. Belinda Smart reports.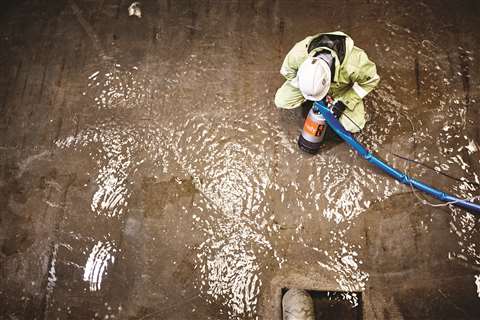 It's no surprise that latest pump releases respond to timely demand factors, from emissions targets to cost efficiencies, but one of the more striking trends is the rise of products that respond to dramatic climate events.
At the time of writing, floods in Pakistan and drought in Kenya were hitting the headlines; but it's a pattern now regularly emerging – with sometimes surprising ferocity - in many countries of the world.
Pumps – typically from the rental sector - have a key role to play in responding to such events, along with related outbreaks such as wildfires, or as they are known in Australia – bushfires.
In fact, Australia, a veteran of climate extremes, is home to some highly specialised products.
Warwick Lorenz, Export Department, Australian Pump (Aussie Pump) tells IRN the company works regularly with Australia's major hire firms including Coates and Kennards Hire; Kennards is reporting demand for Aussie 101.6 mm diesel drive trash pumps for moving volumes of water.
"There are changes taking place in demand and the hire industry has a huge opportunity to help with flood mitigation, firefighting pump and products for farmers in need of moving water."
In addition to working on the home front, the firm is also taking its product and expertise overseas to the US, Sudan, Kenya, India, and Bangladesh.
Firefighting pumps
As much as flood, fire - including Australia's terrifying bushfires - presents a massive challenge in Australia, and in response, 'Aussie' has recently developed a 76.2 mm (3") twin impeller high pressure self-priming fire pump with either petrol or diesel drive that will throw a jet of water of 200 litres per minute, as high as 80 metres vertical lift.
The pumps all self-prime and will lift water through a vertical 7.6 metres, Lorenz says. "That means you can refill your water cart or tanker, feeding the pump from streams, rivers, dams or wells, wherever the water is."
Another recent innovation in the 'Aussie' range is the adaptation of 101.6 mm (4") heavy-duty trash pump into a unit suitable for flood protection.
"It's not the biggest flood lifter we build but, the QP40T 4" heavy duty trash pump with a 10 hp Yanmar electric start diesel engine will produce a maximum flow of 1600 litres per minute, which amounts to nearly 100,000 litres an hour."
The company also has a 203.2 mm (8") heavy-duty diesel drive self-priming trash pump in design stages.
The northern hemisphere is also gaining expertise in dealing with climate extremes; Dutch Manufacturer BBA reports growing market demand caused by climate events.
"In Europe, due to the drought, we see an increasing need for pumps to protect against dryness, and in Africa and Australia and other parts of the globe, we see a high demand on pumps for flood control due to heavy rainfall on areas where it never rained before.
"Our mobile pumps can be used for both applications, so we are ready for the future and global climate change.
Aside from products that contend with extreme weather events, BBA Pumps has also launched new pump models with patented DriveOn technology for the North America market.
The 152.4mm (6") dirty water pump BA150E and the 203.2 mm (8") sewage pump BA180KS are mobile centrifugal pumps powered by a Hatz engine and now come standard with a 1500-hour service interval.
"This results in huge savings on oil, filters, and labour. On top of that, the working conditions for mechanics have been significantly improved. Before, it was hard to reach far down inside the pump to replace filters and oil, but with DriveOn technology everything is right behind the door for easy access, making everyone's job just a little easier.
Based on 30,000 running hours – the average working lifetime of a diesel engine - a BA100K D193 wastewater centrifugal pump with DriveOn technology, extends maintenance intervals with 66% less frequent oil changes and 25% less oil consumed.
How can flood damage be prevented?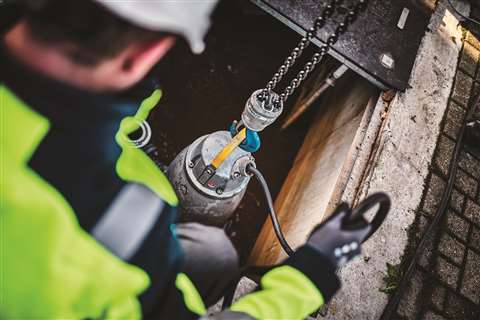 Guy Fitzpatrick, Sales Director at Xylem Water Solutions UK and Ireland, tells IRN unprecedented heatwaves and lack of rain in the UK during the summer – along with higher risks of heavy rain and flooding, have moved organisations to think about pre-emptive prevention.
"As we all know, droughts followed by heavy rain make flooding more likely, and we have been working with many organisations, including local councils, drainage boards and the Environment Agency, to design, install, deploy, and maintain flood prevention and alleviation measures and schemes.
"We have also, as a business, been investing heavily in our rental de-watering solutions, so we can be prepared to quickly meet the needs of our clients, if and when flooding situations occur."
He says rental de-watering equipment is used to transfer water between reservoirs as a drought alleviation measure. This approach has been used regularly, particularly in Scotland.
In terms of flood management, Xylem's Godwin dewatering pump series offers diesel surface water pumps used by rental clients to de-water flood-hit areas, he says.
"We are also investing in electric versions of this product which can be deployed immediately and more sustainably."
He says further smart solutions in demand include Xylem's Lowara GHV booster sets; fully automatic booster sets for water supply, water pressure increase and water transfer in buildings.
Also in demand is the Flygt Bibo 2000 series, including the new smart pump dewatering Solution, Flygt Bibo Alpha. This is the first submersible dewatering pump that adjusts to a flow and head performance field instead of a static curve to meet the needs of any application.
Meanwhile rental digital control systems, such as the Avensor service, a cloud based digital app providing alerts and data driven insights for pump stations and water infrastructure assets, are a focus for Xylem, he says.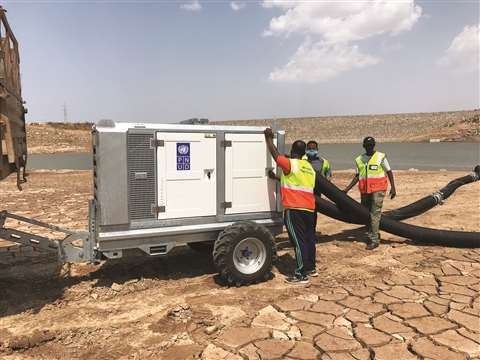 Xylem products that support sewage management during weather events are also attracting demand.
"Our rental fleet features a range of data analytics tools to help organisations to monitor and record flows, sewer evaluation studies, inflows, discharges, and water qualities."
Low-emission pump solutions
While climate events are driving demand, so are construction and infrastructure projects, where environmental factors are critical, UK manufacturer DXB confirms.
"Minimising emissions and costs of operation have suddenly become highly important to the pump hire companies and their clients throughout the UK," says Managing Director Simon Ruffles, "with organisations such as the Environment Agency and Ultra Low Emissions Zone (ULEZ) based organisations such as HS2 stipulating minimum Stage V engines on any equipment brought to their sites.
Stage V engines that generate much of their power at lower RPMs compared with older Stage III pumps, allow pump hire companies to reduce noise pollution through better packaged pumpsets and lower exhaust noise through better silencer systems.
He says DXB Pump has designed a range of pumpsets around the 55kw engine from Deutz, allowing it to offer a highly fuel efficient and emission friendly solution for a very wide range of pumpsets including 12" or 300mm high flow pumps to 50mm high pressure slurry pumps doing over 10 bar pressure on drilling fluids, all from a 55kw engine.
Electric driven wastewater pumpsets
DXB has also launched a range of smaller high pressure pumpsets and electric driven wastewater pumpsets for the rental market; the pumps are designed for fuel efficiency with current cost pressures in mind, the OEM says.
Based around both Stage V emission compliant engines and IEC4 premium efficiency electric motors, the GI140/70 and DE200/100 pumpsets are intended for the construction and general industrial markets such as petrochemical and oil & gas.
Both models utilise the Cornell 3HC Redimprime pumps. The GI140/70 is a lower powered general purpose pumpset capable of a maximum flow of 180m3/hr and maximum pressure of 8 bar, operating at a "very economical" maximum 1750rpm from the Deutz TD2.9 55kw engine.
With a 150mm suction and 80mm discharge, it meets demand from the general-purpose pump market "but with a substantial increase in performance of around 30% in flow and head of around 15% all at Best Efficiency Point (BEP) from only a 45kw Stage V engine or electric motor," David Sterling, Lead Design Engineer with DXB Pump confirms.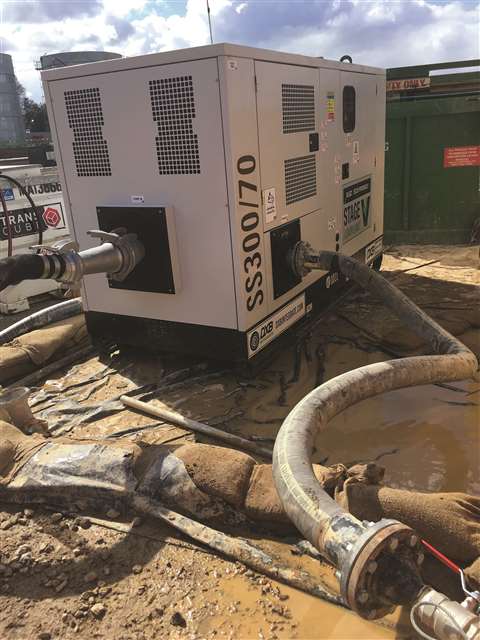 "The new compact GI140/70 was designed around a strict design remit that limited our overall size canopy to our DXB3, which has proved incredibly popular with the construction and equipment hire markets due to its quietness and low fuel burn design," Sterling says.
He adds that by designing the pumpset to operate at a maximum speed of only 1750rpm, "our design team have ensured that the pump operates in the most fuel-efficient region below 1800rpm, minimising fuel consumption, enabling the pumpset to have the lowest carbon and NOx output of any similar sized 80mm pumpset on the market."
The launch of the 80 mm "top of range" DE200/110 pumpset combines the 6X3 pump from Cornell with the Deutz TCD3.6 105kw engine in the same canopy configuration whilst maintaining a high ambient capability with its "HotBox" canopy design, with all exhaust aftertreatment technology mounted in a separate canopy section.
NEWSLETTER
Delivered directly to your inbox, International Rental Newsletter features the pick of the breaking news stories, product launches, show reports and more from KHL's world-class editorial team.
CONNECT WITH THE TEAM
CONNECT WITH SOCIAL MEDIA