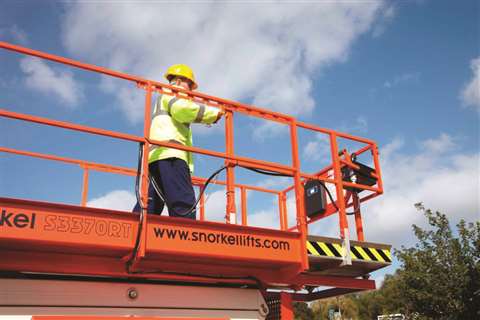 From foam-filled tires as mandatory to active load sensors, the upcoming ANSI standards changes are set to shape the scissor lift market substantially. But not only will the standards affect the machines themselves, they will change the way operators are trained and how the industry will become more global than ever.
"The upcoming changes will signify a move toward more global machines," says Rafael Nunez, product manager of scissor lifts for JLG Industries, Inc. "The ANSI and CE standards will be more consistent, which is beneficial in our ever-evolving global marketplace. For example, the capacity limit load sensors that will be required on AWP platforms are already required in many countries. JLG has a number of technologies in production designed to meet this need on our rough terrain scissors. As with most regulation changes there may be some cost implications that we will need to work through, but we don't anticipate them to be major in comparison to the costs associated with engine technology enhancements."
From the manufacturers ALH spoke with, most say load sense systems and occupancy/capacity limitations will be noticed the most by operators. But even with these updates, having a more worldwide-ready machine makes it easier to sell and use the product.
"Updates to the ANSI and CSA standards in North America will result in a global standards commonality, driving innovation in systems that have historically been only regional requirements," says Michael Flanagan, Genie product manager, Terex AWP. "Manufacturers like Genie are coupling these standards-driven changes with new product and option developments to meet productivity and performance specifications."
Snorkel's CEO, Matthew Elvin, agrees.
"From a manufacturer's perspective, the new ANSI standards will reduce the differences between CE and ANSI products, making it easier for us to serve the global market with a single product line," Elvin says. "From a jobsite perspective, the introduction of load management devices will likely lead to the requirement for further training of operators on the correct loading of aerial lifts to avoid overload issues."
Snorkel, like many, will therefore introduce new product lines or revamp current models. In this case, Elvin nods toward a new line for the company, which will be debuted in North America in early 2018.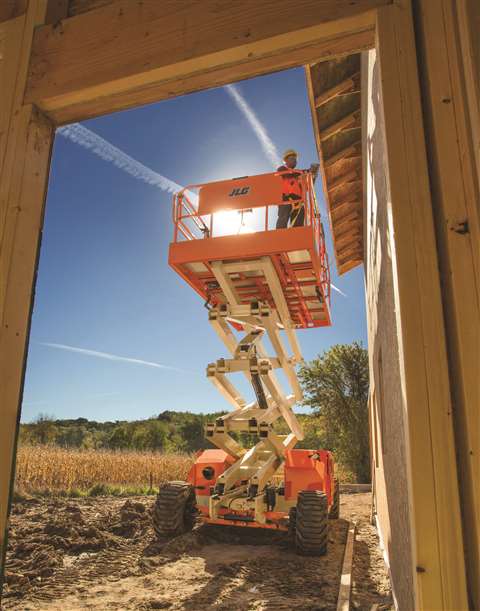 "We are currently in development with the first model of our new twin-deck, high-capacity range of rough terrain scissor lifts," Elvin says. "This will be the first lift in a new family of three models."
Kris Schmidt, product manager at Skyjack, also says the coming years will result in new machines for his company.
"We won't have any new models in the rough terrain range for us in 2017 but 2018 should be an interesting year with the new ANSI standards being implemented," Schmidt says. "The next 18 months looks very promising as a whole with construction building starting to speed up and some very large public works projects well under way. We expect the market to maintain its current pace and look forward to helping our customers grow."
Looking forward
Many manufacturers expect the coming months and years to be positive for the market. Flanagan with Genie says the market will stay positive or flat for the next 12 to 18 months because of "seasonality-induced peaks and valleys."
"Rough terrain scissor lifts continue to perform exceptionally well despite challenging market conditions," Flanagan says. "Similar to telehandlers, rough terrain scissors are commonly among the first pieces of equipment on the jobsite and the last to return to the rental yard. As a result, rough terrain scissor sales can give us some insight into the pulse of the industry as a whole."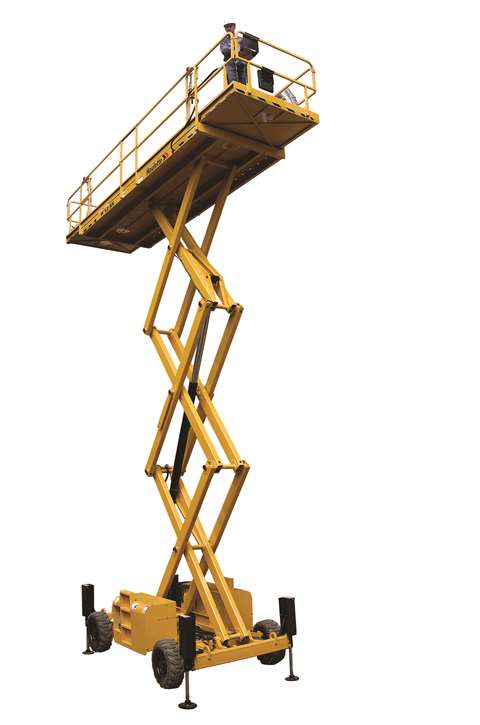 Trends can help push along sales, even in a low market. JLG says it is seeing customers demand high-capacity rough terrain scissor lifts capable of carrying more employees, equipment and tools on the platform to the work site.
"General market conditions are good and we think it's going to be a good year for rental," says Frank Nerenhausen, president of JLG Industries. "In general, I feel a much more positive sentiment in the industry this year."
Despite that positivity, Nerenhausen does admit the general rental replacement cycle can hit manufacturers.
"We're still feeling the effect of the replacement cycle," he says. "We didn't see a lot of sales in 2009 and 2010 and we're seeing the impact now. But that headwind will soon switch gears and become a tailwind. If we get a combination of the replacement cycle returning and a continued positive construction outlook, then we'll have some pretty interesting dynamics to deal with. We think that will happen in the 2018 – 2019 timeframe."
Maxime Girard, marketing product manager for Haulotte Group Americas, points out that the worldwide rough terrain scissor lift market is mainly driven by North America, followed by Europe. Girard says these two markets represent 80 percent of the entire global industry.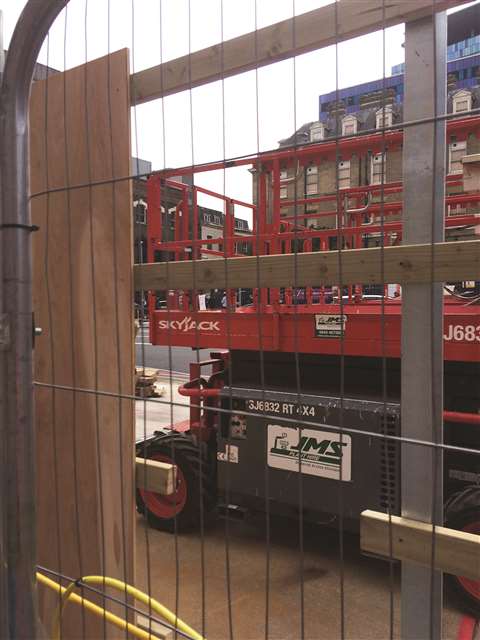 "The worldwide installed fleet is about 80,000 units from (2007 to 2016; including both mid-size and large RT scissor lifts," Girard says. "The North American fleet is more than 30,000 units. In North America, the RT scissor lift market represents only 5 percent of the total market."
Girard says to better understand this product segment, it is important to make the distinction between compact (mid-sized) rough terrain scissor lifts, which have a machine width of around 65 inches, and large rough terrain scissor lifts that have heavy load capacities and are around 90-inches-wide. In North America, mid-size (compact scissors) are widely used; they represent 75 percent of the RT scissor market.
"Over the last five years we have observed a cannibalization phenomenon of the RT compact scissor lifts on the large ones; mainly on 26-foot, 32-foot and 39-foot platform height segment," Girard says. "At these heights, workers require more compact and versatile machines. It could also be explained by the rental rates – why rent a large and expensive machine if people can do the job with a smaller and more affordable one?"
Haulotte says they do expect the rough terrain market to grow over the next two years, with this year fairing better than 2016 or 2015.
Snorkel's Elvin sees growth in North America, as well. The CEO says sales of its compact rough terrain scissor lifts remain stable in North America, with fairly constant demand from the rental and construction sectors for this type of product.
"Our bi-energy option is gaining traction, as contractors look to maximize the use of a piece of equipment on the jobsite, being able to use the same unit outdoors on diesel power, then switching to electric for indoor use, as well as complying with increasing regulations on emissions," Elvin says. "The outlook in North America is positive, and the forecasts are suggesting continued levels of growth in the construction sector for the next 12-18 months. This is buoyed by the potential for a significant investment in infrastructure that will drive demand for aerial lifts and telehandlers during this period and beyond."
Trends
So beyond the market and ANSI standards, what are manufacturers hearing from customers and the industry?
At Genie, it's all about that "green."
"We continue to work directly with our customers to understand market needs, as well as to design and build more productive, flexible machines that provide a high rental return on invested capital (rROIC)," says Flanagan. "Customers can expect the presence of electric and hybrid rough terrain scissors lifts to continue to grow in the coming years as the hybrid and battery technology improves."
Flanagan says Genie's line of DC rough terrain scissor lifts, including the GS-2669 DC, GS-3369 DC and GS-4069 DC models, deliver "proven performance in rough environments, along with emission-free productivity in indoor applications."
"Couple this indoor capability with the true rough terrain performance, and future growth in application specific areas will allow customers to leverage what were traditionally rough terrain only scissor lifts for a number of other applications," he adds. "At Genie, we continue to evaluate not only brand new product opportunities but also innovative solutions that satisfy industry standards while focusing on delivering the most value to our customers in the process."
Snorkel is also seeing environment and related regulations as trending.
"Just like in other types of diesel-powered equipment, manufacturers are finding ways to comply with Tier 4 engine standards, and provide alternatives such as hybrid solutions, which meet ever-increasing regulations on emissions," Elvin says.
Snorkel produces a line of three compact rough terrain scissor lifts – the Snorkel S2270RT, S3370RT and S3970RT. The largest lift in the family, the Snorkel S3970RT, was launched in 2013, and provides a 45-foot working height from a 70-inch-wide chassis. The diesel-powered lift weighs 8,355 pounds and features non-marking tires as standard, and is also available with a bi-energy power source, enabling the lift to be switched between diesel for outdoor rough terrain work, and zero-emission electric for indoor applications.
JLG is seeing its customers demand high-capacity rough terrain scissor lifts capable of carrying more employees, equipment and tools on the platform.
JLG recently unveiled the 330LRT (33-foot lift height) and 430LRT (43-foot lift height) models to complement its 530LRT (53-foot lift height) rough terrain scissor offering.
"In addition to their ability to support larger loads, JLG's LRT series scissor lifts offer excellent gradeability and maneuverability while traversing rough terrain," Nunez says. "These types of scissors typically offer two to three times the capacity and three to five times the platform space of boom lifts."
JLG's LRT-series scissor lifts have been designed with service and uptime in mind, according to Nunez. The units have steel hoods to protect components while providing full access for inspections and service. The complete line-up is powered by Tier 4 Final diesel engines which do not require the serviceable emissions technology found in larger engine systems.
"The entire engine system was designed with this in mind and fine-tuned to efficiently meet the high gradeability and power needed for jobsites requiring rough terrain scissors," Nunez concludes.
JLG recently unveiled the 330LRT (33-foot lift height) and 430LRT (43-foot lift height) models to complement its 530LRT (53-foot lift height) rough terrain scissor offering.
Carrying tools and product is a trend over at Skyjack.
"The industry is seeing more needs for material handling stands, pipe racks and anything that can help them do the jobs in a safer, more time-efficient manner," Schmidt says. "The use of non-marking tires has also seen a large increase with customers. Construction sites are typically pouring their concrete foundations and floors before the walls go up so there is now a larger need for a tire that doesn't scuff the surface of the floors and can be used with minimal cleanup."
Skyjack's latest RT scissor is its 68RTE which "has been a very well-received machine for us," Schmidt notes. "We will have new developments coming in late 2018."
Haulotte is also seeing more interest in material handling and the like. The company says it has more requests for attachments and panel and pipe carriers. It also says the mid-sized hybrid and full-electric RT scissor lifts are requested more frequently because of their versatility, which suit indoor jobsites and low-emissions zones in cities. The company's latest was its Compact 2668 RT and 33 68 RT units in 2012.
Meanwhile, Genie says over the last few years it has made a number of updates to its RTs – beyond major product introductions.
"Seemingly small changes have been made that have a real impact in the productivity of our rough terrain scissors, including increased telemetry communication capabilities and communized componentry," Flanagan says. "These updates further enhance serviceability and reduced customers' parts inventory costs."
The upcoming changes to ANSI/CSA standards will bring changes to nearly every model of scissor lift, all can agree. These changes will include new features like the discussed platform load sensing, as well as smaller alterations such as toeguards on platform entrances.
NEWSLETTER
Delivered directly to your inbox, International Rental Newsletter features the pick of the breaking news stories, product launches, show reports and more from KHL's world-class editorial team.
CONNECT WITH THE TEAM
CONNECT WITH SOCIAL MEDIA