Gensets in focus: Generating change
By Belinda Smart15 February 2021
It's all-change in the genset market, with Stage V/Tier 4 Final, hybrid, gas powered and battery storage options. IRN Editor Belinda Smart reports.
Carbon emissions reduction regulations have been on manufacturers' radars for some time; in Europe, where the market is transitioning from Stage IIIa to EU Stage V emissions regulations, and the US, where Tier 4 Final requirements apply, products that reduce carbon emissions are now a consistent presence in the market.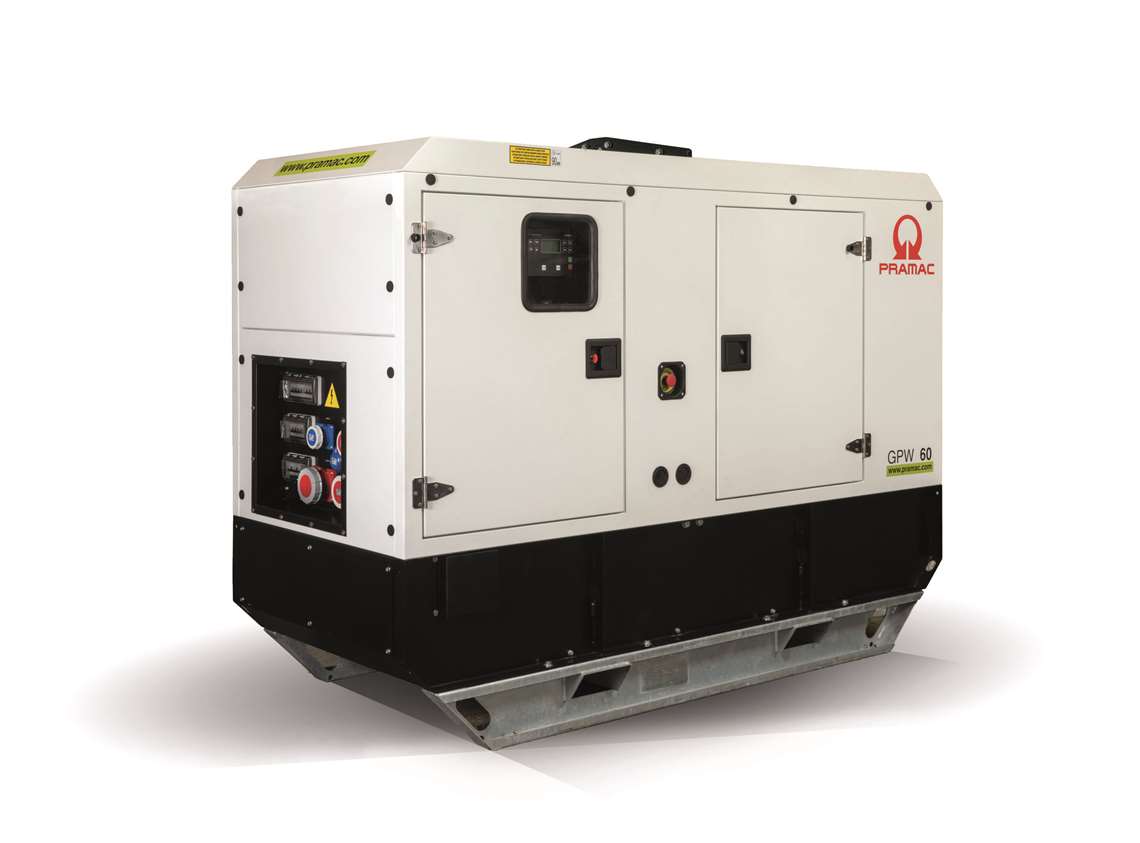 In 2021, given the Covid-19 crisis, the need for cost efficiency is growing as a factor in product innovation. PowerGen Statistics consultant Romain Mocaër recently summed up the market's challenges, forecasting a tough 2021 for the genset rental market, with little likelihood of recovery until next year. "Rental companies have seen their revenues fall and their fleets underutilised. A recovery is not expected to happen until 2022," he wrote.
Many manufacturers are releasing products or add-ons that enable transition to emissions reduction compliance, while cost efficient features such as fuel consumption reduction continue to drive product development.
Caterpillar - a significant leap
Gareth Osborne, Product Definition - Mobile Generator Sets at Caterpillar, says increased unit costs and technological complexity will influence the rental market in the months ahead, particularly because legislation for mobile generator sets skipped Stage IIIb and IV in Europe, meaning "a significant leap in technology is required to meet Stage V standards, including both engine modifications and off-engine aftertreatment."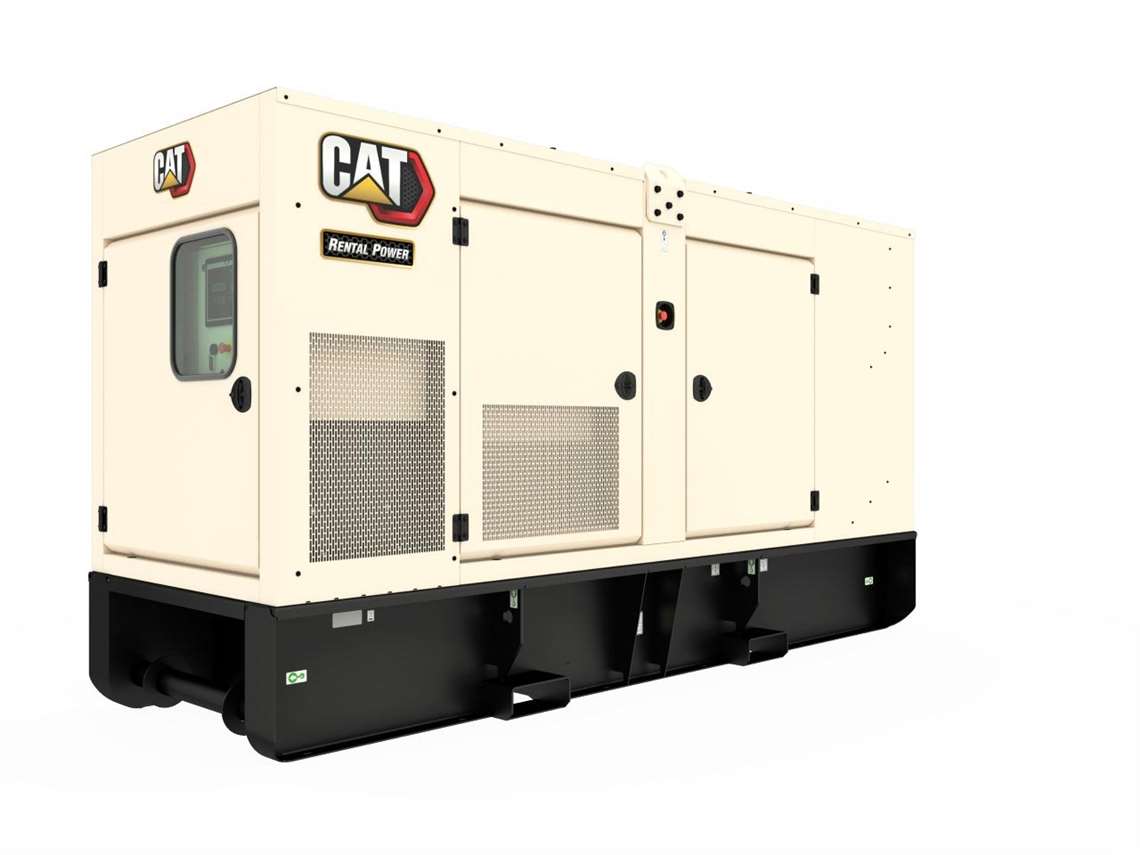 He says changes required by EU Stage V, along with newly proposed particle number limits, effectively require the use of diesel particulate filters. Because Stage V also extends the scope to a wider range of engine types and sizes, regulating engine outputs greater than 560 kW for the first time, engine availability is scarce for the large mobile power generation market. Due to the resulting increase in cost and complexity, rental operators will be required to increase rental rates "to offset significant product acquisition cost increases and maintain acceptable financial returns," Osborne says.
In 2021, Caterpillar is introducing a range of mobile gensets certified for EU Stage V emission standards for non-road mobile machinery designed "to provide customers with a strategy to reduce cost and complexity."
The Cat XQP200 will be introduced in April 2021 for the European rental market, offered as a 200 kVA model, with a 310 kVA model to follow in June and additional models to roll out later in the year.
To help EU Stage V products run efficiently, Cat Connect technology is available to remotely track and manage generator sets, integrating telematics information into business systems.
"Cat Connect technology collects data and reports on asset performance, run hours, fuel consumption, maintenance needs and other statistics. This timely information allows customers to better control costs, improve performance and reduce risks."
Atlas Copco - two engines in one
Also, with new Stage V gensets, although at the large end of output scale, is Atlas Copco with its new QAC 1350 TwinPower genset for large prime power or back-up applications. The TwinPower concept, which utilises two smaller engines housed inside a containerised unit, enables operators to cut fuel consumption. The company describes the generator as "quieter than other units of the same power size," and designed for easy transport.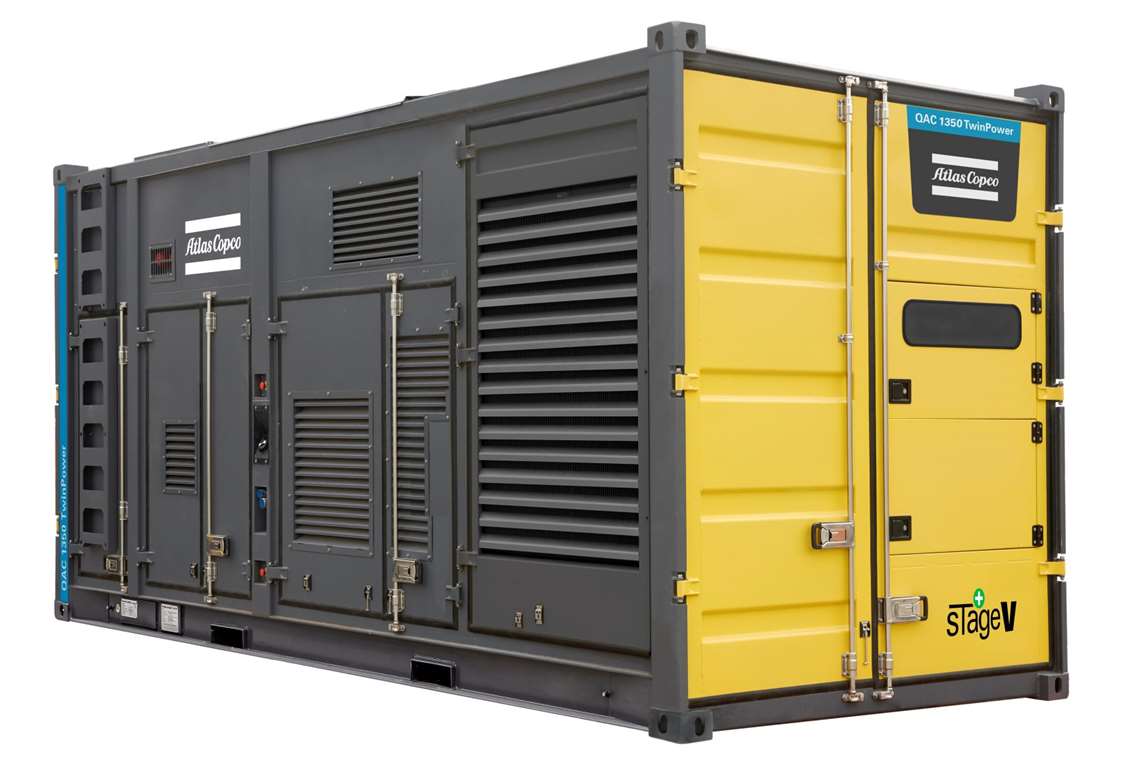 Sergio Salvador, Atlas Copco Divisional Product Marketing Manager – Generators says, "Crucially, the QAC1350 is also Stage V compliant, which makes it an environmentally friendly alternative to old single-engine technology."
The new TwinPower delivers up to 1350 Kva as a prime power. When used with a variable load, the QAC1350 consumes up to 40% less fuel than solutions with one large engine, due to fewer mechanical losses.
Measuring around 6m long, the generators are designed for easy transport and are ready for operation as soon as they are on site, with optional power locks for fast connection.
AEM anticipating change
Jesús Martínez, Commercial AEM Spain, told IRN the company is now offering gensets with Stage V engines in a range of powers from 20 to 670 KVA (PRP). Compatible engine types include Perkins, Kohler, Deutz, John Deere and Volvo.
The Spanish company has been developing its rental range of gensets with new Stage V engines for the past two years, and its 600 KVA (PRP), 200 KVA (PRP) and 40 KVA (PRP) gensets have attracted demand since then from European customers.
Martinez says the aftertreatment process is carried out through passive regeneration, whatever the power node, a process that does not affect the normal operation of the generator set, even with a low load.
Martínez notes while Stage V units are typically higher in price than their predecessors, due to the need for aftertreatment "almost all Stage V engines offer an improvement in fuel consumption compared to previous engines."
A key advantage of the new gensets is that maintenance intervals can be increased up to 1000 h, as long as the manufacturer's recommendations are followed on thinks like choice of oil.
Martinez believes the acquisition of Stage V gensets by rental companies will increasingly be influenced by lack of availability of Stage IIIA gensets. In addition, "in terms of Stage V, as we are already observing in some major European cities, if rental companies want to work in the downtowns of large cities, they will have to make the decision whether or not to purchase generator sets with Stage V engines."
Heavy-duty power from Himoinsa
Himoinsa has launched a heavy-duty, 1 MW generator with a Yanmar engine. The HRYW-1275 D5/6 is designed for low fuel consumption and incorporates a variable speed remote cooling system and a parallel control unit. The generator has a 1000l tank and a power output of 1,278 and 1,305 kVA for 50 and 60 Hz respectively.
Himoinsa claims the unit's operating expenditure is lower than that offered by other comparable models, with fuel consumption of 182.2 l/h at 75% of the load (50Hz) and 189.8 L/h at 75% (60Hz), because the AY40 engines incorporate Yanmar Assign combustion technology.
Himoinsa's diesel gensets with Stage V engines range from 9 to 550 KVA. The compact generator sets "integrate all emission reduction systems and AdBlue's tank in a robust and functional canopy."
Gas powered options
With gas powered gensets positioned as an alternative option for the rental sector, Himoinsa's rental market gensets also include its Stage V compliant gas genset, in a power range of 30 to 110 kVA and able to operate on both LPG and natural gas.
"These generators incorporate a simple three-way catalyst to reduce pollutant emissions, which, unlike systems with urea and particulate filters, do not require maintenance", says the company.
The gensets incorporate internal LPG storage in the chassis with a capacity of 480 litres, which guarantees usage of up to 45 hours without refuelling, depending on the model, working at 70% of the load. Himoinsa has also incorporated leakage detectors in the generator.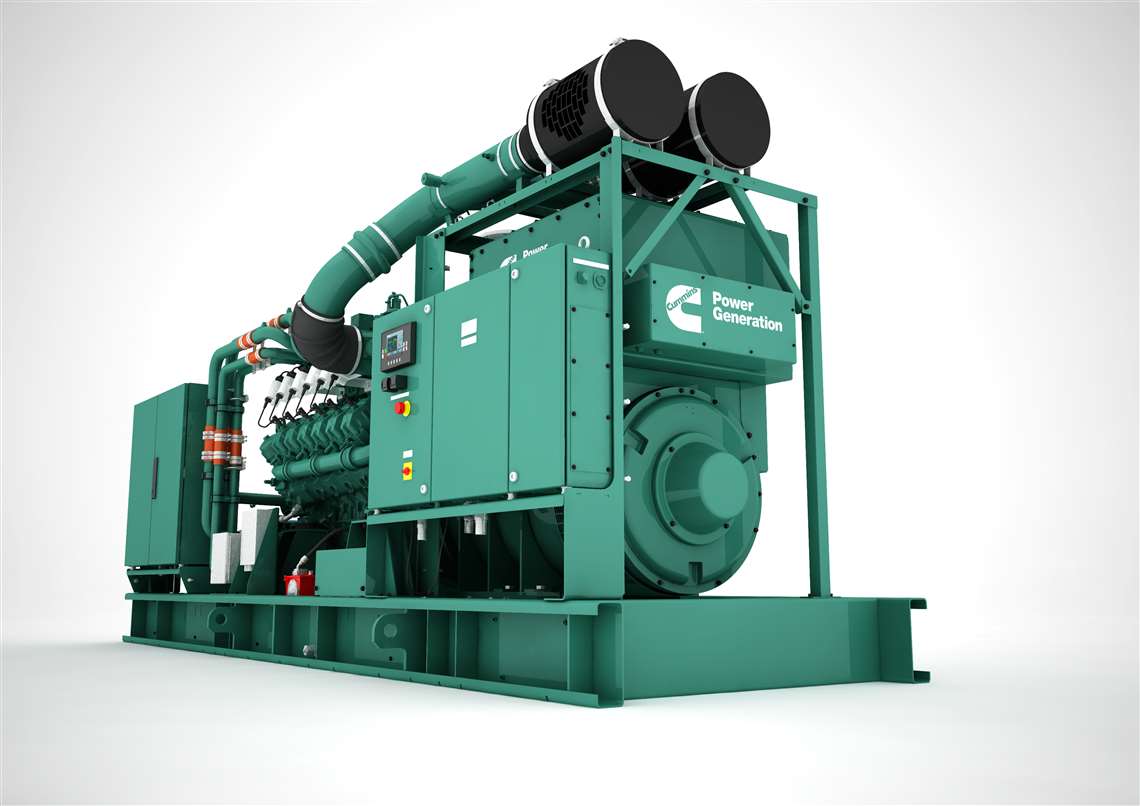 Cummins is also offering gas gensets described as "lean burn" and "much cleaner than their diesel cousins," says John Gibbons, General Manager, Mobile Power Business, North America at Cummins. "The air pollutant outputs are lower, including NOx, hydrocarbons, carbon monoxide and particulate matter, allowing the machine to operate in varying environments with tight emissions regulations."
Gibbons says gas gensets' benefits include access to a continuous, uninterruptible fuel supply and no requirement to store large quantities of diesel onsite.
"Considering that the typical fuel cost ratio for diesel vs natural gas is 6:1, some operators can look to achieve a significant operating expenditure saving by going for gas," says Gibbons. "We've also seen improvements in gas engine technology pushing maintenance and overhaul limits well beyond the traditional envelope."
Aggreko's low emission sets
Aggreko has launched a range of lower emissions, lower cost generators. The Tier 4 Final/Stage V power solution can run on traditional fuels such as diesel, but also on biofuels.
Aggreko, the world's largest power and temperature control rental company, released the first unit in late 2020 to comply with tightened emissions regulations in the US and Europe. It offers a 98% reduction in the volume of particulates and 96% of the NOx gases expelled, when compared against a diesel genset from 20 years ago.
Bill Carrick, Product Director at Aggreko, tells IRN this is the first of Aggreko's Tier 4 Final / Stage V 600 kVa canopy generators. Field trials are underway for a 1 MW version, with solutions to cover the full power range set to be released over the coming months.
Utilising technology from an external supplier, the generator is branded Aggreko and works in conjunction with Aggreko's Remote Monitoring Service, says Carrick. The result will be reduced service costs and interruptions to operations associated with in-person service checks.
The unit will be available to rent on flexible contract duration terms, in recognition of the rapidity of the energy transition, to enable customers to avoid capital expenditure on equipment that may be quickly superseded.
Carrick tells IRN Aggreko's customers could expect a five to 10 % price increase for the unit. "This is largely due to aftertreatment requirements to reduce particulate matter from diesel fuel." However, the rise in capex will be offset by extended service intervals on the machinery. It is also expected that the unit price of the new range will fall as sales volumes increase.
Battery, solar or hybrid power
Alongside the development of Stage V gensets and gas-powered models there is a growing number of sets using battery or solar technology, sometimes combined with diesel sets.
For example, Atlas Copco has launched the ZenergiZe range, lithium-ion energy storage systems that can stand alone or combine with generators to create a hybrid power solution.
ZenergiZe "delivers zero CO2 emissions, zero noise, and has virtually zero maintenance needs, enabling operators to minimise environmental impact while benefiting from a low cost of ownership", says the company.
The range has two models, the ZBE and ZBP, offering rated powers of 15kVA and 45kVA, respectively, and energy storage capacities of 45kWh.
They can be used together with a generator to enable smart load management or can serve as the primary source of power. During its lifecycle, a ZenergiZe unit emits 50% of the emissions of a standard standalone genset, saving approximately 100 tons of CO2.
JCB has launched power packs to support its growing line of E-TECH electric machines in recent years, enabling zero-emissions electrical back-up on remote and urban construction projects. The power packs can also be used in tandem with diesel gensets, creating a hybrid solution.
They will feature zero-emissions electrical supply and back-up facility, with four or eight batteries giving 23 or 46 kWhr of storage capacity. The units offer 8kW/10kVA single phase output, are stackable and have fork pockets for easy handling.
The range will be available with a choice of four or eight automotive quality, maintenance-free lithium-ion batteries, with no requirement for daily checks. The batteries' depth of discharge is optimised to prolong battery health. After 2000 full charge and discharge cycles (expected to be over 10 years), the batteries are guaranteed to still have over 85% of their capacity left.
Meanwhile, Austrian company Xelectrix Power has launched battery pack 'power boxes' that change any existing diesel generator into a hybrid power solution.
Targeted at a range of end markets, but with construction seen as a key application, the company's products include the PRO Range, with a capacity of 11-35 kW (20-120 kWh), and the Unlimited Range M10 has a capacity of 35-150 kW (40-240kWh). Higher battery capacities are possible with the M20 and M40 ranges.
The company was founded in 2016 by brothers Dominik and Alexander Hartl, the same family that operates the Hartl crushing and screening business.
Power boxes can be charged on site using available power, making stored power accessible to equipment such as all-electric construction machines. The new products form part of Xelectrix Power's modular energy storage range, complemented with high-voltage battery packs with LFP cells.
"Xelectrix Power is to become one of the global players in the energy sector and an essential part of the energy transition in the construction industry", says Dominik Hartl.
Ready to rent Eco Diesel Generators with HVO option
Josh Llewellyn, founder and Director of UK-based MHM Group says the company recently launched a Solar Hybrid Battery Diesel range in 3.5, 6 and 10 kVA sizes.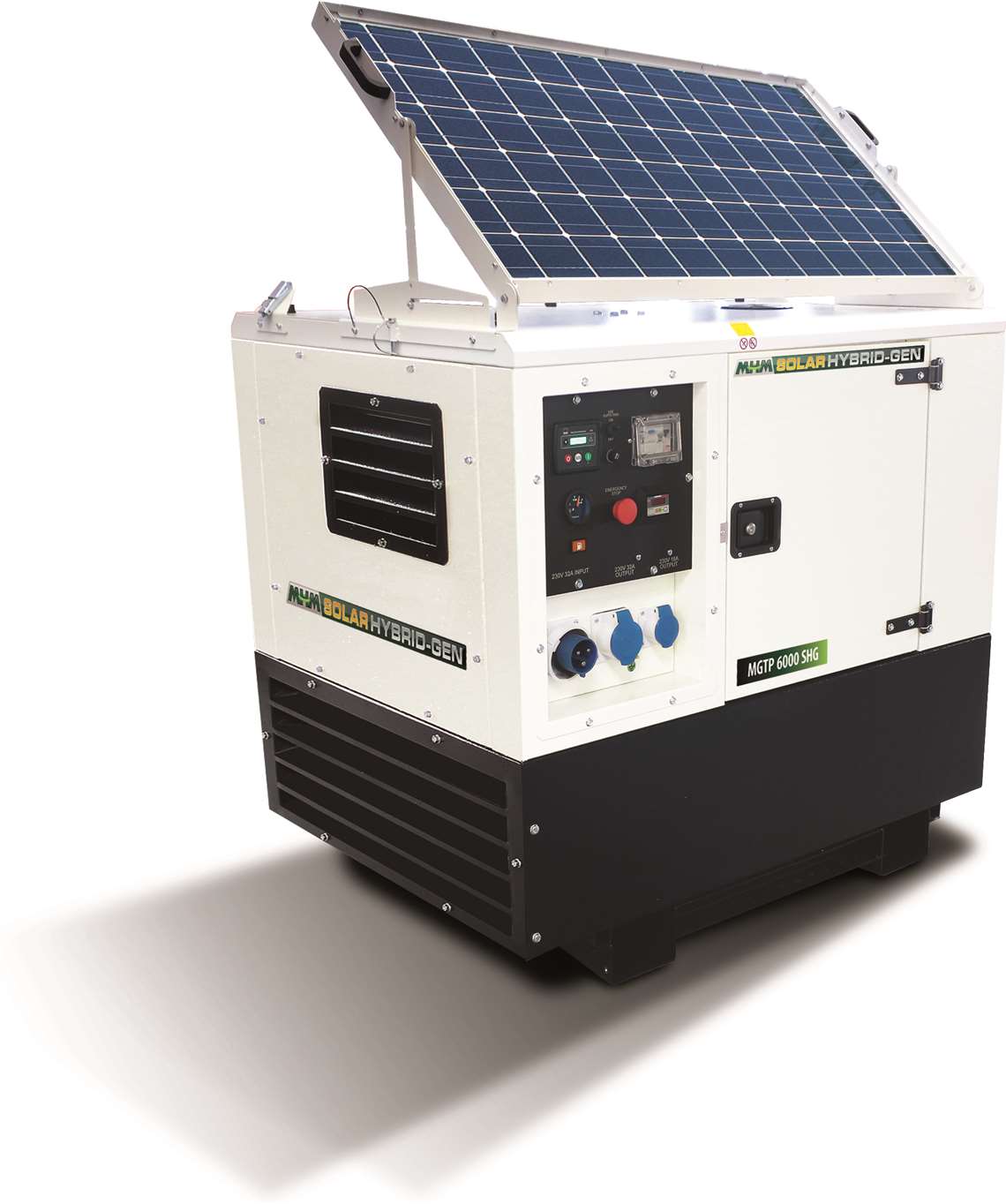 Called the MGTP Solar Hybrid-Gen, the range produces power via a combination of solar and battery, with back-up from a small diesel engine. The unit has "all the attributes of a standard site set, with the exception that it runs almost exclusively from non-fossil-initiated fuels".
Llewellyn says MHM is expanding the range up to 100kva in 2021. The company has also launched several 'Eco Diesel' gensets, including the 6kva MG 6000 SSY-ECO and 10kva MG 10000 SSK-ECO diesel generators, with the 6kva unit currently attracting most interest.
Described as "ready to rent Eco Diesel Generators", the two units have Eco auto start/stop mode and feature a Linz alternator. The 6Kva has a Yanmar electric start diesel engine, while the 10 kva model has a Kubota engine. Other features include MHM's engine protection shutdown system, emergency stop button, central lifting eye, and front and side fork pockets.
All MHM Group's equipment is also HVO (Hydrotreated Vegetable Oil) approved.
US sustainable energy company Powr2 Energy Solutions has released PowrBank XPro, a compact unit measuring around 225 cm x 129.5 cm x 206 cm. The US model has 60KVA of power output and 100 KW hours of high-density lithium battery storage. For the UK and EU markets, utilising the same enclosure, XPro provides 90KVA of power output and 120KH hours of storage. New for use on XPro models are 208 and 480V switchable outputs to allow users to easily change the output voltage as needed on US models.
Powr2 Chief Operations Officer Toby Nunn tells IRN, "Professional power rental companies are becoming more and more aware of the need to offer more sustainable power solutions. This is often driven by the rental company's own strategy to stay ahead in the market, by aligning with the global trend towards use of alternative energy. It's also driven by corporate sustainability strategies of their clients."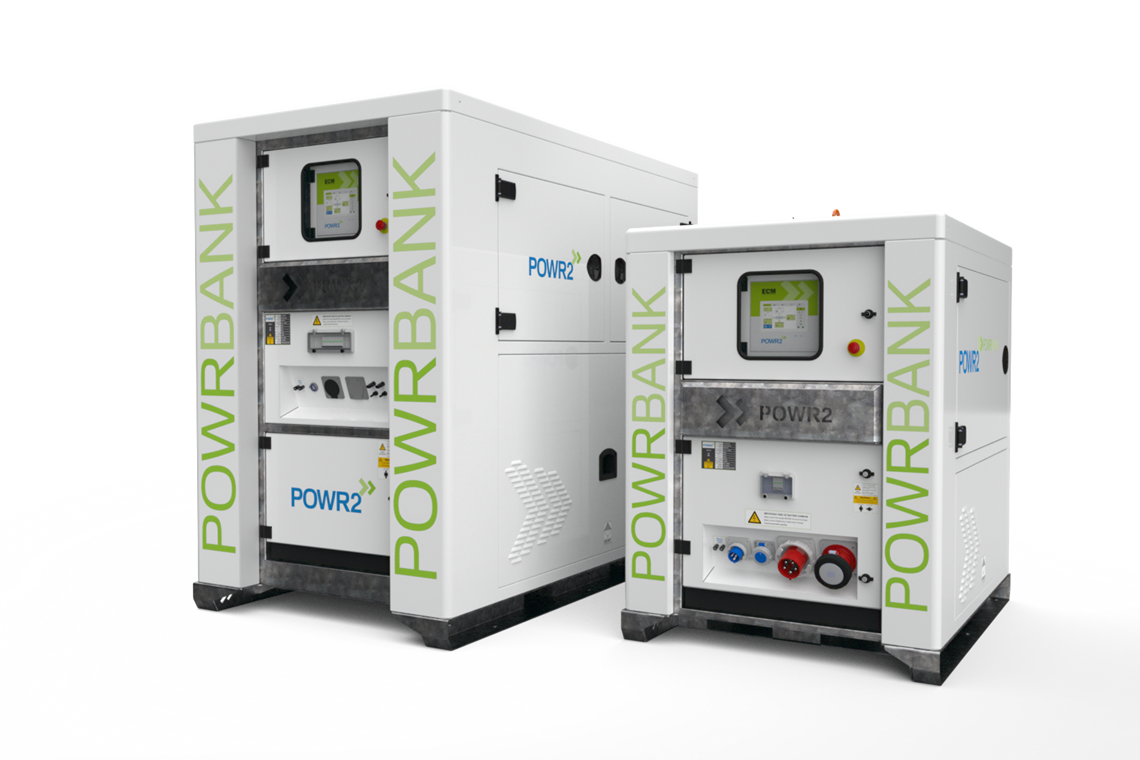 Powrbank means "existing fleets of diesel generators can still be utilised, but the addition of the energy storage component creates a much more sustainable power solution, typically enabling around 80% fuel and emissions savings."
Finally, Germany's HJS Emission Technology has developed a modular upgrade kit, the HJS SCRT (Selective Catalytic Reduction Technology) system, which converts existing Stage III/IV engines to the latest emissions stage without requiring changes to the engine or the design of the machine.
"Virtually any constant and variable speed NRMM application can be equipped with this flexible system to provide compliance with European Stage V legislation or local emission requirements: power generation, construction machinery, rail and marine equipment. In addition to the development and production stages, HJS can also provide full support for the certification process."
There has never been a more interesting - or challenging – time to be a power rental company, with choices to be made regarding investment in Stage V sets, hybrid, or battery storage systems. The pace of change and the energy transition means that it will stay interesting for quite a while.at the unit price of the new range will fall as sales volumes increase.
Battery re-use from Off Grid
UK energy storage company Off Grid Energy has launched a new project to repurpose retired electric vehicle batteries from cars such as BMW and mini to give a second life to batteries.
Off Grid Energy is extracting the battery modules and using them to create a mobile power unit, known as the SX model.
"The use of second life EV batteries will be another factor that will feature in the world of power and energy storage as we go forward," Danny Jones, Managing Director of Off Grid tells IRN, adding that aside from electric vehicle charging, "the unit will be equally happy on a construction site powering tools and equipment or at an event running security lights or CCTV systems."
NEWSLETTER
Delivered directly to your inbox, International Rental Newsletter features the pick of the breaking news stories, product launches, show reports and more from KHL's world-class editorial team.
CONNECT WITH THE TEAM
CONNECT WITH SOCIAL MEDIA