FEATURE: More than a pump
By Helen Wright24 March 2016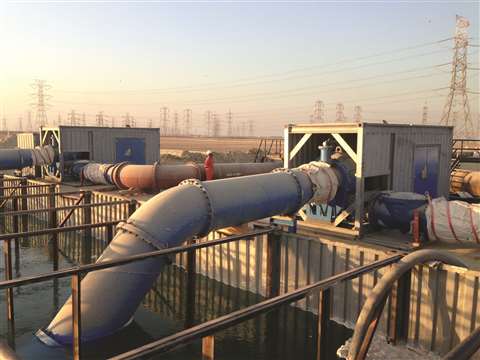 It would be more accurate to classify many modern pump manufacturers as specialists in their field, rather than general equipment providers.

The ability to offer complete project packages, together with servicing and maintenance schedules is increasingly in demand, while remote monitoring technology is adding to the level of control and surveillance available.

For instance, Pioneer Pump managing director Simon Ruffles said the company was seeing increased demand for service and support from
end-users.

"In 2015, international rental of our pumps increased by over 40% with many pumps operating as far North as the Arctic Circle to as far south as Venezuela," he said.
"Pioneer has a very specialist range of pumps for the energy and mining markets which have ATEX approved pump ends, engine safety equipment as well as remote monitoring technology allowing the service teams in the UK to communicate any issues directly with the clients regardless of location.

"These types of services and technology are driving increased demand from end users in the most remote regions where service and support is challenging."

Mr Ruffles said Pioneer rented most of its pumps throughout Europe, Africa and the Middle East but mainly in the UK, France and Benelux regions, with a good rental business in Scandinavia too. He said much of its rental business in Europe is in partnership with leading independent privately owned pump rental companies such as France-based Delta Service Location.

"We operate in the mining, industrial and construction markets mainly although we do have a large presence in the onshore oil & gas business especially crude oil storage tank cleaning," Mr Ruffles said.

"Many end users do not want to invest in equipment for short term solutions so the opportunity to rent is attractive. Being able to now offer them energy efficient equipment which is reliable and monitored is a major benefit to the high end customers that value uptime as part of the overall cost of rental."

Mr Ruffles forecast further growth in niche markets in 2016. "Our broad range of high flow and high head pumps have been added to with new high efficiency vortex pumps which incorporate large solids handling capability with low fuel burn.

"Markets such as sewage bypass have been demanding a solution with combines large solids handling pumps with low maintenance and running costs. Our new vortex was designed for such markets and we are seeing good demand for these pumps, in fact we are building over 60 packages alone in January for one municipal client."

Mr Ruffles continued, "The utilities and environmental energy markets are seeing good growth for us. There are only a very few pump rental companies that have the capability to supply the offshore wind farm business with robust enough equipment to work in the North Sea and Pioneer is the leader.

"With the demand for more wind farms in the future which require cable laying jetting pumps with 600hp (447kW) engines increasing, we expect to see good growth in the markets across the European marine regions - including the Baltic and North Sea regions."


Municipal business


With the expansion of the company's municipal business, Mr Ruffles said Pioneer had been busily designing some new vortex engine driven packages.

"At one end will be an extremely economical 100mm pump set, which looks as if it will be the most economical unit launched in Europe capable of running for up to five days on a single fuel tank. At the other end of the range, a large 200mm vortex unit capable of over 700m3 per hour, but still with a 120mm plus solids handling capability, is being designed and built. We are really excited about these pumps because once again they bring features and benefits to the customer not seen before in Europe."

And Mr Ruffles said the company had been running telemetry on its own fleet since 2013. "We can use our technology to know what is going on with the pump, the engine and all the fluid levels in the pump set. We can then control the pump set and track it as well so we know if it's operating, if it needs a service, or even if it's being stolen!

"The information can be used to create reports, measure running costs or even texted to the owner in case of emergency regardless of the global location."


Full-service solutions


End-users and manufactures, or indeed their dealers, are also working close together to make sure the right pump is used for the task at hand.

A Tsurumi LH 8110 submersible pump was rented to support deep-water excavation on a project in Hamburg, Germany, for example. This project involved excavating around 120000m³ for the Hamburg underground train line, and contractor Martens en Van Oord rented the 8in (203mm) LH 8110 to perform the wet excavation.

Netherlands-based Tsurumi dealer Distrimex Pompen & Service provided advice on a submersible pump for heavy duty dredging applications that demand high heads and flow. After a full consultation, the Tsurumi LH 8110 was selected for the task. The high pressure pump boasts an output of 11 kW together with 10 bar of pressure at a capacity of over 190m³/hour.

Distrimex managed the delivery of the pump within just one week, including a control unit containing a frequency inverter. Martens en Van Oord then fitted the cover, including a thrust piece with jet nozzles.

Take Baker Corp as another example – this US-based rental company has expanded its fleet in Europe with an investment in diesel, electric and air-powered pumps from BBA Pumps. It said the idea was that these new pumps would integrate with its tanks and full line of ancillaries to enable it to offer full project rental packages.

In fact, with this addition, Baker Corp claims to be the only rental company in Europe that can offer transfer, storage and treatment of liquids, and brands itself as an 'integrated liquid management solutions provider'.

The new 2in (51mm) air-driven pumps are available in stainless steel and polypropylene and offer a maximum capacity of 34m³/h and a maximum head of 84m. The diesel models are also available in stainless steel and offer 4in (102mm) and 6in (152mm) versions offering a maximum capacity of 150m³/and 475m³/h respectively and maximum head of 18.5m and 37m.

The 4in (102mm) electric model, also available as a stainless steel version, has a maximum capacity of 130m³/h and a maximum head of 15m. And Baker Corp said that the 6in (152mm) pumps have a maximum capacity of 430m³/h and a maximum head of 24m.

A company spokesperson said, "We expect a strong demand for these pumps, as they are a perfect fit with our storage tank projects. The first pumps are already on rent at our core customers."

Meanwhile, another rental company – Netherlands-based Rental Pumps­ – also invested in diesel-driven BBA Pumps to help it provide a specialised full-service solutions for projects. Rental Pumps invested in the 6in (152mm) BA150E model, basting a capacity of 450 tonnes per hour.

Rental Pumps plans to put its new BA150E to work for its customers as a mobile ballast pump – for the filling and drainage of barges to compensate for changes in the weight during the load-in or load-out of large objects (levelling), or even to be used in salvage operations. The model also comes with a fuel tank large enough for over 30 hours of operation.
This is a feature from the March 2016 issue of IRN. To read the full article, with extra images and information, subscribe to the magazine: http://www.khl.com/subscriptions/magazines/international-rental-news/
NEWSLETTER
Delivered directly to your inbox, International Rental Newsletter features the pick of the breaking news stories, product launches, show reports and more from KHL's world-class editorial team.
CONNECT WITH THE TEAM
CONNECT WITH SOCIAL MEDIA