Far and wide: access in Africa
Africa is a diverse continent and for access equipment sales the story is no less wide-ranging. It is denoted by greater activity in the north and south, with less progress in the vast central area. AI reports.
As Ian Hume, JLG sales director, Middle East and Africa, says, the continent of Africa is vast. "Home to 1.2 billion people, covering over 30 million square kilometers. Its size is as large as the US, India, China and a large part of Europe combined. This requires a different approach to market."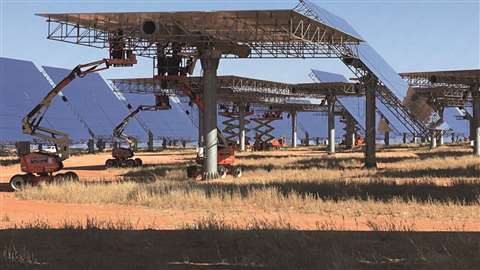 Seeking distribution in certain countries is challenging and free trade of goods or cross-border trade is something that does not really exist. Hume adds, "So as a manufacturer you need to be strategic on how you go to market. South Africa, being the most developed on the continent is a good gateway for sub-Saharan Africa. With a sales and service organisation on the ground, knowledgeable people and a stable financial climate, this is where many manufacturers start."
The North of Africa, being close to Europe is usually the next step, adds Hume, with equipment shipped directly from Europe and sales and service provided on the ground if needed through the European offices. "We are seeing the adoption of access equipment growing fast in Northern Africa with Algeria and Egypt leading the way."
Expanding on the geographical scale of Africa, Matt Elvin, CEO of Snorkel says it can present challenges for manufacturers in terms of positioning support teams in the correct regions to effectively service the key markets. "Multiple languages are spoken across the continent, and this has implications for manufacturers, as documentation and support materials should be translated for the local market. In some regions, there are also ongoing political situations and security issues to be taken into account."
Significant challenges
Continuing on this theme, a Haulotte spokesperson says, "The main challenges in Africa are first political, economic and due to regulation factors. There is also insufficient infrastructure and a long construction process in South Africa."
On the other hand, "The African trade agreements with the European Union has allowed companies outside the continent to be more ambitious, and to improve economic opportunities. And commercial standards and labour regulations are more stable in the mature regions like Northern or Western Africa.
"Some countries like Ghana or Democratic Republic of Congo have done significant work over recent years to provide resources and meet business demands but the main challenge remains the transport constraints - time, security, etcetera."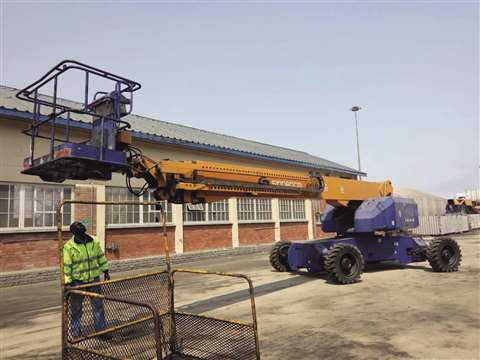 From a Chinese manufacturer's perspective, Cathy Lin, sales manager of Hangzhou Sivge Machinery, agrees that payment can be a problem, along with the special requirements for shipment inspections and other documents. "For example, in Egypt, its government's request for embassy pre-shipment inspection certification, will increase our costs."
Lin explains, that with the Letter of Credit being the most common payment method in Africa, it usually becomes a complex process with a risk of refusal of payment.
Fellow Chinese manufacturer Sinoboom believes the future of the African market will be heavily linked to infrastructure construction, with demand for greater working height products. "To better break into and serve regional markets, there is absolutely a need to establish local brand operations," explains international sales director Jason Zhou. "As the company attempts to increase market share, some challenges we face are that many Africa countries' infrastructure is not well developed, and there is a shortage of appropriately qualified workers. In particular, there is a need for more skilled technicians and engineers, and greater attention to safety regulations. Meaning that we should move away from risky rope access or scaffolding work."
Beyond the north and south footholds, the Sub-Saharan region is also moving in the right direction, seeing growth with Kenya taking a lead, says Hume. "Population is growing and the existing infrastructure cannot cope with the influx of inhabitants. The facilities management industry is also showing year-on-year growth for access especially within the mining industry."
Markets like this start purchasing used equipment, as many developing territories do. "Once the benefits of access equipment are clear the market will start demanding more advanced equipment, adds Hume, "Usually this means that manufacturers seek distribution on the ground or will fund their own sales and service offices. With the manufacturer active in the market, new equipment can be brought in more easily."
Growth opportunities
A spokesman at Manitou, agrees Algeria, Morocco and South Africa are top of the list for growth, where construction, logistics and rental are most developed. North Africa, as we have heard, has an important influence from Europe.
In South Africa, the rental concept is more developed than anywhere else in Africa."South Africa and North Africa have been the fastest growing regions in Africa because of the reasons above," says Letheroy, "The rest of Africa has a slower growth."
Currently, Haulotte has a good presence in Northern and Western Africa, those being North Algeria, Morocco and Nigeria, South Africa and Ivory Coast. "This is mainly due to more maturity and wealth in these markets. They also have more stable economic situations than in the other African countries. This situation allows us to have a reliable dealer network."
Haulotte adds that the main markets seeing expansion in Africa are Ethiopia, Democratic Republic of Congo, Burkina Faso, Ghana and Kenya. "This is the consequence of a significant number of foreign investments in infrastructure development and the urbanisation progression over the last years. We have seen an economic growth in these countries over two years and many important construction projects under way."
Hume believes that besides construction, there is a large mining industry in Africa that drives the market. In the North products are typically rented for construction work and energy plants. The Sub-Saharan area, for example Nigeria, has many oil refineries where JLG products work. For JLG, diesel boom lifts, both articulating and straight, are heavily requested on construction sites. Followed by scissors that are used during the final stages of construction or maintenance.
Product development
In the past, JLG has developed basic boom lifts for emerging market, specifically Asia, and, Hume says, on occasion these models have also been shipped to Africa. An example of such a product is the 1100SJ boom lift. Not available anywhere else in the world but in China and South Africa, the machine meets the demands for general construction work and shipyards, offering a working height of 35.5m and an unrestricted platform capacity of 250kg.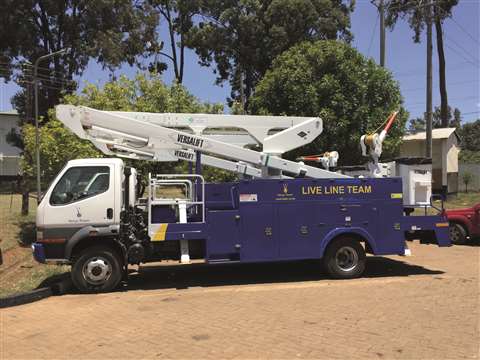 CTE sells mainly fully hydraulic products to the country, "basic machines for easy maintenance and operation," it says.
And several years ago the company decided to approach Middle East and African countries with a specifically-designed fully hydraulic range called Easy.
Staying with truck mounts, fellow Italian manufacturer Comet says its hydraulic 13m and 20m working height models are the most requested in the continent, as they are simple to use, affordable, light and can be installed on various vehicles.
For Haulotte the most common products are 18m to 43m articulated rough terrains and more than 24m telescopic booms. "We have noted the increasing need for these types of machines, and the company trusts that now is a good time to introduce new products into the market and extend the coverage with its full-line product offer."
With South Africa being the largest market overall for access platforms Snorkel says it has also seen the large growth in Algeria. Snorkel's most popular machines in South Africa and Tanzania are the Snorkel A38E and A46JE electric articulated boom lifts. The lightweight Snorkel A38E offers a working height of up to 13.5m and up to 5.9m of outreach. The battery-electric Snorkel A46JE is is capable of working to heights up to 16.1m.
In Algeria, the most popular machines are the Snorkel A62JRT articulated boom lift, followed by its electric slab scissors. The Snorkel A62JRT has a 16.3m working height. In Tunisia, the most popular machine is the Snorkel TL37J, which is a high-specification towable boom that provides a working height of 12.9m and up to 5.6m of outreach.
Wider use
Sinoboom's 18m GTZZ18J and 25m GTZZ25J diesel articulating boom lifts, as well as its scissor lift products, have proven the most desirable in Africa so far. "Scissor lifts are preferred in relatively stable places such as warehouses, shopping malls and municipalities, while the articulating boom is used for higher construction sites or harbours, airport and due to infrastructure needs, rougher conditions, so the products have corresponding capabilities."
Zhou explains that Sinoboom is planning for different products aimed at different African countries, such as specific units produced for South Africa, for example, where there is relatively flat terrain and conditions are not as challenging.
"We have been undertaking product planning and the research and development team has taken into account product use in Africa, especially concerning four-wheel drive, off-road abilities and durability, whilst also keeping a focus on the ease of operation and adaptability."
For many the market is not big enough to expand its facilities. For example CTE says for the time being it has no plans to open any facilities in Africa.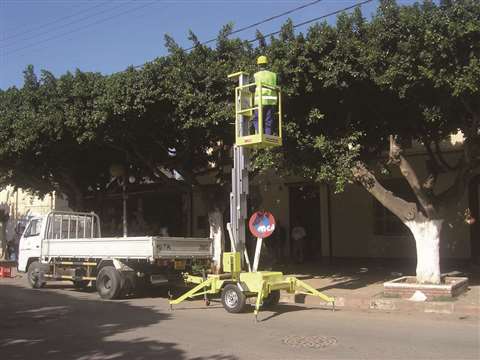 Over the next few years, Haulotte says it will continue to improve its presence. "The creation of a new subsidiary in Africa could be considered in a couple of years according to the evolution of the market."
Manitou has one branch in South Africa, based in Johannesburg, as well as a Manitou Centre in Cape Town for direct sales and local service. This, says Manitou, will not change in the near future.
Snorkel uses a mix of distributors and sales agents, backed by its factory teams, to support customers. "As the markets develop, we are working to build a full service distribution network, offering local sales, service and spare parts to ensure the highest level of support for customers in this region," says Elvin.
Distribution plans
JLG has an exclusive distribution agreement in Southern Africa with Eazi Sales & Service, based in Johannesburg. In the north of Africa equipment is sold through Mantrac in Egypt, TracAfric in Morocco and Fayalift in Algeria. "As a manufacturer we also sell direct into areas where we currently have no distribution agreements in place, through our office in the Middle-East," says Hume.
For access equipment to truly grow across the continent, adherence to specific safety requirements will have to increase.
"With the rise in infrastructure projects and the economic developments going on in Africa, access equipment is gaining more acceptance. With the increase in acceptance and the maturation of the market, the safety aspect starts playing a pivotal role. Training and safe operation of access equipment is very important."
Manitou adds, "Safety is not seen everywhere as a priority except in some countries, like in South Africa and North Africa, moreover, the labour cost is relatively low and cheaper solutions are available, such as scaffolding.
"But it is our role to highlight the productivity that our access platforms can bring."
Maintenance can also be an issue with few service points and long distance. "Our equipment is easy-to-maintain, with on-board diagnostic and more adapted to this situation. And, thanks to our dealer network in Africa, we are able to support its customers everywhere in Africa," says Manitou.
NEWSLETTER
Delivered directly to your inbox, International Rental Newsletter features the pick of the breaking news stories, product launches, show reports and more from KHL's world-class editorial team.
CONNECT WITH THE TEAM
CONNECT WITH SOCIAL MEDIA