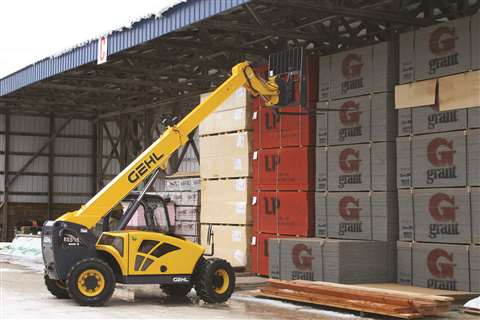 The new Gehl compact telehandler.
The last 12 months for the telehandler industry – and its compact segment – were a bit smoke and veil. Manufacturers pumped out a number of new or revamped units, yet the market as a whole ended down over the previous year.
"The compact telehandler market in 2016 was down about 10 percent from 2015," says Josh Taylor, Genie associate product manager, Terex AWP. "This follows the general trend of the rental access equipment market, but it is a less severe drop than the North American telehandler market as a whole."
The story is similar at JLG, which saw its compact category down 8 percent year-to-date from 2015, while the overall global telehandler market is down 9 percent, according to Brian Boeckman, global product director, telehandlers, JLG.
"The compact telehandler segment is seeing some of the same trends as the overall telehandler market," Boeckman says. "The market continues to be focused on return on investment as defined not only by acquisition costs, but the total cost of the product over its lifetime. Rental company owners and owner/operators are paying more attention to the versatility of each piece of equipment, the productivity gains the telehandler can provide and the costs after the sale."
Boeckman says end-users will continue to find unique uses for compact telehandler products every day, so JLG expects to see adoption of these products continuing to grow in the coming years.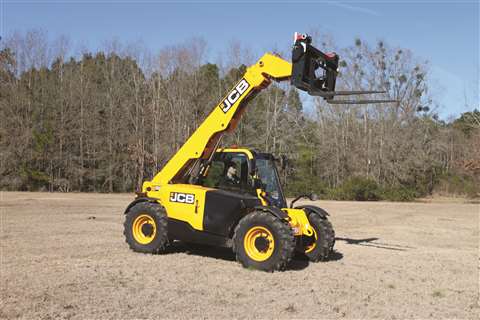 "The applications for these machines vary greatly from the initial phases of a large construction project where the machines can be found unloading trucks and delivering materials to the closing stages where they can be utilized for parking garage construction and landscaping," he says. "That versatility is really what propels this segment of the telehandler market."
Opportunities
The story is similar for JCB, which says it has historically seen strong growth in the compact market, even over the last year, but that the segment has indeed seen a slight decline over 2015's peak.
Rebecca Yates, material handling product manager for JCB, says the company foresees continued growth in the compact market with its customers and dealers finding new reasons to work in smaller areas where reach is still required.
"Finding new application opportunities has helped the compact segment expand," Yates says of the market. "These telehandlers may be small but they do not yield on capacity; and small spaces require strength. The JCB 525-60 compact telehandler is being used as a tool carrier, multifunctional with many different attachments, like sweepers and specialized buckets."
JCB's compact 525-60 telescopic handler replaced the 524-50, 527-55 and 520-50 rear-engine models. It features a low boom pivot point for increased visibility, a 74 hp, Tier 4 final, 2.5 liter JCB diesel by Kohler engine, three steering modes and a two-speed hydrostatic transmission with travel speeds up to 16 mph.
The maximum lift height is 20 feet and maximum load capacity is 5,500 pounds.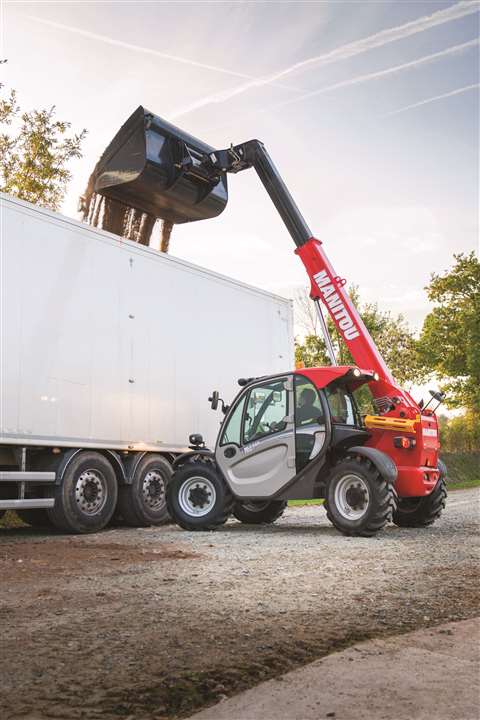 "JCB has seen continued growth in the compact telehandler market segment," Yates says. "The 525-60 offers one of the largest cabs in the industry providing a comfortable work space for the operator and with the highest reach at 20 feet (6 m) provides a machine with maximum productivity. Our customers are seeing the benefits of a machine designed to their requirements and applications."
Yates says attachments and options will continue to be an opportunity for compact telehandlers, especially specialty attachments that are built for a specific task. She also says the general competitive landscape has "grown beyond telehandlers in the smaller capacity class size."
"A customer may not only be comparing brands of compact telehandlers but also other equipment like a skid steer loader," Yates says. "This additional competition can hinder market growth, but it's essential to know the application requirements because a JCB compact telehandler offers significant capacity, reach and comfort over other, similar equipment."
Market trends
Taylor with Genie says the company expects the same headwinds in 2017 as they did in '16 for the compact segment.
"The data we have suggests that fleet replacement purchases have been lower this year," he says. "This can at least partially be attributed to the disruption in CapEx spending caused by the 2008 recession.
"However, we are optimistic that the Genie GTH-5519 telehandler will continue to perform well despite the general market conditions," Taylor says. "The versatility of the Genie GTH-5519 model has always allowed it to offset broader market conditions. It is a compact, affordable, versatile machine that fits as well into the retail space as it does in a rental fleet."
Genie's GTH-5519 is used for unloading trucks, moving pallets of material and placing loads at height, and can adapt to a wide range of available attachments. The Genie GTH-5519 model, with 19 feet of lift height and 5,500 pounds of lift capacity, has standard auxiliary hydraulics and is available with a universal skid steer adaptor to run auxiliary attachments that customers might already have in their fleet.
Taylor says the unit has maintained steady sales and demand continues to grow due to the versatility of the machine. A few trends he notes is that the North American telehandler market in general is seeing demand for more-sophisticated machines with better operator controls, visibility improvements and "other attempts to differentiate in this crowded market."
"The biggest trend is that more OEMs are jumping into this category," Taylor says. "The size of this market makes it very attractive for other manufacturers, and competition is increasing."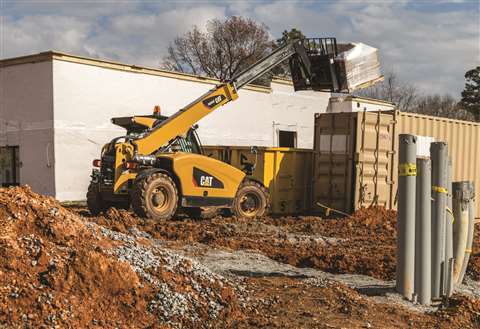 Mike Peterson, Cat telehandler product application specialist, says the expectation is that the market will continue to grow as more contractors discover the versatility of this compact and capable machine.
New units
Manitou Group is one such company that will be expanding its compact offerings in 2017. The company will launch two new compact units: the Gehl RS5-19 Gen:3 and the Manitou MTA 5519 Series 3. These new models will feature a single joystick control for all boom functions, fork tilt, auxiliary hydraulics and forward, neutral, reverse shifting. With this new system, the operator can keep one hand on the steering wheel and the other on the joystick control, the company says.
"Over the last two years we have had a steady increase in compact telescopic handler sales even with an overall declining market," says Steve Kiskunas, product manager of telehandlers for Manitou Americas. "We expect the North American telescopic handler market as a whole, to end 2016 at about 10 percent below 2015 sales. Within the compact TH range we expect the final 2016 numbers to show about a 5 percent lower level than prior year."
Manitou expects market recovery in 2017, however, with an overall growth of 5 percent compared to 2016.
"We are seeing strong construction demand and high rental utilization continue to fuel the need for more telescopic handlers," Kiskunas says. "A compact telescopic handler with a 19-foot lift height is perfect for just about anything a one story project will require. As the work moves above 20 feet, then the compact telescopic handler is useful unloading trucks, staging materials and performing site clean-up. They bring value to rental companies by providing a mobile tool that can work in confined spaces (parking ramps, city sidewalks, alleys, etc.) and move building materials on the jobsite."
Another new unit to come with the New Year will be launched by Caterpillar. The TH306D will make its debut in January and is configured with a two-speed hydrostatic transmission.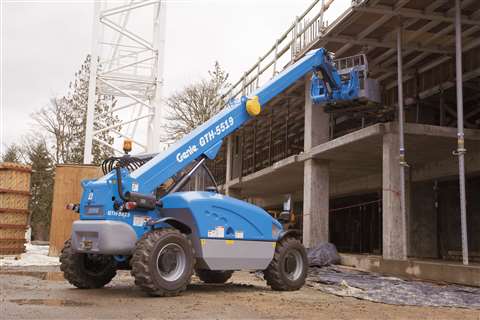 Genie's GTH-5519 can be used for unloading trucks, moving pallets of material and placing loads at height, and can adapt to a wide range of available attachments.
"While the industry volume overall has declined, the compact telehandler market has not declined as rapidly, growing its share of the market while most size class categories have declined," says Mike Peterson, Cat telehandler product application specialist. "The expectation is that the market will continue to grow as more contractors discover the versatility of this compact and capable machine."
Peterson says awareness in the market place seems to be driving some of this inertia, along with availability in the local rental locations. He says customers demand a 6K machine, and historically that has meant models with 36 to 44 foot lift height capability. A 5.5K unit that can lift 18 to 20 feet might be all that the contractor requires but a lack of awareness about the option minimizes demand at the local rental branch location.
"Customers are looking for lift height and forward reach that compact wheel loaders and skid steer loaders are unable to provide," Peterson says. "They are generally shorter in stature and have a tighter turning radius to a comparable lift capacity of a compact wheel loader, so customers are using them in tighter working environments. One of the two compact units we offer (TH255C) is predominately ordered with a compact/skid steer coupler so that customers are able to use tools they already have in their fleet."
Peterson, too, says that in the construction industry, Cat is seeing an opportunity for compact telehandlers to be used on some small construction sites that do not need the lift or reach capacity of larger machines. All of this versatility amounts to more companies and more products.
"[We expect] more competitive models as manufacturers take note of this growing segment," Peterson says.
And the 'more models, more OEMs,' mantra is going to ring true in '17.
Skyjack will debut a compact, 5,000-pound telehandler in 2017, but has not unveiled any further details.
We can also expect a Snorkel-branded telehandler line in the future, which likely will include a compact model. With Snorkel's majority share owner being Don Ahern, the company does have a crossover compact telehandler with Xtreme Manufacturing in its lineup currently. The 5919 has a 19-foot reach height and 5,900 pounds of capacity.
"Parallel to that, we have separate engineering projects from the ground up for telehandlers," says Mathew Elvin, Snorkel CEO. "We are developing a Snorkel telehandler line to compete against Genie and Skyjack. To be honest, our original wish was to use Xtreme telehandlers as a base, but we've decided ground-up engineering is the best approach."
The company will not produce a full line, but instead will focus on the smaller end of the telehandler spectrum.
Cat's meow
Also new in late 2016 was Bobcat Company's new V519 VersaHandler (also known as a telehandler). The unit has a 10-foot reach, lift height of 19 feet and maximum lift capacity of 5,500 pounds.
Designed with a standard 2-speed hydrostatic drive system, the V519 is suited to operate standard and hydraulic-powered attachments. As V519 operators lift their foot off the pedal, the machine comes to a stop. In addition, the automatic parking brake engages anytime the engine idles when it is stopped (in neutral) – an exclusive feature of the V519 – to avoid unintentional movement.
When V519 operators need full auxiliary hydraulic flow without full travel speed, a speed management feature allows operators to dial in a percentage of the normal speed. Operators can adjust the desired travel speed with plus and minus buttons, located on the joystick. This feature helps operators using hydraulically powered attachments. Available for the first time in a Bobcat telehandler of this size, the Bob-Tach attachment mounting system provides a mechanism for quick attachment changes.
Like other Bobcat compact equipment, the V519 is a versatile attachment carrier and is approved for use with a number of standard and hydraulic-powered Bobcat attachments.
An enclosed cab with heat and air conditioning is standard for V519s. Automotive-style vents allow operators to point the air where they need it. Operators can adjust the steering column with the tilt steering feature to meet their desired height. In addition, a three-way cloth adjustable suspension seat is standard.
NEWSLETTER
Delivered directly to your inbox, International Rental Newsletter features the pick of the breaking news stories, product launches, show reports and more from KHL's world-class editorial team.

CONNECT WITH THE TEAM
CONNECT WITH SOCIAL MEDIA