Crawling to the top?
By Lindsey Anderson15 January 2015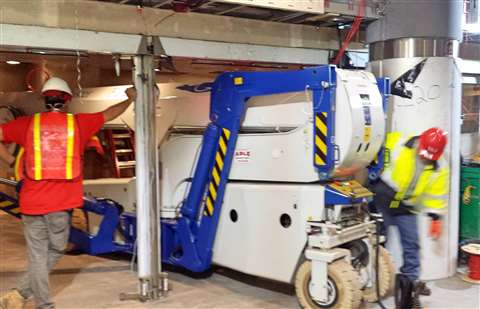 It's true; the North American market is a bit more stubborn than its European counterparts when it comes to acceptance and wide-range use of tracked aerial work platforms. The sector has been popular overseas for some time, however, manufacturers and rental companies here in the U.S. and Canada are now seeing growth and the overall potential for these units.
"We're seeing a growing interest in atrium lifts as a way to access hard-to-reach spaces," says Michael Flannery, chief operating officer of United Rentals. "Customers are realizing that an atrium lift can save money and time compared to the old method of erecting scaffolding."
New views
One company experiencing evolution in the rental market with compact, atrium lifts is Teupen USA. Teupen USA, whose parent company resides in Germany, opened its North Carolina headquarters in 2009 and launched the LEO13GT to the market during the same timeframe. Scott Reynolds, president of Teupen USA, says the traditional perception of compact, atrium lifts was that they were built for interior, facility management applications.
"Our rental partners are communicating many rental successes have been realized with construction trades in all phases of the construction process – both interior and exterior," Reynolds tells ALH. "One of the many great characteristics of compact lifts is their ability to stabilize on uneven or sloped terrain. This ability offers height access in situations where many traditional rubber-tired booms cannot operate."
For Teupen, the rental industry continues to progressively move forward with fleet investment in compact lifts – and the change of mindset helps, as well. The company is experiencing significant year-over-year growth in the rental industry, Reynolds says, but is also still creating awareness for both the product and the solutions offered many companies and new geographic markets.
"The end customer demand and awareness of this access solution continues to build which creates 'pull' to the rental companies," Reynolds says. "There is still some perception issues related to the 'specialty nature' of compact lifts and the notion this product group requires designated sales teams.
"We have found the solutions offered by compact lifts are applicable to a wide range of existing rental customers' needs. Rental companies are realizing these machines can be an integral part of their ability to offer the best possible solution to their customer. Additionally, the financial returns on the investment are proving to be quite compelling," Reynolds says.
Big orange
About three years ago, the world's largest manufacturer of aerial work platforms – JLG Industries, Inc. – announced it would start offering Italian-built Hinowa models under the JLG brand worldwide.
Randy Marzicola, director of channel development for JLG Industries, Inc., says dealers and rental companies are still getting excited about crawler-based, compact aerials, and that distribution partners are confident about integrating these machines into their fleets.
"We are very encouraged, not only by our dealer's response, but by the overwhelming positive response of our end-users," Marzicola says. "These machines are very common in Europe, but here in the North America, this is a new concept, a new and innovative solution to address the tough challenges facility professionals face. Even as we progress through the early adoption phase, we are very pleased with the trajectory and willingness of our dealers to add these machines to their fleets."
JLG sees compact crawler booms used in a variety of maintenance applications, including work in gymnasiums, auditoriums, museums, arenas, hospitals, universities and shopping centers. While compact crawler booms are widely used in Europe, as Marzicola says, the company sees this product gaining ground across North America and beyond as users and rental companies become aware of the advantages compact crawler units provide.
"Europe adopted this technology first because the market simply has more applications for these machines," Marzicola says. "They have many more historic buildings and most of those buildings have narrow access points, as one would expect with ancient buildings. We are focused on demonstrating the JLG compact crawler booms (CCBs) unique characteristics to solve challenging maintenance applications, not just in historic buildings, but in many applications where the CCB is simply the smartest choice."
Clean rooms, for example, and other sites where there are environmentally strict application and compliance standards are well suited for CCBs. JLG will offer a biodegradable oil option next year for machines used in these types of sites.
"The institutional segment provides several interesting applications, from new buildings with large open foyers, where glass cleaning and maintenance at height is required, to older or historic buildings, where floor loading and narrow access create unique equipment demands, and areas that feature ceilings and electronic or mechanical devices, like smoke detectors, sprinkler heads, alarms, cameras, seasonal signage and solar panels that require regular maintenance," Marzicola says.
JLG, which launched two new compact, crawler machines to the North American market this year – the X500AJ and X600AJ – says the most significant benefit of these machines is the ability to access applications via narrow passages or sensitive flooring while providing a work envelope similar to that of a wider, higher ground bearing pressure electric boom lift. Both the X500AJ and X600AJ feature 500 pounds of unrestricted load capacity. The JLG X500AJ features a 56-foot working height and 50-foot platform height, and the X600AJ unit features a 66-foot working height with a 60-foot platform height. Both models are lightweight for load-sensitive surfaces and ease of transport. The addition of forklift pockets and lifting hooks on the outriggers allows for convenient loading and positioning in the most challenging facility applications, the company says.
"Our crawlers offer up to 76 feet of working height with access to a lot more locations," Marzicola says. "That's much more versatility than a traditional 60-foot knuckle boom, which is the one of the most common lifts for indoor applications."
Hesitation to 'jump in'
Martin Leblanc, president of Quebec-based equipment renter and dealer Up Equip, says everyone seems to acknowledge the pertinence and the place of atrium, compact, tracked lifts, but they are hesitant to "jump in." Up Equip rents the Easy Lift brand of compact, tracked aerials. Easy Lift was founded in 2005 and has over 60 different models available to North and South American customers.
"The complexity of some units and the difficulty rental houses have to repair and maintain some brands they carry in their fleet somewhat contributed to that perception," Leblanc says. "Our experience shows that most rental houses, major and smaller, are a lot busier fighting against each other with most popular type of equipment. We feel the market is not comfortable promoting the compact tracked lifts to their customers because they have this perception that they are complex, not easy to explain and that they can't just leave it there on the jobsite as they do with more 'common' type of equipment. In our region, we have a large pool of rental houses that carry some brands in their fleet who choose to rent our atrium compact tracked lifts to their customers instead of using theirs."
Despite these uncertainties, Leblanc says Up Equip has seen sales double to rental companies every year due to the "beauty of the atrium compact tracked lift" that can be used on a daily basis.
"Companies can pump out a significant volume of work with them but, when they are in need, they can do special jobs," Leblanc says. "We believe that our growth is due to the simplicity of our machines over our competitors', including the use of simple and common components available locally. Easy Lift decided not to move into fancy electronic components to manage the conditions and supposed to ease diagnosis. Our competition did and had their customers, as well as their own fleet, experiencing issues and extreme delays in repairs and maintenance."
While end-users continue to be educated and add these units to their fleets, Leblanc says early adopters are still working hard to relay the benefits of these units and that it won't be long until North America is on track.
"Soon, almost all buildings in North America will require a spider lift to perform all sort of tasks," he says. "We like to say architects are our best friends. They come up with wonders, huge atriums and complex structural chef-d'oeuvres without a slight consideration of who will eventually have to maintain, clean, repair and paint their creations. Who do you think these guys will turn to when the time will come? Rental houses."
More wheeling and dealing
Italy-based Oil & Steel is another outsider looking into the North American market – the company is currently establishing its dealer network across North America. Stefano Ghesini, sales director of PM North America llc (Oil & Steel), says there is definitely growing interesting from the rental market for crawler lifts, especially from independent companies who "need to fight every day against big rental groups."
"Small rental companies are looking for small niches and new opportunities to grow their businesses and they smartly look into the concept of these machines," Ghesini says.
Oil & Steel debuted the EVO 2300 at ConExpo this year. The 72-foot machine is the tallest in the company's range and features a 180-degree rotating jib and basket. The company's entire range features units that are 31 to 38 inches wide and lift heights from 45 to 72 feet.
Ghesini believes the market will take time to catch on due to the popularity of scissor and boom lifts here.
"North American operators are familiar with scissors and wheeled lifts because there is more demand for these lifts and they are easier to rent," he says. "In my opinion, [the popularity of scissor and wheeled lifts] is the reason why large rental corporations with national coverage do not invest in crawlers. It is a matter to understand the concept more and the demands will grow."
Ebbe Christensen, president of ReachMaster, which distributes BlueLift and Falcon units, says tracked, compact lifts do have their special needs and markets.
"They are more nimble, more fragile; they do take more training, because they have more technology than booms or scissors," Christensen says. "Rental has started to be a major buyer in the U.S. because compact 40-foot to 72-foot track lifts do all the things from a reach point of view of scissors and booms in that range, but it's a much lighter, more versatile machine. It's almost like the tip of the iceberg – rental has been reluctant, but rental has now finally seen that big applications are being solved by other machines in a less efficient and less safe way."
Another general advantage, Christensen says, is delivery.
"Where booms, and often scissors, have to be delivered to site on multi-axle trailers, tracked platforms can be transported on smaller trailers."
About 50 percent of ReachMaster's sales currently go to rental companies. "I would not be surprised if rental will become the most dominant sector," says Christensen.
Another company on U.S. soil that has compact, tracked units is Niftylift. The company's working height range is from 34 to 50 feet and its units combines the capabilities of trailer-mounted and self-propelled booms. The units can be driven from the platform while stowed and they offer traction on steep gradients along with hydraulic outriggers that provide stability. Power options available on Niftylift track drive access platforms include battery, gas, diesel and bi-energy.
Other new ventures include a number of updates and products from Teupen.
"We are excited to bring a new 54-foot machine with an independent jib (TL54AJ) to the North American market in 2015," Reynolds says. "Additionally, we will be introducing a new lithium ion battery solution for our LEO series with a fantastic performance and short recharge cycle. This will replace our existing wet cell DC battery system. Finally, we will be introducing a modular basket system which will lower repair cost to both the end customer and our rental partners allowing for component replacement rather than basket welding or replacement."
With the number of manufacturers and dealers increasing in the U.S. and Canada, and new products coming with them, the industry looks to be on its way of accepting and implementing these machines into their fleets and work over the next few years.
"The bottom line is we fully expect to see accelerated and continuous growth over many years to come," Reynolds says.
NEWSLETTER
Delivered directly to your inbox, International Rental Newsletter features the pick of the breaking news stories, product launches, show reports and more from KHL's world-class editorial team.
CONNECT WITH THE TEAM
CONNECT WITH SOCIAL MEDIA