Cramo opens equipment rental depot of the future
By Belinda Smart15 June 2021
In May, Cramo moved into the company's new 23,000 square metre rental centre just outside Helsinki. Belinda Smart spoke to CEO for Northern Europe, Martin Holmgren, and Managing Director - Finland, Tuomas Myllynen, about the facility's place in Cramo's strategy.
Occupying a 14-hectare greenfield site in Åby, Vantaa, in the Helsinki region of southern Finland, Cramo's new centre is the largest of its kind in Europe, housing Cramo's headquarters for its 230 Finnish employees, and bringing the company's former capital area hubs, comprising two larger ones and two smaller ones, under one roof.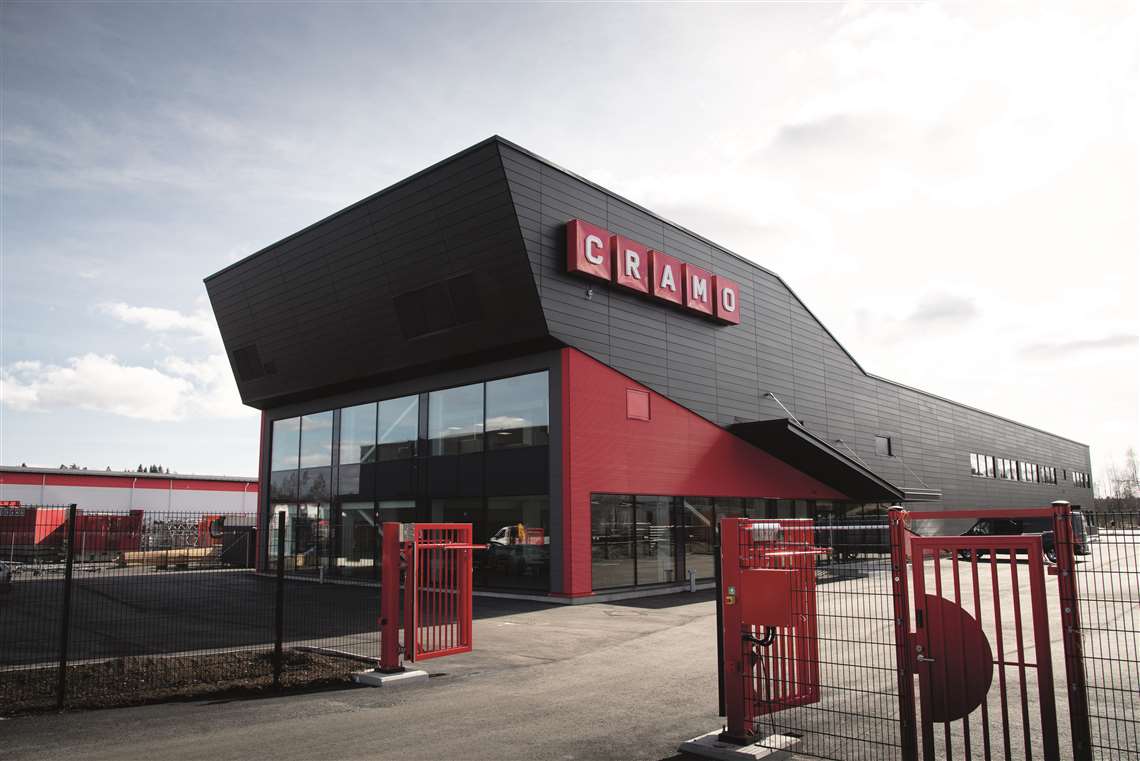 The new central 'hub' will also support 10 depots across the capital region and smaller regional sits across the country. The planning for the location predated the acquisition by Boels Rental last year - see more below.
According to CEO Martin Holmgren, it is more than simply an impressive physical presence at Åby; it also represents a new chapter triggered by a complete re-think and streamlining of Cramo's operations.
"In Åby we had a unique opportunity. It's rare to have a greenfield design and this is really, in my opinion, one of Europe's largest and best designed equipment rental facility," he tells IRN.
"A single main headquarters will mean reduced premises and transportation expenses, high availability and quick deliveries, co-operation between different functions and teams, which in turn will be to the benefit of our customers who will get their equipment and services faster and with higher quality," Holmgren says.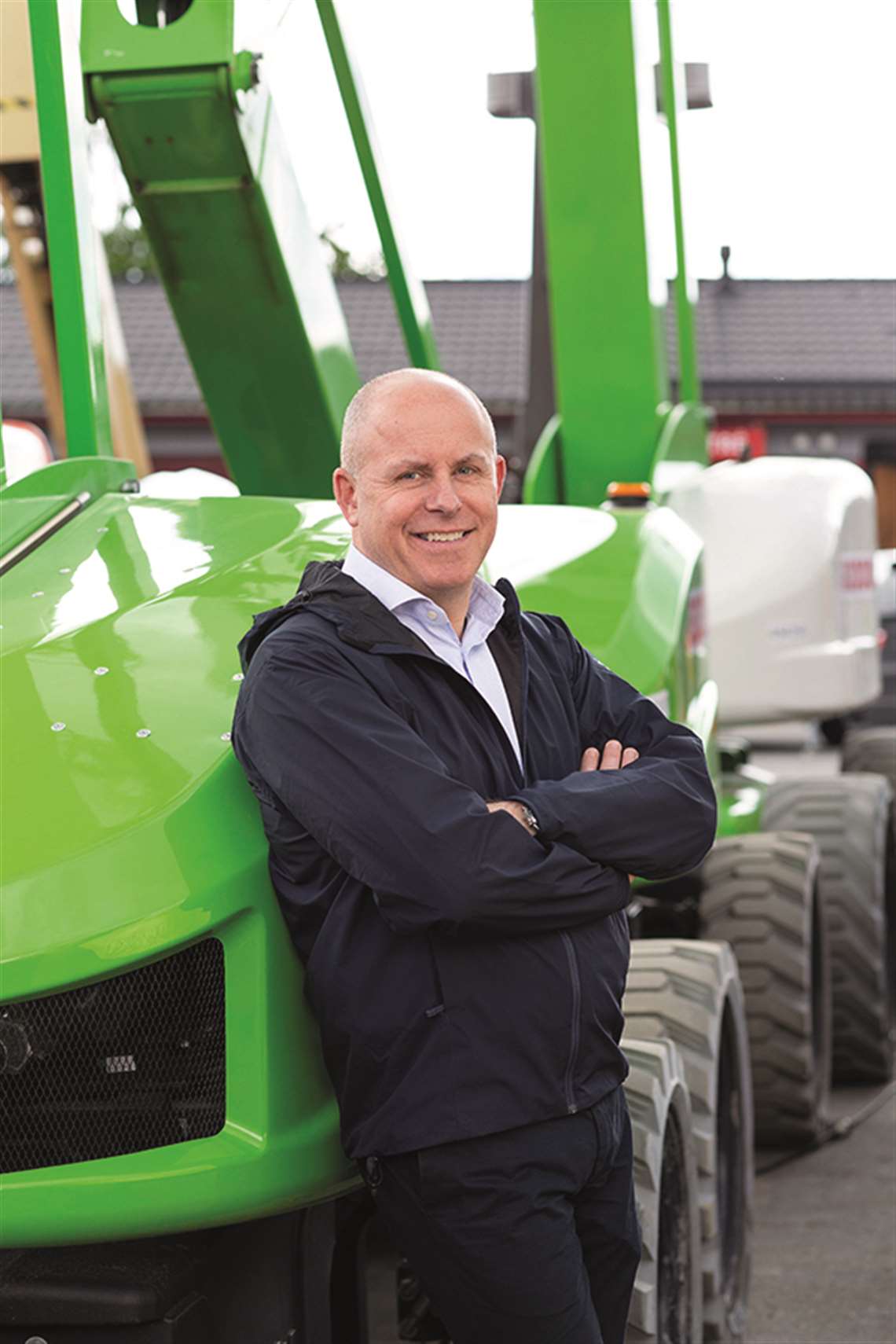 Customer focus
"The driving force behind the new Åby hub has always been customer service," says Holmgren.
"In fact, the project embodies the company's philosophy of having customers at the centre of all its activities."
"The centre will maintain Cramo's previous 'hub and spoke' configuration, but a tighter focus bringing former capital area hubs into one space will support different customer needs for two types of customer behaviours, aligned respectively to 'capacity' and 'availability.'
"The first group is made up of large volume businesses with a longer planning horizon. They seldom come into our premises and typically order through e-channels. In terms of 'capacity', we are positioned as a trusted partner delivering on major projects for these customers.
"The second group is the 'instant need' customers who tend to need one or a handful of machines. They need availability but in smaller volumes."
Where availability is the driving principle, the centre has also been structured to foster fast and efficient service to Cramo's 10 depots across the capital region and smaller regional hubs across Finland.
"For the customer at our depots, it's all about availability and convenience, and Åby ensures that the depots have the equipment to meet the customers and their requirements."
To achieve this, the new centre will utilise a central logistic planning team that oversees dispatching and planning for whole of southern Finland.
Going digital
Logistic planning and other processes at the centre are underpinned by Cramo's new digital platform.
Holmgren spent 17 years as VP Fleet Management at the company before taking on the role of CEO in April 2020 - following the Boels acquisition - and has put considerable resources behind taking it on what he describes as an "amazing journey" to digitalise its fleet management operations.
"We are at the starting phase of this, and it has accelerated enormously in the last two years in terms of customer acceptance of new digital tools.
"At Cramo we want to make ourselves more productive, but we are also devoting enormous amounts of resources to helping our customers to do the same.
"There are real opportunities through the sharing of data, in terms of, for example, measuring different aspects of the customer's interaction with Cramo.
"The operational centre is connected to Cramo's e-Commerce solution, which works as a 'webshop' and 'webdepot' where customers can browse, compare and order equipment, and even return it.
"This also works as an online platform where customers can view their products on rent site by site. This is an essential part of our comprehensive digital strategy."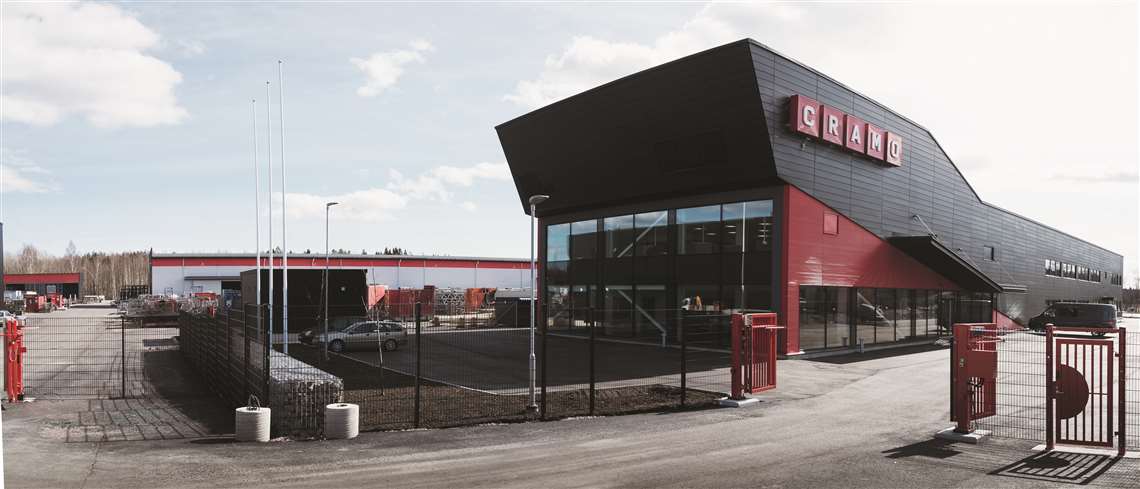 The e-Commerce service covers the entire rental equipment range, showing detailed product descriptions, photos and availability by depot. Equipment can be ordered either to be transported to the site or collected at the depot.
It can also be returned online, with account-holding customers able to browse through their order and see invoicing history site by site. This is designed to facilitate their selection of equipment.
In addition to the e-Commerce platform, Cramo Insights is an interface that allows customers to monitor their rentals, as well as other metrics such as emissions data.
Holmgren says the company's digital platform will see new improvements in future.
One of these will be to enhance the transparency of communication between Cramo and its customers with a platform that enables Cramo and its customers to view the same information in dashboard format.
"We have a strong position in the way we deliver the business and digital is a big part of that. Going forward we will be aiming for greater understanding of all business sub-segments through data, understanding different customers' needs rather than a one size fits all approach.
"We'll be tailoring our offering to individual customers, and I think we have a very exciting journey ahead."
Sustainability
A data driven approach will be critical in managing a centre described as the largest in Europe, which in turn supports Cramo's sizeable fleet, totalling around 15,000 to 20,000 serial numbered units in the capital area, the majority of which will transit through Åby during the return and rental process.
The fleet includes site-huts, scaffolding and weather shelters, hoists and mast climbers, larger access equipment, construction equipment and special tools including electrical, heating and dust control.
It also reflects the company's sustainability commitments.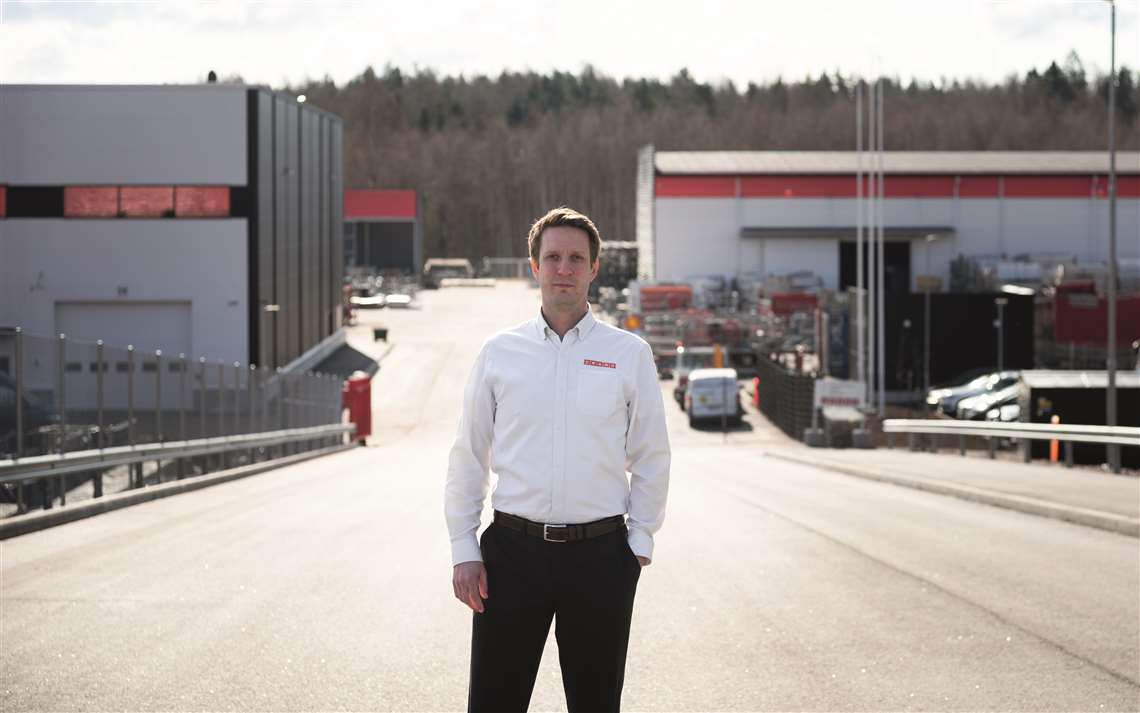 More than 95% of Cramo's access expansion investments are in electric or hybrid machines and this year it will add more than 300 electric and hybrid units to its fleet.
This aligns with Cramo's commitment to targets specified in the Green Deal between the Finnish Ministry of the Environment and the rental industry, as does the design of the centre itself.
"Because the centre enables a 15 to 25 % reduction in internal transportation between capital area hubs, it also enables lower CO2 emissions," Managing Director Tuomas Myllynen tells IRN.
The centre embodies 30-40 % savings in energy consumption through the use of renewable water and wind powered electricity, he adds.
"It will also allow for increase sorted waste from the current 10% to 20 % due to better waste management planning. Reduction in water consumption is estimated to 5%, and the centre is solar power ready, as well as offering electric car charging."
He adds that Cramo also has a 'zero-accidents' target at the centre and the depots, aligning with Finland's national target level for construction.
Last year its Lost Time Incident Rate (LTIR) improved to 3.6 from 8.2 through actions such as personal safety observations by all employees and monthly risk assessments.
Boels' acquisition
Of course, Cramo was acquired by Netherlands-based Boels Rental in February 2020, and while the Åby facility and restructure pre-date the purchase, Holmgren says they also align with the merged companies' joint 'Boels-Cramo NXT Strategy', which places customers at the centre of its operations, with an emphasis on providing a platform for growth.
He believes the new centre will also play a role in supporting knowledge exchange between the two companies.
"Cramo's strength is in major projects, while Boels has in-depth knowledge in driving business in the central European market, where the primary model is SMEs", says Holmgren.
"We have a clear focus to strengthen our position in that SME market and we can learn a lot from Boels about how they think and how they operate their depots.
"Delivering better to SMEs is an important target for us. This means arranging the depots better to enable good service to walk-ins or calls; almost like a convenience store offering 100% product availability to the customer.
"We have depots where we've scaled up the assortment and improved the efficiencies in terms of delivering to the customer and this is set to increase."
Backed by Boels' market presence, Cramo is aiming to evolve into a better version of its previous self. The Åby hub represents one step in that process.
NEWSLETTER
Delivered directly to your inbox, International Rental Newsletter features the pick of the breaking news stories, product launches, show reports and more from KHL's world-class editorial team.
CONNECT WITH THE TEAM
CONNECT WITH SOCIAL MEDIA