Construction demand boosts US rental market
Stimulus measures and pent-up demand as the worst of the Covid-19 crisis abates point to an upswing for the US constrution equipment market, but supply chain disruption remains a preoccupation. IRN Editor Belinda Smart reports.
Strong demand for construction and industrial services paired with stimulus measures look set to be factors behind a marked recovery for the US rental market, following a challenging 18 months.
The path to recovery isn't without obstacles however, as supply issues could remain a challenge into the medium and even the longer term.
Equipment rental market forecast
Nevertheless, The American Rental Association (ARA)'s updated outlook, released in August, points to a generally optimistic future, with the hoped-for passage of the Infrastructure Investment Bill, predicted to boost equipment rental revenue for 2022.
Overall, the ARA forecast called for 9.68 percent increase in revenue in 2022 to reach nearly $52.5 billion, surpassing the equipment rental industry's previous peak revenue of nearly $51 billion in 2019.
According to research company GlobalData, the US construction industry is predicted to grow by an average of 3.3% a year between 2021 and 2025, following the US Senate's passing of the new US$550 billion infrastructure bill announced by President Joe Biden.
While at the time of writing the bill had yet to be approved by the US House of Representatives, GlobalData said it would likely see the US spend around US$1.4 trillion (€1.2 trillion) on infrastructure over the next eight years.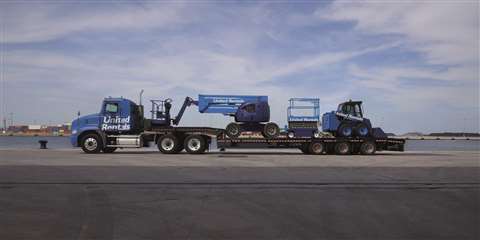 This renewed buoyancy is reflected in the latest results and forecast from the world's largest equipment company, United Rentals.
In July, United announced second quarter total revenues of $2.287 billion for the three months to June 30, with equipment rentals accounting for more than 85% of that figure at $1.951 billion.
Ashstead, owner of Sunbelt Rentals, is demonstrating a return to growth too. Its 2021 financial report showed rental revenue for the fourth quarter up 15% over last year and up 14% when compared with the same period a year ago.
For Herc Rentals the picture is the same, posting upbeat Q2 and H1 2021 results. Its total revenues were up 33.4% to $490.9 million compared to $368.0 million in the prior-year period, supported by a $120.4 million rise in equipment rental revenue.
Herc President and CEO Larry Silber's statement on the results indicated the US is entering a favourable climate for rental businesses.
"Tight supply of new equipment and steady demand from a number of key markets have provided a positive operating environment," he said.
With a return to growth also comes new initiatives or developments.
The recent announcement that John Deere and Hitachi will end their long-time joint venture in the Americas in February 2022 opens the way for Hitachi to pursue its own strategy, and rental will be a part of that.
Hitachi already owns a share of Arizona-based, wholesale rental specialist ACME, and will also create a 'Premium Rental' offering through its dealers.
ACME, meanwhile, recently sold its aerial platform rental assets to United Rentals and will now focus on wholesale rentals of Hitachi machines, as well as supplying fleet to future Hitachi dealers.
The attractions of the US rental market are also highlighted by The Home Depots' continued investment in the sector, most recently adding online rentals to the services it is offering, mainly targeted at its 'Pro' customers.
Focus shifts to sustainability in the US equipment market
Amid the optimism, the Biden administration is feeling the pressure to act on climate change following the UN's most comprehensive climate report to date.
Environmental responsibility is increasingly being seen as a benchmark of performance in the US, forming a primary part of leading companies' making environmental, social, and governance (ESG) commitments.
Ashstead / Sunbelt's recent investor presentation outlines its strategic plan, Sunbelt 3.0, including ESG as one of five actionable components to enhance transparency regarding its activities.
The company says its biggest commitment in this area is to decrease carbon intensity by 35% by the year 2030, with a shorter-term goal to reduce carbon intensity by 15% by 2024.
Herc Rentals has also committed to reduce the impact of Scope 1 emissions - direct emissions that occur from sources controlled or owned by the company, and Scope 2 GHG emissions - the result of activities from assets not owned or controlled by the company but that it indirectly impacts in its value chain - by 25% by 2030.
It is also "evaluating and developing a detailed process and methodology" to track Scope 3 emissions, indirect emissions released upstream and downstream in a company's value chain.
Construction machinery: manufacturing supply and demand
Equipment manufacturers are responding to demand as the US ramps up its construction and infrastructure building activities, although lack of supply and cost issues remain a challenge, as evidenced by reports from aerial platform specialists JLG and Skyjack.
Tim Morris, JLG Senior Vice President of Sales, Market Development, Marketing and Customer Support, Americas, told IRN, "The US rental market has pleasantly surprised us this year with a strong rebound.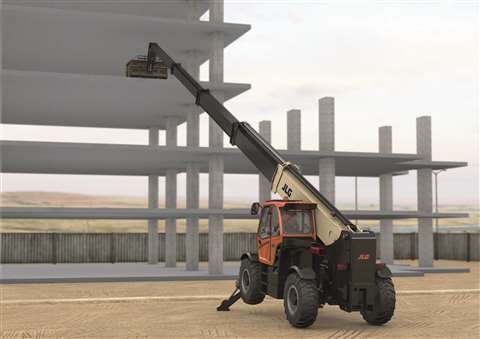 "While we did anticipate a gradual growth in aerial equipment sales as job sites began to reopen and demand for equipment increased, the volume came both earlier and faster than expected across all our product lines including boom and scissor lifts, telescopic handlers and low-level access equipment."
However, "continued uphill battles" continue to hamper the rental equipment sector.
"Supply chain constraints continue to be a challenge and raw materials costs continue to climb. With the US inflation rate hitting a 13-year high in recent weeks both manufacturers and all those who are part of the rental industry ecosystem are experiencing unprecedented pricing pressures.
"We continue to work closely with both our suppliers and our customers to navigate this period with as little disruption and impact as possible."
For now, "Manufacturers cannot build machinery quick enough to meet pent up demand," he says.
For JLG, that demand extends across all product classes, although specific category growth in key areas is driven by factors including urbanisation and the rise of warehouse construction, as a result of the growth of online shopping caused by the pandemic. The building of data centres is another growth driver.
Demand for compact access equipment rises 
With urbanisation driving demand for compact equipment, higher capacity machines and higher-reaching models, JLG recently entered the micro scissor category with its ES 1330 and ES 1530 scissors.
It has also introduced the new 1030P low-level access lift for indoor use in place of ladders and scaffolding. In the telehandler category, it now offers an ultra-compact model, the SkyTrak 3013.
Warehouse construction requires continuous placement of utilities at a fixed height, and JLG has designed its new RT and ERT line of scissor lifts to meet this need.
Its new DaVinci scissor lift is suited for indoor work at data centres, which requires lightweight, environmentally friendly machines for confined areas.
Morris adds that another factor of concern during the pandemic was oil and gas market fluctuations as the US "essentially became stationary overnight" due to the cessation of commuting and travel, although this was offset by demand for heating fuel in lockdown as people spent longer periods of time at home.
Surge in residential construction increases rental equipment demand 
However that "home front" activity also means that as the US emerges from the crisis, residential construction growth indicates healthy rental equipment demand.
"The surge in residential housing is certainly helping contribute to the fast recovery in demand for aerial and material handling equipment in this post-pandemic economy."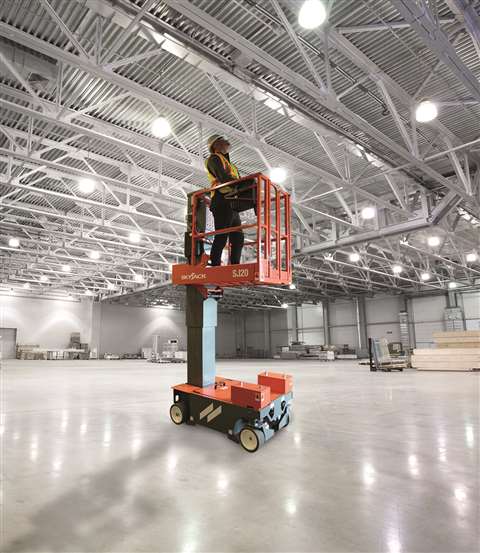 Meanwhile for Skyjack most product classes are seeing high-double and triple-digit growth compared to Q2 2020.
"As construction activity continues to increase in North America, Skyjack is seeing a strong demand for all its products by the rental market," vice president Malcolm Early told IRN.
In particular, demand for sustainable rental machines that decrease total cost of ownership is being met by Skyjack's SJ20 vertical mast that features full electric drive.
Its new 40ft and 60ft booms that offer emission regulation benefits through smaller engines are also in demand, along with the SJ3013 micro scissor, and the largest rough terrain scissor lift to date, the SJ9664 RT.
On the down side however, "Skyjack was impacted by the pandemic-induced disruptions in global supply chains which had significant repercussions on build rates," says Early. "There was a major steel shortage throughout the supply chain in 2020."
How the steel shortage affects equipment manufacturers 
And while the supply issues at one point concerned engines - which would have detrimentally affected rough terrains, booms, and telehandlers – Early says the situation has now developed across the board.
"The overall impact is that initial commodity price projections have had to be substantially revised and still remain very volatile.
"For the industry this means prices moving upward. It has coincided with strong customer demand as things get back to normal as Covid restrictions ease. What this means for Skyjack is that it is now very much focused on orders for 2022."
"As Covid-19 restrictions continue to ease in North America and build rates increase, the access industry is experiencing increased demand. Skyjack is already seeing orders for next year."
Skyjack is also watching the issue of antidumping and countervailing duty on MEWPs unfolding in the US.
"Earlier this year, some OEMs started a Coalition of American Manufacturers of Mobile Access Equipment to petition the US government to investigate their concerns that Chinese manufacturers, backed by the Chinese government, are selling MEWPs in the US at less than fair value. The investigation continues and could impact fair competition in the future.
"Skyjack's stance is that it does not run from unfair competition and will continue to compete based on product differentiation."
US construction equipment sales
According to IRN sister company Off-Highway Research, the US market for smaller machines benefited from focus on home upgrades during the pandemic, while larger machines took a hit but are expected to recover thanks to US stimulus measures.
Off-Highway Managing Director Chris Sleight tells IRN in collating sales figures to date and future forecasts, Off-Highway split results between compact lightweight equipment (under about 10 tonnes) and heavy machinery "because the dynamic for the two has been different since Covid-19."
"Sales of smaller equipment barely fell at all last year and are now seeing good growth. This is due to buoyancy in the residential market.
"Part of this is driven by the forced move to working from home for many office workers, who have invested in extending their homes to add office space.
"Heavy machines are bigger ticket items, so you would expect their sales to fall off in times of financial stress and uncertainty. This is clearly what happened in 2020. However, there should be an increase in the coming years as infrastructure activity increases."
Total sales of compact and midi equipment under 10 tonnes, dropped minimally to 191,795 in 2020 from 195,709 in 2019. For heavy equipment the drop was more marked, 47,225 in 2020 from to 64,602 in 2019.
Sales for specific equipment types reflect this trend. Mini excavators totalled 50,400 in 2019 and grew to 55,145 for 2020. The predicted total for 2021 is 62,000.
The total for wheeled loaders greater than 80 HP was 15,340 in 2020 compared to 19,475 in 2019 and is expected to rise to 17,500 for 2021.
NEWSLETTER
Delivered directly to your inbox, International Rental Newsletter features the pick of the breaking news stories, product launches, show reports and more from KHL's world-class editorial team.
CONNECT WITH THE TEAM
CONNECT WITH SOCIAL MEDIA