Can a 'flying light tower' revolutionize job site illumination?
Blue Vigil is a startup targeting traditional job site lighting with its compact area lighting system that mounts a high-intensity LED array on a tethered Unmanned Aerial Vehicle (UAV), also known as a drone. We spoke to CEO Robert Schumann about the technology and why he believes it's a natural for rental.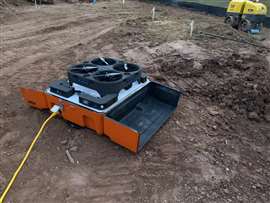 This is the time of year when job site lighting begins to take center stage in North American construction. With fewer daylight hours, and crews scrambling to finish jobs before winter weather kicks in, effective and efficient illumination is key.
Traditional light towers save the day, but they come with several drawbacks that are as old as the technology they use: difficult transport, tricky setup, less-than-ideal light coverage, to name just a few.
In response to these challenges, U.S.-based startup Blue Vigil has introduced its aerial LED "ALED," a drone-powered, portable lighting system designed to make job sites safer and more productive for construction at night.
According to Dodge, drones are being utilized on 55% of construction projects, up from 48% in 2021 and 36% in 2022, with usage higher among large contractors (67%) compared with small contractors (9%).
"We are bringing major technological innovation to the $4.5-billion global light tower category," said Robert Schumann, CEO, Blue Vigil. "Currently, towed light towers are the de-facto standard for a majority of night-time roadside, bridge, overpass and other horizontal construction sites. However, they have inherent limitations in tower height and lack of flexibility in placement."
Behold, the 'flying light tower'
Since the 1990s, the light tower category has seen minimal innovation. "Over the past 30 years, manufacturers added LEDs, made them a little bit smaller and made them mobile. It's fundamentally a very mature technology," said Schumann. "They can't make the masts any higher because of basic physics. If you make the mast taller, you have to increase the footprint and the weight to counter balance the added height. Today's light towers are already maxed out from a practical perspective."
Blue Vigil's ALED Portable Light is a compact area lighting system that mounts a high-intensity LED array on a tethered Unmanned Aerial Vehicle (UAV), also known as a drone, positioning the light up to 100 ft (30.5 m) above a job site. Using the tether for power allows the light to remain in position for as long as needed.
The drone light puts over 8,000 sq ft (743 sq m) of five ft-Candle OSHA-quality light on the ground, providing nearly twice as much useable light coverage as traditional towed light towers.
"Illuminating a work area from directly above eliminates dangerous shadows and glare that create hazardous conditions for workers and motorists," said Schumann. "The ALED Portable Light will dramatically improve work zone safety and operational efficiency by putting more usable light on the ground where it's needed."
The all-weather light is enclosed in a rugged, person-portable wheeled case that can be positioned wherever illumination is needed. Because it can be easily moved and positioned, it reduces the need to have heavy light towers stationed in areas where they aren't always needed.
"It weighs only 85 lbs and fits into a pickup or SUV. It doesn't require a trailer or towing, and that makes it easy to position and store," said Schumann. "Set-up is really simple. You position the unit, open the case and push one-button to raise the light into position. The direction and brightness can be adjusted via the controller while the light is in the air."
Targeted to rental
Schumann explained that, despite the sophistication of drone technology, the ALED is not complicated to use.
"The user controls are essentially the equivalent of a crane control, with eight buttons to guide the drone up and down. The case sits on the ground, the tethered drone takes off from the case and flies directly above, and then lands directly on the case when it's no longer needed. It's incredibly simple to use."
Schumann said the ALED has huge potential for rental, and Blue Vigil has already partnered with some rental companies for beta testing.
"We absolutely see this as a rental product," he said. "We believe it's going to have half of the operating cost of traditional light towers because we don't have all the mechanicals or a big diesel generator," he said.
The acquisition cost, however, is a bit higher.
"It's probably going to be about a 40% premium to a traditional light tower," Schumann said, "but we put twice the usable light on the ground. A traditional light tower will emit about 4,000 square feet of 5 ft-Candle light, while the ALED emits about 8,000 square feet of 5-ft-Candle light. So if you look at it as raw cost per square foot of usable light, we're actually going to be a slightly better deal."
Drones are inherently lightweight objects, but the ALED is built to be robust. Schumann said the ALED was designed from day one to perform within a construction environment.
"Our design target is to be as robust as a traditional light tower," he said of the unit, which is said to withstand winds up to 25 mph. "This is a construction product that needs to work in a construction world, and that is not a friendly world."
Heavy-duty applications
The ALED is designed for applications that are problematic for traditional light towers, such as large concrete pours, or heavy bridge construction... and everyday rentals.
"The rental market is probably one of the harshest on equipment," Schumann said. "We have several smaller rental companies in our beta testing, to start gathering experience in the rental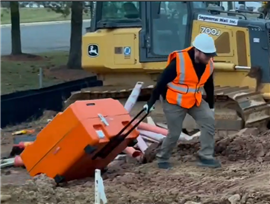 market and ensure our product meets those needs."
Schumann pointed to some of the benefits the ALED offers rental companies, including no need for a trailer to transport, as well as its compact footprint.
"You can put 104 of our boxes in a shipping container," Schumann explained, "and you can efficiently store these units at your rental company, which is a big issue."
Delivery is also less of a challenge. Typically, 10 traditional light towers fit on a flatbed trailer, and someone needs to carefully unload them. And because the light fixtures are delicate, stacking them safely to prevent damage can be a challenge.
Traditional light towers are generally gas fueled, but the ALED is powered by electricity, making it a good choice for companies working to lower their carbon footprint.
"This product doesn't have an internal power source, it needs external power, which could come from a small gas generator or a large diesel generator, if serving several units.
"It could also come from a Ford F-150 pickup truck, or an electric vehicle," Schumann pointed out. "A lot of electric vehicles now have electric outputs that would work perfectly fine for this."
Testing, testing...
Blue Vigil is currently beta testing with rental companies in North America, and will begin doing some international tests as early as next year.
"We're very much targeting worldwide availability," Schumann said, adding the company will be building a dealer network for distribution.
Street Smart, a Columbus, MN-based rental company serving the United States and Canada, is one of the companies trying the ALED, and hopes to add the product to its line up in the future.
Brady Markell, director of marketing and business development at Street Smart says the new drone light is ideal for general contractors.
"The appetite will be there for the contractor because it's a better quality of light, so they won't need to use as many traditional light towers," he said. "It's also a small footprint that takes up less space, making it very agile and you can bring it anywhere."
Markell points out that the contractor will have multiple options for powering the light - by either plugging it in or powering it through wall/shore power; a smaller, quieter portable 3000 W generator; or a common vehicle inverter – whichever best meets the needs of the job site.
"This product has checked a lot of the boxes that light towers traditionally do not. It offers a bigger, higher-quality light field, less noise, an ease of powering, and the fact this isn't on a trailer; it's highly portable. You can more easily get it to remote locations so the concept of 'use it anywhere' is actually real," he laughed. "I'm excited to see where this goes."
Blue Vigil is currently taking pre-orders for the ALED and scheduling product demonstrations. Commercial availability is planned for Q1 2024.
NEWSLETTER
Delivered directly to your inbox, International Rental Newsletter features the pick of the breaking news stories, product launches, show reports and more from KHL's world-class editorial team.
CONNECT WITH THE TEAM
CONNECT WITH SOCIAL MEDIA