AMECO CEO outlines new strategy and diversification goal
Can Gary Bernardez grow an independent AMECO North America into a real force in the North American process and contracting sector? He talks to IRN's Murray Pollok.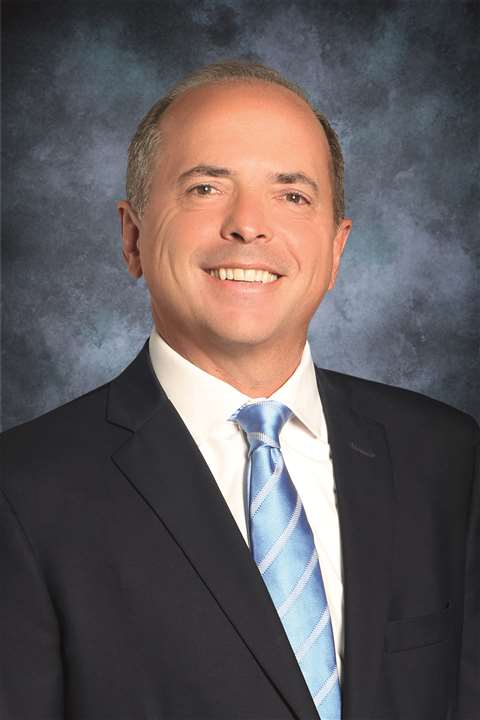 Gary Bernardez may have returned to the role of CEO at AMECO that he held from 2001 to 2012, but he finds himself at a very different company.
The business now operates only in North America and is owned by private equity firm One Equity Partners, the investor that acquired the North American operations of AMECO from Fluor Corp earlier this year.
Fluor is still in the process of selling other parts of AMECO - the Caribbean operation has been divested and it is looking for buyers for its South American and African operations - but AMECO North America is up and running as an independent entity, and Bernardez has the task of making it a success.
Speaking to IRN from AMECO's corporate head office in Greenville, South Carolina – an office he remembers commissioning before leaving in 2012 - he jokes that there will no longer be 15-hour flights to projects in South Africa. In other respects, though, it will be just as challenging.
AMECO's new relationship with Fluor
The historic links to Fluor - 75 years as the in-house equipment and support services division - together with its ongoing involvement in Fluor projects, mean that the former parent remains a key customer.
However, it has to diversify its business beyond Fluor, which means Bernardez will need to tread a careful path between valuing and earning work with Fluor while winning new customers.
He says Fluor has been helpful as AMECO finds its own feet; "We have some internal agreements as part of the transaction that help us extend the benefits and all the things that AMECO currently has through Fluor, until we stand those up on our own.
"And we have a master service agreement with Fluor that tries to emulate the way the relationship has worked for seventy-five years. The separation process is "a little more complicated than easy" but retaining the work with Fluor will be essential.
"We have to earn the business with Fluor. We always have. So, we will continue to do that. We have some interesting co-location and relationship agreements that help facilitate the continuation of the way it's worked, but we still have to earn that."
However, the reliance on Fluor will inevitably diminish. Bernardez thinks that over a five-year period the proportion of its activity with Fluor should reduce to around 20%.
In some ways that harks back to an earlier period when AMECO's strategy was to expand externally and grow internationally.
At its height, that Fluor-related business was as low as 10% (in 2017 it was number eight in the IRN100 list). In recent years, however, AMECO became more of an in-house service operation for the parent.
"We had a run back there where we served a tremendous number of external clients", says Bernardez.
"So, now we have what I would call a clear-cut mandate with our new owner, One Equity Partners, to extend AMECO to the North American construction and maintenance market and get on with it.
"Fluor is our largest single customer, but AMECO is still pretty diverse in North America outside of Fluor. And our job is to make that even more diverse."
New growth strategy for equipment rental  
That diversification will not mean ignoring AMECO's experience working inside a major EPC contractor; "We can unleash AMECO because there were people that wouldn't do business with us before, because we were owned by Fluor", he says.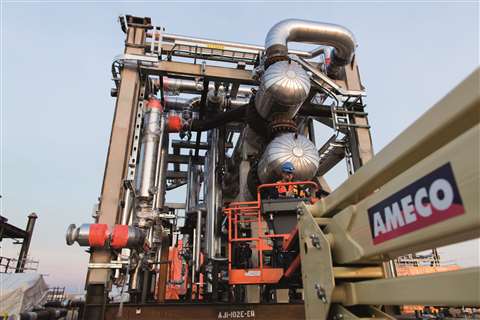 "Being co-located and integrated with a very large EPC contractor, we would do a lot of things to have that same relationship with three, four, five more of those.
"We think that gives us the opportunity to pretty quickly ramp up that kind of a relationship with very targeted customers…We can't ignore the historical experience in the process, energy, oil and gas space. We have a tremendous resume there."
However, AMECO will begin a big push into other sectors such as 'new economy' sites such as battery manufacture, automotive and solar projects, and the wider construction and maintenance market.
"We can apply our asset management and site services approach to those kinds of large-scale projects," says Bernardez.
"And then we've got our eye on some of this advanced technology, those larger scale, industrialized technical projects that we just apply the same front-end involvement with either the contractor or owner."
How AMECO operates in the equipment rental market
AMECO will not be competing directly with the major rental chains like Sunbelt or United. In fact, he says they have good partnerships with them.
Rather, AMECO will take a more strategic approach; "One of the bigger changes we're looking at or thinking of doing is trying to show value in looking at either the client or the contractor's capital projects over a multiple period. We can bring some additional value other than just on a project-by-project basis.
"And when we start thinking like an owner, we find we ask better questions, right? In some cases, we have the relationships with those owners, so we're working to position as their asset management advisor."
He asks, for example, how you move from first project into maintenance; "What can you take from an asset base into your operating and maintenance business, and really think through the more optimal way to manage those project sites, managing the assets that they need longer term.
"We see owners getting a bit more involved in some of those decisions because the contracting world is going through a bit of a reshuffling.
"The owners are looking at what they can do to make sure their project is coming on time and under budget and the contractors have to match up to some of those owners. We can play in both those spaces."
Construction equipment hire bundles
He says AMECO's sweet spot is mid to large size projects, where they can help contractors manage complex projects; "When we get plugged into a contractor on the front end, given our 75 years of living inside a contractor, we can do some things commercially, service level wise, that make us a little different. I think that bring more value to a contract."
Unlike the full-line rental chains, AMECO typical 'bundle' would involve some cranes, general tools, contractor supplies; "We are able to extend that kind of asset management approach all the way through tool, supply, consumables, to support the different crafts on a site.
"And then we also have a scaffolding solution, and a 3D modeling capability to integrate a scaffolding solution into the contractor's execution. We own a significant amount of scaffold inventory that we can bring to projects.
"So, I would call that a standard bundle. When we start talking to a contractor about multiple projects, then we're really focused on what we call the indirect solution."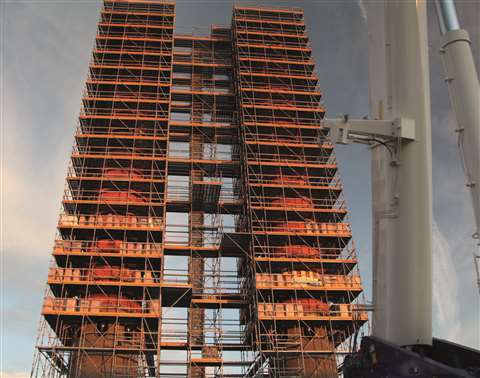 Add-on equipment rental services for construction industry contractors
He mentions add-on services such as fuelling, the supply of welding rods, transportation; "All those things that a contractor is struggling to manage.
"And if they have one contracting entity that they can look to that says, "I know you have X percent of this job covered under your contracting structure", then why isn't that a more efficient way than them hiring more staff and being involved in more end pieces that they really don't have the same competence that we have because we focus on it every day."
Technology will play a part as well, for field management, knowing where everything is; "We have a fairly robust system that I think can become part of the client's site infrastructure," says Bernardez.
"We're in some dialogue right now on how we augment our core tool tracking capability to broaden its ability to do some things for either the contractor or the owner at their sites."
"So, we might not be bleeding edge [in technology], but it's going to be there enough to help us live up to the commitment we make to a client."
Construction equipment rental as a subcontracted service
Despite his aim to differentiate AMECO from standard rental companies, there is no escaping the competitive element; "They're definitely not standing by watching us do whatever we want… But actually, we have an extremely good relationship with a few of those large-scale partners because we we're not going to advertise the largest fleet on the ground.
"It's just not the model we have… We're a little more of a subcontracted service than a pure rental house, and I'm perfectly fine describing it that way."
That also translates into a different approach to company locations.
AMECO often operates out of on-site locations, not just in the southeast and Gulf Coast areas, but also in Canada on projects in Western Canada – such as the Kitimat LNG site – as well as with Irving Oil in Eastern Canada.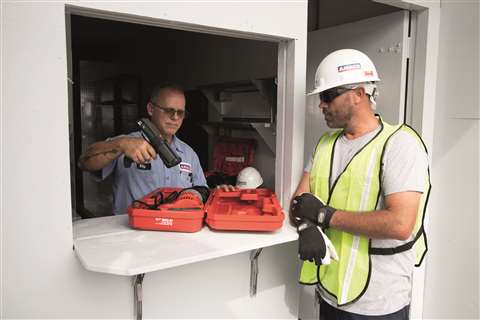 "I think one of our clients has 60 facilities all over the place, and we're there", says Bernardez.
The diversification beyond energy and oil and gas markets could also encompass large civil engineering projects, even though the 'heavy' aside of construction has not been a traditional strength.
"We just got done doing a very large civil package, which is a bit unique for AMECO. When it comes to infrastructure and those types of things, we have some incredible experience from our South American operations that the world just doesn't know a lot about, as we worked all those mines for 20 years."
Post-pandemic business strategy
He says AMECO is now in a "deep dive" into whether it could play a more significant role in "civil, horizontal kinds of construction". There will be "more to come" on that, he tells IRN.
Bernardez says the wider contracting business is going through changes that may benefit AMECO.
"Coming out of the recent craziness of two years, and the uncertainty of what's going to come out of the ground, we're hearing words like we want a 'construction light' model, we've got to relook at our balance sheet.
"We have a tremendous resume of helping clients - not just EPC contractors - rethink what they need to own. And then being able to bring a solution that obviously incorporates rental, but it's a little broader than that."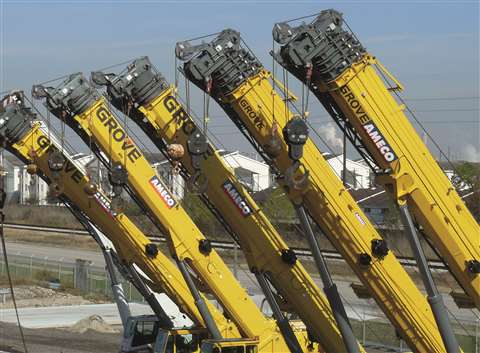 "In some of the cases of people we're talking to, it could involve the transition of some [equipment] to where we would incorporate that into our fleet.
"And that could even mean taking on some of their estimating people, some of their fleet management people, because they're just trying to figure out what they really want to be good at."
The advantages of stand-alone businesses
Bernardez points to other advantages in being independent. As a stand-alone business, rather than a non-core division of a massive operation, "we can attract some very interesting talent, because that's what we do for a living."
He adds that One Equity Partners will provide more choice when it comes to investing in its fleet, such as OEM financing or third-party leasing; "The former AMECO really didn't have the luxury or the flexibility to do that."
The new owners are in it for a return on investment, of course, but Bernardez gives them credit for their persistence and patience through a long acquisition process, with work starting 35 months before the announcement; "They have a nice portfolio of companies, some similar to AMECO when it comes to field service, such as engine rebuild companies. They know the industrial space very well."
The future of AMECO
The targets for the business are quite ambitious, with a doubling of size within four years. There could be some M&A activity in that, but Bernardez says it will "mostly be an organic unleashing of AMECO in the marketplace, leveraging that experience that we've talked about with contractors, and really building a pipeline of work."
He says the timing is good, with the world learning to live with the pandemic and "compressed investment starting to come out of the ground."
His own appetite appears undimmed after a nine-year break from the business, during which he helped run a concrete pumping business in Denver, do some consulting work, and teach at his alma mater, Clemson University.
He says it was great on his return to see "some terrific faces that are still here" among its 400 employees and he has been happy to see the team "hit the ground running."
A big part of his job now is to support that workforce, "getting them re-engaged and expanding the business outside of our traditional lanes. It's good to see people smiling and fired up."
NEWSLETTER
Delivered directly to your inbox, International Rental Newsletter features the pick of the breaking news stories, product launches, show reports and more from KHL's world-class editorial team.
CONNECT WITH THE TEAM
CONNECT WITH SOCIAL MEDIA