Aerial work platforms: growth in emerging markets
The aerial work platform (AWP) market holds huge potential, particularly in some key emerging nations. Euan Youdale reports on a few of them.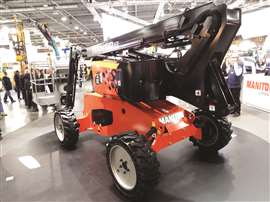 Powered access equipment is well established in a number of key markets, notably Europe and North America but has some way to go in many parts of the world before it is considered standard on construction and industrial worksites.
There are a number of reasons for this, most of which hang around the concept of safety. Access equipment, in its capacity as a safer option compared to more rudimentary solutions in emerging markets, like bamboo scaffolding, often grows in line with the development of safety standards.
Other key factors are vital too, ahead of the adoption of powered access equipment, including a rise in the cost of labour and the development of a rental market. Hence, an emerging nation for access equipment is often far more established when it comes to other construction equipment.
Growth in China
If there is one country that embodies these conditions, it's China. The powered access industry has been waiting for an explosion and many still expect this to happen despite slowdown in the construction market.
"If you compare and contrast from a couple of years ago access has really grown in China. You can feel the exponential growth starting," says Alan Loux, vice president of global marketing at JLG. "The construction business in China is down, we are not. We are underdeveloped."
The term 'exponential growth' has been linked to China for some time, and it has the biggest aerial work platform manufacturing base outside Europe and North America, with as many as domestic 80 producers.
A more general view is that exponential growth is unlikely in the immediate future although the sector will grow at a high percentage rate, albeit from a relatively low base.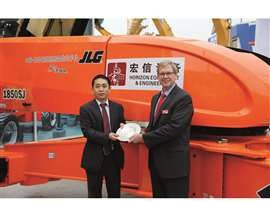 Putting that in to context, the International Powered Access Federation's (IPAF) latest rental reports show The Chinese AWP rental market grew at a rate of 25% to 30% in the past two years to reach approximately 9000 units.
That compares to the world's biggest aerial work platform market the USA, which recorded an expansion of 7% in 2014 to exceed 500000 units.
Some of the most positive voices can be heard from the two biggest access manufacturers, JLG and Genie, both of which have production plants in the country.
As Mr Loux points out, every market is different, potentially requiring unique products in those markets. "We should look at each market and see what it needs, some products will be similar and some very different."
For example the manufacturer's R6 and R10 RS (Rental Spec) scissors, with working heights of 19ft and 32ft, respectively, now have the addition of active pothole protection for the Asian market.
Previously RS scissors only offered passive pothole protection. They will be produced at JLG's facility where, in the future, Mr Loux says, there will be an increasing number of region-specific products.
The forecasted growth in China's construction sector must be matched by an increased focus on improving health and safety standards. That is the view of Terex China president Ken Lousberg.
He confirms there are three factors that will influence the region's ability to deliver high levels of growth within construction.
This includes the promotion of a workplace safety culture with regulations that are enforced to improve operating environments.
Secondly, he says construction job efficiency and productivity would be enhanced through companies adequately investing in equipment such as aerial work platforms over basic scaffolding, which would have a positive effect on standards within the rental sector.
The final element, he says, is ensuring availability of products, which remained a crucial factor within the industry.
Consequently, he adds that pursing this policy led to Terex's decision to invest between US$100 million (€80 million) and US$200 million (€161 million) in new production facilities in China.
Rental market challenges
Skyjack, one of the 'big four' manufacturers, is more tentative in its approach to China and has chosen not to open a factory in the region.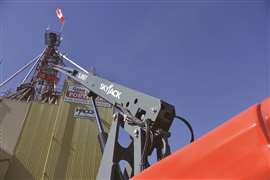 Brad Boehler, the company's president, cites the challenging rental model and 'difficult payments' as two reasons why progress in the country is slow. "All this needs to come together for it to work. And when the government decides it wants something to happen, then it does."
If demand suddenly rises and machines are required then Skyjack will bring them in, explains Mr Boehler. The plan for now is to place equipment in the market and be seen as a viable alternative.
Will Skyjack introduce a plant there in the future? The fact is, says Mr Boehler, the higher the labour rate goes, the less attractive it becomes to manufacturer in the country. "There are lots of manufacturers relocating back to the USA or other parts of the world because of the labour rate.
"Perhaps we will manufacturer in Australia or somewhere like that and bring the products in." But he adds that if China does pick up it is likely Skyjack will start manufacturing somewhere in the region.
Growing awareness in emerging AWP markets
The present population of aerial work platforms in India is a little above 5000 units. Thirty percent of them belong to end users for maintenance jobs while the other 70% belong to rental companies supplying the industrial, infrastructure and commercial residential construction sectors.
Growing awareness of the equipment's effectiveness has resulted in increasing demand from industrial construction and general infrastructure projects.
Enthused by this emerging demand, small, medium and even some big rental companies are starting to buy large amounts of used equipment - a sure sign of an emerging market.
Mr T Mohanraj, business head, TV, Sundaram Iyengar & Sons, JLG and Palfinger dealer for the south and east Indian market, says, "Unlike India, the global AWP business is driven by rental agencies through new equipment. In contrast, in India, the preference of rental companies has generally been to acquire used equipment."
OEM's are extolling the benefits of buying new equipment. He adds, "Parts and training support and rental fleet management are other important requirements of the rental agencies. Fleet management services have been gaining popularity among rental companies and industrial end users for maintenance requirements as it ensures higher equipment availability and a better return on investment."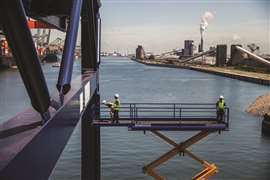 There is also growing demand for telescopic and articulated booms and scissor lifts from medium and large industrial project owners and construction companies. According to industry estimates, demand for new equipment across these categories grew to 235 units in 2014, compared to 200 units in 2013 in India.
This is expected to grow further in 2015, as state-owned Indian Oil Corporation Limited (IOCL) has a major maintenance programme for its refineries across India.
Demand for new equipment is also expected from India's largest private refinery company Reliance for its ongoing third phase expansion of the Jamnagar refinery in Gujarat, Western India.
As a result, rental companies across Asia are growing in size and numbers. There are now a good number of rental companies with fleets of more than 1000 units and above in the likes of Singapore, China, Hong Kong and South Korea. They will tell you that local knowledge is key to success.
One of those, AJ Networks is based in South Korea, one of the most established markets in the region. It has about 4000 aerial work platforms in its fleet, 90% of which are scissor lifts, with 3% being articulating booms and the remaining 7% telescope booms.
Safety and regulations
The rise of access platforms in South Korea is not just down to recognition of safety and the expected rise in the cost of labour, there is also the key issue of, "Our society is aging, so the labour power is growing old, therefore AWPs will be used more and more."
"Secondly, however, our government is thinking about safety and regulations will become stricter."
He estimates there are around 35000 aerial work platforms in South Korea; in Vietnam that drops to about 3000, although the market is set to grow quickly.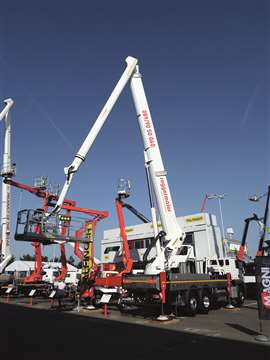 Asked how the adoption of AWPs in South Korea is changing, Mr Son says, "Five years ago the total fleet in the country was about 16000 or 17000 units. In five years the market size will double from where it is now."
Of the machines in South Korea more than 90% are owned by rental companies, says Mr Son. "The reason behind this high percentage is that it is the rental industry that is creating the market, it is the rental companies that introduced the AWPs into the market."
Future potential for emerging markets
There is no doubt then that Asia has a great deal of potential. An area with starker contrasts can be found in Europe where the difference between established markets to the western side is considerable when compared to those based in the east.
Certainly, from the perspective of the AWP industry, Poland is by far the most mature compared to its eastern European counterparts and is moving closer to the countries on the western side of Central Europe.
Nevertheless, Poland is still an emerging nation. Its rental sector is growing some 20% to 25% a year.
Most manufacturers and rental companies in the industry say they are keeping at least one eye on the eastern countries. For example, Riwal and Prangle have signed a five-year framework agreement across Austria and eastern Europe.
Part of the agreement is a three-year rental deal for 79 JLG platforms and telehandlers. Prangl will rent the machines to customers in Hungary, Romania, Bulgaria, Slovakia and the Czech Republic.
Turning to OEMs, Co.Me.T, is exhibiting in Poland and Romania. "We are trying to develop that market and looking for a dealer there," says a spokesperson.
Vehicle mount manufacturer France Elévateur shares a similar story and is making a concerted effort in Poland with its distributorship partner Kobcrane. "This part of Central Europe is not easy because of the price level," says Laurent Leclerc, special equipment department manager.
"The idea is to design machines for this market. The goal is not to sell French machines around the whole world as the price is too high." This will culminate in a new range of van mounts on 3.5 tonne chasses aimed at Central Europe and France.
Despite such valiant attempts in the region, the challenge remains significant. Daniel Duclos, owner and chairman of French manufacturer ATN says, "What we produce is more for a mature market, It will take a few years for these markets to change, but it will take less time to educate these markets than it took to educate the established markets as the products already exist and can be seen to work."
Mr Duclos says aerial work platforms are already being introduced in to such markets through construction companies that work globally and insist on using such machines on their worksites.
Phil Graysmark, vice president of sales at Genie Industries, says there are two main issues in the eastern area. Firstly, it is not used to the rental model, and, more fundamentally, there is a lack of understanding about aerial work platforms and their use.
The second issue is funding. Finance companies often don't have the knowledge of the equipment from a rental and asset view and don't want to fund them.
One might think Chinese OEMs of AWPs are taking advantage in these areas due to their products' lower cost. But according to Mantall's general manager, the China-based OEMs are experiencing the same issues. "It's not a great market. We have some cooperation in Hungary and Poland but it is slow as the AWP market is still developing there."
The relative youth of Chinese manufacturers is also a factor. "There are not many Chinese machines there. Chinese equipment has only been around for five to 10 years so there has not been much time to build up a used equipment base."
NEWSLETTER
Delivered directly to your inbox, International Rental Newsletter features the pick of the breaking news stories, product launches, show reports and more from KHL's world-class editorial team.
CONNECT WITH THE TEAM
CONNECT WITH SOCIAL MEDIA