A practical approach to sustainability for North American rental companies
North American businesses are generally considered to be behind other parts of the world when it comes to embracing new practices to lower their carbon footprint, but leaders like Sunbelt Rentals and United Rentals are shining a light on realistic ways to start the process. This was the topic of discussion during a recent webinar from the American Rental Association.
Sustainability is a goal businesses the world over are working toward with greater commitment and focus, and equipment rental is no exception. To raise awareness and identify practical ways that North American rental companies can implement more sustainable business practices for the benefit of their company, customers, employees - and the planet itself - the American Rental Association (ARA) recently hosted a live online discussion.
Moderated by Tom Doyle, vice president of program development at ARA, panel participants included Al Halvorsen, vice president of environmental sustainability at Sunbelt Rentals, and Grant Zoldowski, director of environmental management at United Rentals. Together they discussed ways North American rental companies can adjust their practices for the greatest positive impact.
Sustainability and the bottom line
When the term "sustainability" first made its way into our collective vocabulary, it was nearly half a century ago, and the public's understanding of and approach to the concept has evolved since then.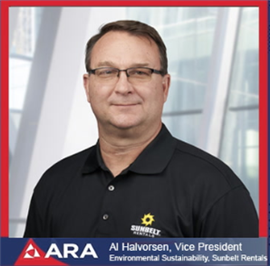 "Back in the late 80s, sustainability was thought of as meeting the needs of the present without compromising the ability to meet the needs of the future," explains Halvorsen. "Over the last 20 or 30 years, sustainability has evolved to include new three-letter acronyms, like ESG for environmental, social and governance, and CSR for corporate social responsibilities.
"Together, all of those definitions form an incredible mix of opportunities for us in the rental industry to drive activities and set goals, all under the banner of sustainability, and in the name of efficiency."
Surprising to some, Halvorsen says sustainability efforts flow directly into the bottom line. "Reducing the miles our vehicles drive, ensuring they're fully loaded, improving the miles per gallon on those vehicles," he notes as examples. "This lowers our diesel and gasoline fuel bills, which flows directly to the bottom line."
Another simple change that can have a significant impact is upgrading to high-efficiency lighting at every branch.
"This reduces the amount of kilowatt hours we use, thereby reducing our electrical bills," Halvorsen says. "It also makes for a better environment for our employees when they're operating and maintaining our equipment in a well-lit shop and maintenance space."
He adds, "Reducing the amount of waste we generate from our operations reduces the time and the frequency of trash pickups, and thereby reduces our waste-hauling expenses. All of these efforts flow directly to the bottom line for our business."
Halvorsen stresses that sustainability is not just about operational cost savings, however. Efforts toward sustainability also benefit employees and customers.
"Offering and delivering a well-maintained piece of equipment to the job site at exactly the right time offers our customers the ability to be more efficient on their job sites," he says. "We in the rental industry also have the size and scale to partner with the OEMs in developing that next generation of equipment that uses alternative fuel, thereby driving greater efficiencies for our customers' operations. It allows us to be a stronger partner for our customers in their overall sustainability efforts."
When it comes to employees, Halvorsen says Sunbelt Rentals works to improve its level of employee satisfaction by promoting greater engagement at all branches. He says this falls under the category of sustainability as well.
"We can also give back to our communities, whether it's through charitable giving, free rent, or other programs, and be there when our communities need us, such as after an emergency. All of these efforts help raise the level of engagement and employee satisfaction, which then improves employee retention, and helps with productivity."
Last but certainly not least, efforts toward sustainability benefit the planet, says Halvorsen. A great example of that is Sunbelt's investment in solar light towers. Capturing energy from the sun during the day, solar light towers are able to use that energy to provide light for customers' jobsites at night.
Halvorson calls this a win-win, as fewer maintenance visits and less technical support are needed, due to the elimination of diesel fueling requirements. And that means more uptime for the customer. More light around the clock means a longer work envelope.
"It's a win for the environment," he says, "but it also benefits operational productivity and efficiency."
Regulations drive compliance
It's no surprise or secret that environmental compliance is driven in large part by governmental regulations, and Zoldowski at United Rentals speaks in terms of those associated with protecting water, land and air.
"As we think about our water usage, how do we handle the wash water from our equipment when it contains oils, gases, greases, metals, etc? How do we handle storm water at our locations
and make sure we're handling it appropriately and that discharge is not affecting others or the environment around us?" he asks.
In addition to handling waste water, Zoldowski also points to reducing the overall use of water in operations. "Are we using the appropriate amount of water? Are there leaks within my facility that could be creating a waste of water? Are there ways for us to use water more efficiently within our operations?" he asks.
From a land perspective, Zoldowski notes equipment malfunctions can lead to accidents causing chemicals to leak into the environment. Despite being unintentional, rental companies are responsible for dealing with the consequences appropriately.
"One example would be underground storage tanks," Zoldowski says. "They're safe from a fire and explosion perspective, but what about an unfortunate malfunction that creates spills? How do we rectify that as we move forward? These are all things we consider and take very seriously as we look at the environmental compliance aspects of it."
When it comes to air, Zoldowski points to several areas including gasoline dispensing and "fugitive emissions" like dust, etc., but he said one of the biggest categories is still engine emissions.
"We've been getting a lot of questions from our customers asking us to help them understand greenhouse gas emissions, and which machines are the biggest offenders, and so on," Zoldowki says.
"Our biggest ambitions are internally from an operations perspective," he says. "Whether that be our delivery fleet, our sales, or our service teams."
"We are seeing some regulations that have the potential to go into effect for larger, publicly-traded companies, such as Sunbelt and United Rentals. That may trickle down to some of our customers, so we're helping them understand how to effectively understand greenhouse gases and emissions from equipment."
Zoldowski says the biggest challenges are associated with understanding the different technologies powering today's equipment. By and large, [North American] rental companies are still at the beginning of their efforts to reduce their climate impact. It will take time for OEMs to implement different technologies and for equipment owners to adapt to the logistical issues that come with emerging technologies.
ROI on battery-powered equipment
How to get a swift return on investment from battery-powered equipment is a hot topic for rental companies. Their acquisition costs can be from one and a half to two times that of diesel-powered machines, making it a hard sell for some. There's also the question of the charging infrastructure.
The hope is that acquisition costs will come down over time, and some of the other kinks will get worked out in the process.
"Hopefully, we're going to see the energy density of the batteries improve for more hours of use," Halvorsen says. "Eventually, costs should come down, but will regulations get more intrusive on mandating zero emissions or alternative power sources?"
"On the other hand, what's the future of diesel fuel prices? If it's $5 per gallon today, what is it going to be two years from now, or four years from now?"
Taking the first step toward sustainability
Sustainability is a broad topic and it can be intimidating to begin the journey toward reducing your company's carbon emissions. Where should you begin?
"I would recommend taking some time and thinking about what you want to accomplish, and then considering your available resources. Don't try to take on too much at once," Halvorsen advises. "Focus on those first few criteria or those few goals that matter the most to you and your company. That way, you'll be able to get some early wins and drive some momentum going forward."
Zoldowki suggests considering how you can measure and track progress toward your specific goals. "The earlier you start tracking, the better off you are in developing the processes to put in place," he advises.
Regulations are going to continue gaining speed, he says, and this will require rental companies to do business differently, whether they're ready or not.
"We're being asked by regulators, and we're being asked by our customers, what our program is and what we are doing about [our carbon footprint]. This is not a passing fad. This is what what's required today to keep us successful in our businesses," he states.
Focus on efficiency
When all is said and done, sustainability is about optimizing efficiency for the greater good.
"Sustainability and efficiency absolutely go hand in hand," Halvorsen says. "Something as simple as changing out the lights at your facilities helps drive efficiency and lower costs. It applies to the introduction of new equipment as well, making sure we're offering that equipment to our customers."
Zoldowski agrees, adding, "Any time you can reduce energy use and waste within the business, that's going to give you benefits all around, whether it be reducing energy usage, water usage, all those aspects. All of it makes for an easy business case."
NEWSLETTER
Delivered directly to your inbox, International Rental Newsletter features the pick of the breaking news stories, product launches, show reports and more from KHL's world-class editorial team.
CONNECT WITH THE TEAM
CONNECT WITH SOCIAL MEDIA