The latest advances in green construction equipment
By Belinda Smart20 September 2021
Heightened focus on hybrid and electric equipment is spurring manufacturers to invest in and partner on new technologies. Belinda Smart reports.  
Considering recent events, it's a safe bet that focus on hybrid and electric technology is set to sharpen further in the construction equipment market.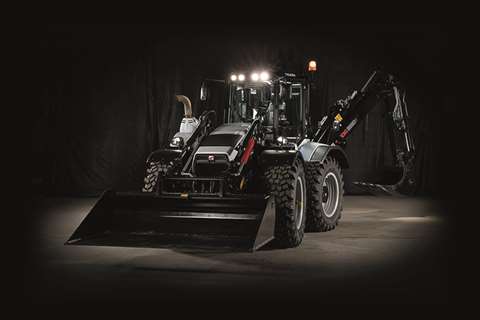 In the weeks leading up to the publication of this issue of IRN, the Intergovernmental Panel on Climate Change (IPCC) released its report on climate change, signalling 'code red for humanity.' 
Meanwhile according to The World Green Building Council, buildings are currently responsible for around 40% of global energy related carbon emissions.
While the exact impact of construction machinery isn't outlined, what's clear is that over 10% of those carbon emissions are from materials and construction.  
Even more immediately apparent in the world of construction equipment is the push towards not just green, but quiet construction sites in many of the developed world's cities.  
Some equipment manufacturers, such as such as Volvo Construction Equipment (Volvo CE), began to anticipate demand for low emissions operations and output some time ago and have made formal commitments to reach net-zero emissions by 2040, both in their own operations and the machines they produce.   
Another example is JCB, whose low emissions releases encompass the mini excavator, mini site dumper, telescopic forklift and access platforms categories.
Most recently, it launched the 525-60E, (reviewed in International Rental News' July-August 2021 edition), an electric Loadall telescopic handler with a maximum lift capacity of 2.5 tonnes and proven performance that equals its diesel counterpart. 
Whatever form their commitment to emissions reduction takes, manufacturers servicing mature markets are investigating or investing in hybrid and electric options.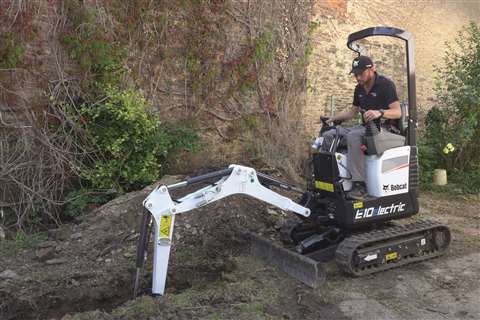 Excavator advances
Machines working in urban areas at the lower end of the size range are ripe for electrification and Bobcat's E10e zero tail swing (ZTS) 1 tonne electric mini-excavator is a case in point.
The E10e ZTS is now in production at the Bobcat compact equipment manufacturing plant in Dobris, in the Czech Republic for sales to EMEA (Europe, the Middle East and Africa). Sales to the North America then Asian markets will follow.
Designed for indoor demolition and basement digging, or urban and city centre developments, its low noise makes it suited to night-time work and contracts in quiet zones such as hospitals or schools.
Bobcat describes the E10e as the world's first one tonne electric mini-excavator, combining zero emissions, low noise and a width of just 71 cm, allowing it to pass through standard doors and in and out of lifts.
The E10e has a lithium-ion, maintenance-free battery pack with a management system, designed to fit within the standard machine envelope to maintain the machine's ZTS profile. The machine can be operated for up to four hours on one charge and by using an optional external 400V supercharger, it can be recharged to 80% of its capacity in less than two hours.
As reported by Construction Europe magazine (Steve Ducker - June edition), Volvo CE has introduced three hybrid excavators described as offering fuel efficiency improvement of up to 17% compared to conventional machines.
The range comes in the form of an enhanced 30-tonne class EC300E Hybrid excavator, and the introduction of the technology in two new machines – the 25-tonne class EC250E Hybrid and 35-tonne class EC350E Hybrid.
All three machines use a novel hydraulic hybrid technology from Volvo CE that harvests "free" energy generated by the down motion of the excavator's boom. The boom-down motions charge a hydraulic accumulator, which then stores and delivers energy to drive a hydraulic assist motor that helps power the engine system.
Innovations to the EC300E Hybrid include a 10% improvement in fuel efficiency, thanks to intelligent electro-hydraulic and new D8M Volvo engine, and a 700 kg heavier counterweight, providing stability and a 5% increase in across-lifting capacity.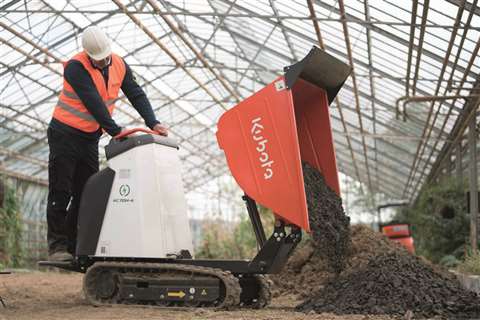 In August, Kubota launched a mini excavator powered by a LPG gas engine. The KX019-4SI is a 1.7 tonne model that uses Kubota's Stage V WG972 -L-E4 spark ignition engine, powered by LPG, for use on sites in low emission zones, with a variable track suitable for restricted access. While not strictly electric or hybrid, the machine responds to rising demand for low emission products
Electric dumpers
The market for electric dumpers is gaining traction, particularly in Europe, where quiet, low carbon construction sites are required in urban areas, and Kubota's recent release could be said to meet that demand.
To meet this need, alongside the launch of the KX019-4SI LPG mini excavator, Kubota also released a fully electric tracked dumper.
The Kubota KC70H-4e is fitted with a low noise 48V lithium battery engine that can be charged up to 80% in just 1.5 hours, with a single 3-hour charge providing a full day's work. The zero emission machine weighs 590kg and has a 700kg load capacity.
Meanwhile JCB launched the 1TE, its first electric site dumper some months ago; a one tonne high-tip model powered by lithium-ion battery technology.
Designed to work indoors, underground and in emissions-sensitive areas, the 1TE electric dumper is described as the "partner" to JCB's 19C-1E electric mini excavator.
The 1TE is said to deliver zero emissions at the point of use and low noise levels and is intended for the European and North American markets.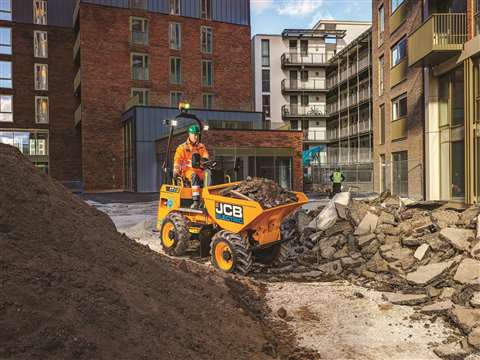 Other features include fast charge capability, full shift operation in typical use and a high-tip skip design for loading into skips and larger containers.
The dumper has a full steel skip and heavy-duty articulated chassis and full-time all-wheel drive.
Power is from two 5kWh lithium-ion batteries, capable of providing full shift operation in normal use, which can be recharged from conventional site electrical supplies, with 110V and 230V cables available.
The optional JCB Universal Charger can be used to rapid charge the batteries for extended operation.
The machine offers a maximum payload of 1,000kg and a maximum load over height of 2,392mm.
Construction equipment development projects
June this year has seen the announcement of a collaboration between Komatsu and Honda on the development of a micro electric excavator.
As reported in Construction Europe (June) the resulting electric PC01 is powered by a Honda Mobile Power Pack, or MPP, which also powers Honda's scooters and Business Bike series. 
End uses for the new machine include installing utilities, landscaping and agricultural tasks, as well as indoor applications. A key point of difference is that the operator straddles the machine, which has no cab or canopy.
Komatsu says it intends to launch the electric PC01 by the end of its fiscal 2021, in other words March 31, 2022.
Advantages of the excavator include that the Honda MPP can be swapped out without the need to recharge the battery, simplifying the power supply.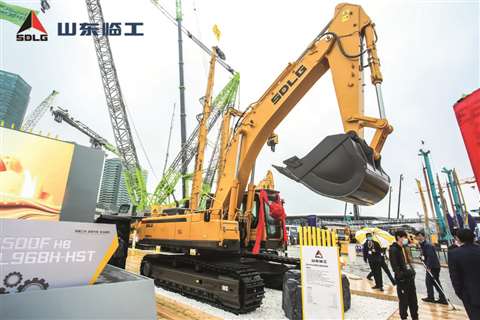 In mid-2021 Swiss multinational power and robotics specialist ABB and Hitachi Construction Machinery confirmed they have joined forces to develop a zero-emission battery electric rigid dump truck.
The dump truck will operate by using a new onboard electrification system. This will draw its energy requirements from an energy supply system with dynamic charging, allowing simultaneous charging of the onboard energy storage system while providing energy to power the truck.
China releases: Electric construction equipment 
China-based OEM Shandong Lingong, known as SDLG, has launched the E660F-Ex electric excavator, which uses lithium battery technology.
It can achieve zero emissions, reduce noise levels by 12 decibels, and reduce operating costs by a third compared with traditional products, according to the company. 
The excavator is suited to work in confined spaces and urban environments and also has faster acceleration at low speeds than its diesel counterpart.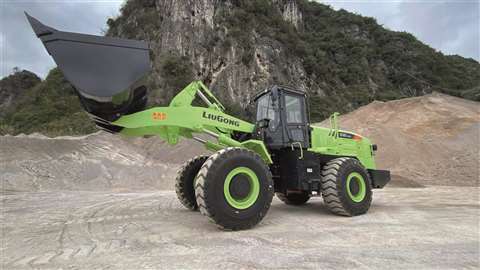 Another China-based OEM LiuGong has launched the 856E MAX Intelligent Remote Control Electric wheeled loader.
The zero emissions machine offers low energy consumption and low noise. It uses a new lithium iron phosphate battery which can power the machine for up to eight hours.
With high energy density of battery, the service life of the cell reaches 4,000 times of charging and discharging.
The loader has a construction management platform based on IoT, intelligent shovel loader, 5G and remote control.
Hybrid spider lifts
Palazzani Industrie has recently updated the hybrid system used in its spider lifts, as part of its new Hybrid project to improve the efficiency of its hybrid machines.
Already available with several of the manufacturer's equipment models, the new Hybrid2 generation engines are an update of its previous hybrid power systems. 
They feature a new heavy duty lithium-ion battery pack that can be recharged both while the machine is in use and while in storage. 
Palazzani told IRN sister publication Access International its TSJ25, TSJ27, TSJ30.1, TSJ39 and TZ330 models are the first to be made available with the updated power system.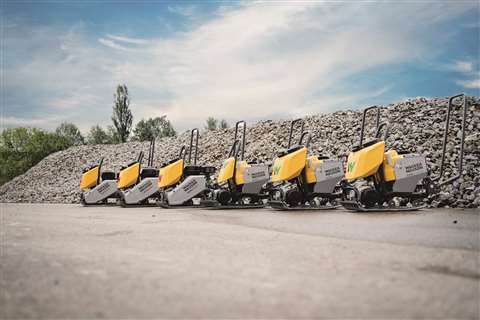 Emission-free vibratory plates
Wacker Neuson has launched range of vibratory plates offering "100% emission-free work and energy savings of over 70%".
With centrifugal forces ranging between 10 and 13kNW, the new APS Series comprises three models – the APS1030e, APS1135e and the APS1340e – with base widths of 30, 35 and 40cm respectively.
The APS vibratory plates are suitable for standard soil and fresh asphalt compaction applications and feature a maintenance-free electric motor and rechargeable lithium-ion battery, which can be changed without tools thanks to its modular design.
Wacker Neuson said they work "without direct exhaust emissions" for use in areas with low-emission regulations or trenching and shoring applications.
NEWSLETTER
Delivered directly to your inbox, International Rental Newsletter features the pick of the breaking news stories, product launches, show reports and more from KHL's world-class editorial team.
CONNECT WITH THE TEAM
CONNECT WITH SOCIAL MEDIA