Outlook for French construction
By Scott Hazelton10 June 2022
Strong civil construction and jobs growth lead to a relatively positive outlook for the French market, as IHS Markit's Scott Hazelton explains.
Real GDP growth stagnated at the beginning of 2022, as increasing Covid-19 cases, global supply chain disruptions, and higher inflation took their toll. This caused a 1.3% contraction in private consumption, and growth in investment spending decelerated from 0.3% quarter-to-quarter (q/q) to 0.2%, while government spending stagnated.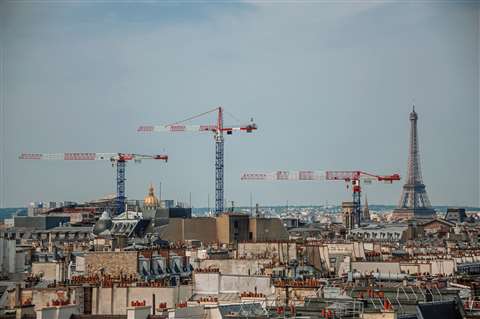 The S&P Global Purchasing Managers' Indexes (PMIs) suggest that the economy started the second quarter with some positive momentum, but we expect recovery to be modest at 0.3% q/q, as higher inflation limits the rebound.
The war in Ukraine has led to a downgrade of our GDP growth projection for 2022 from 3.6% expected in February, prior to Russia's invasion, to 2.7% in our May update. While higher inflation is the main channel whereby the war impacts the economy, there are also negatives from increasing financial stress and weaker external demand.
Headline inflation will likely average 5.2% in 2022, the highest rate since 1985. Inflation should ease to 2.3% in 2023, assuming commodity prices become deflationary. Higher commodity prices will weigh on firms' profit margins, leading to lower investment spending.
Yet the economy will be supported by various factors. Solid labour market conditions and high household savings will moderate the impact of higher inflation on private consumption. The number of jobs in the economy stands 140,000 above its pre-pandemic level. Contrary to other Western European economies, the labour participation rate also stands above its pre-pandemic level. Forward-looking indicators measuring firms' hiring intentions remain robust, although employment creation will be moderate as growth cools.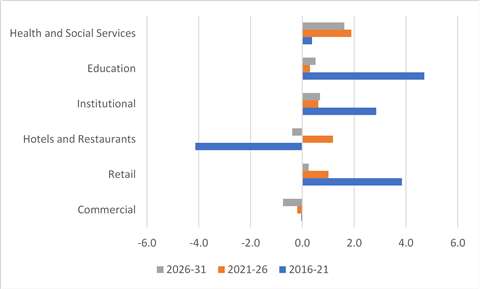 While the re-election of Emmanuel Macron as French president suggests that policy direction will remain relatively unchanged, the outcome of the legislative elections in June will determine the extent to which his election proposals will be implemented.
Construction activity in France shows signs of growth
Our latest Construction PMI survey signals construction activity growth across France. The headline S&P Global France Construction Activity Index – which measures month-on-month changes in total industry activity – moved above the 50.0 no-change mark to 50.7 in April, from 48.4 in March, indicating renewed growth of construction activity.
However, the expansion was only marginal and exclusively driven by an increase in civil engineering activity as construction work relating to residential and commercial projects both fell. Civil engineering activity rose at the fastest rate since July 2020.
Activity levels across the French construction sector were constrained by weakness in demand, with data signalling a drop in new orders, generally linked to higher rates charged. French construction firms raised their employment levels during April. Furthermore, the rate of jobs growth edged slightly higher to a three-month high and coincided with a positive and improved outlook towards the coming 12 months.
Business confidence equally strengthened at the start of the second quarter, with firms expecting stronger new order intakes. However, the data pointed to a further steep lengthening in average input lead times, largely due to raw material shortages.
Despite sustained supply-chain pressures, French construction firms raised their purchasing activity during April due to higher activity. The survey also highlighted intense cost pressures.
Input prices rose at an unprecedented rate as soaring energy prices were exacerbated by an increase in the price of oil-related products. French constructors were also faced with a survey-record increase in subcontractor rates during April and a deterioration in sub-contractor availability.
The outlook for French construction is generally positive. While growth will be modest, it will also be relatively stable after the pressures of the past two years. Total real construction spending is largely expected to moderate its post-Covid rebound, growing 2.9% in 2022.
However, tighter monetary and fiscal policy, combined with uncertainty in key export markets suggest that 2023 could see slower growth, projected at just 1.7%. The myriad issues impacting European economies are unlikely to see quick resolution, which suggests further moderation to 1.0% growth for 2024.
Demand brings long-term optimism for construction
The residential market is sensitive to interest rates, material prices and consumer confidence and will likely slow in 2022 and 2023. It seems unlikely that economic growth will offset weak demographics in 2024, but there's upside to later years of the outlook.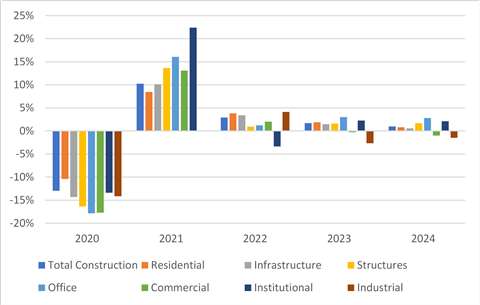 Office construction also looks to be weak in 2022 as companies assess actual space needs in the wake of post-pandemic work location options. With some permanent reduction to in-office time, firms need to rationalise their current floor space with projected in-office hours.
Improvement in 2023 and 2024 will come mostly from renovation of existing space to accommodate a more flexible workforce. The greatest challenge is to the commercial sector. While the hospitality industry offers potential as it recovers from its deep pandemic slump, the large retail sector will be a hindrance to growth as e-commerce's market share grows and conventional store growth falls.
While warehousing and logistics will see strong growth, the value of these structures is lower than that of retail with a net negative effect. Institutional structures fare the worst in 2022, as fiscal spending is moved from public investment to amelioration of increased costs to low-income households. In the longer term, demand for health care, education and other similar spaces will grow in line with the broad economy.
Infrastructure also sees growth in 2022, but growth subsides over the forecast. The slowdown is largely coming from the energy sector. This is partly a reflection that spending on renewables is already quite high as part of the France 2030 national investment program.
It also reflects a more measured transition away from other fuels, particularly nuclear, compared to other countries, particularly Germany. There is some potential for a stronger outlook as the International Energy Agency has noted that France needs to quicken its investment pace to attain its net zero goal by 2050.
Within institutional, education construction spending outpaced health care in recent years, which seems counterintuitive given Covid. However, the high occupancy rates of hospitals during Covid, combined with the need for isolation severely constrained construction activity. The sector makes up for that relative deficit over the next decade, as an ageing population creates greater demand for long term care options.
CE Barometer March 2022 survey results
By the time this survey closed, it had been almost two months since Russia invaded Ukraine. We were well past any hope that a quick and peaceful resolution could be found, and a sense of the wider repercussions of Russia's aggression – certainly for the global construction industry – was beginning to sink in.

Looking at the previous month's business activity, the majority of respondents (54.3%) reported unchanged levels. This number was up from 43.1% in the previous survey, with most of that shift coming from the group that had seen rising levels of business in the previous month. Already not a good sign.
This shift had a significant effect on the balance figure (positive results minus negative results), standing at just 5.7% - as opposed to 23.1% in the previous month.
Looking back to the same period in 2021, the trend is similar, with 42.9% of respondents seeing improved business (down 9.4%), and 34.3% reporting unchanged business (up 3.5%).
This represents a 6% swing to 'worse' when comparing March's business to the previous month - surprising, given that we are in a period of Covid 'recovery'.
Looking ahead, the shift is more subtle, but still shows a negative trend, with 30% of respondents expecting business to be better in 12 months' time (down 2.3%). Numbers anticipating a worsening business environment (28.6%) are up, but only 1.1%, but this moves the balance figure to just 1.4%.
While still a positive number, this is the least optimistic outlook seen on the CE Barometer since February 2020.
The CE Barometer survey for March was undertaken during the first three weeks of April.
NEWSLETTER
Delivered directly to your inbox, International Rental Newsletter features the pick of the breaking news stories, product launches, show reports and more from KHL's world-class editorial team.
CONNECT WITH THE TEAM
CONNECT WITH SOCIAL MEDIA