IC Tower Index: More records
Reports of a buoyant tower crane market have been running for several years and this year's IC Tower Index ranking of the world's largest tower crane-owning companies is no exception. Download this year's full Tower Index here or see below.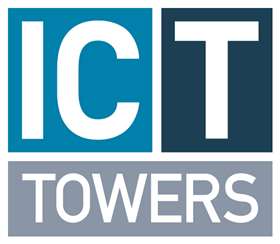 Following last year's "mere" 10 per cent growth, in 2019 we are back up, to a 26.66 % increase in the Top 20 Index. It is much more like the 29 % and 23 % rises of the two years prior to that. If you total just the top five companies then the rise, in percentage terms of 40 %, looks even more impressive. It follows 12, 21 and 25 % rises in the preceding three years' top fives.
A major milestone reached this year for the first time is to break the one million tonne-metres total IC Index figure for the not one but two top companies in the list. As part of that is a change at the top with the return of Shanghai Pangyuan Machinery Rental to the number one position, ending Abu Dhabi-headquartered international giant NFT's three-year reign at the top since the two were the other way around for two years in 2014 and 2015.
Chinese giant Shanghai Pangyuan's rise from third place puts Liebherr down one place to third. Next is Uperio, a combination of Belgium-based previous IC Tower Index leader Arcomet and French tower crane rental major Matebat, which were 9th and 7th, respectively, in last year's table. The two companies share the same owner, LFPI Group, and were amalgamated in April 2019, producing a company basically double the size of the two separate ones, hence the move up, to 4th place.
Next in the table are Tat Hong and Wolffkran in 5th and 6th places, respectively, for the last three years now. Morrow is after that, down three places to 7th following the sale of its operations in Australia and New Zealand to Liebherr on 1 January 2019. Morrow this year has 108 fewer tower cranes, 20 depots instead of 23, and 317 instead of 329 employees. Its Tower Index, at 201,581, is 12 % down on the 230,110 of 2018.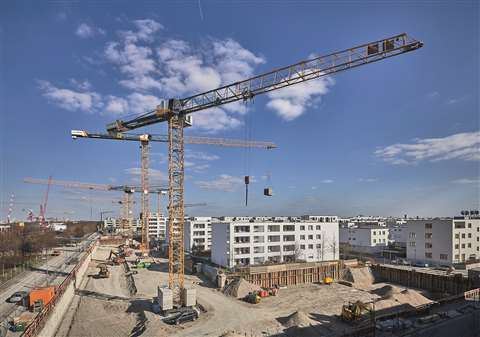 BKL Liebherr 340EC-B flat top towers on site in Munich, Germany
Turning again to Liebherr, its 2019 Tower Index is up a tidy 3.74 % and another 100 employees have been added to make the total 2,200. It is interesting to note that the number of cranes is down, from 1,793 to 1,747. It indicates that larger cranes with higher tonne-metre ratings have replaced smaller units in the fleet mix.
Looking further down the table, Maxim Crane Works from the USA retains 8th place and adds about 10,000 tonne-metres to its Index. Next is Neremat, up one place to ninth with a strong 12 % increase in its Index. Rounding out the top ten is Bigge, having moved up from 11th last year and 13th the year before that. In the second half of the top 20, six companies are up, two are the same, one is down and the other is a new entry, Favelle Favco in Malaysia, at 20.
Totals for the 20
The total Index for all the top 20 companies is now very close to the 5 million mark at 4,966,242, up from a total of 3,920,859 in 2018. It is just over double the 2,248,237 total of five years ago in 2014. Applying the same to the top five companies, the total has doubled in the last three years. At 3,297,278 points, the 2019 top 5 total is approaching the 2017 total for all 20 companies.
It is great to see that there are more than 4,000 more cranes in the fleets of the top 20 companies than last year. The 2019 total is 18,495 units, up 32 % on the 2018 total of 14,028. The 2018 increase over 2017 was just 372 units or 2.72 %.
Good news, too, for employment in that there is an increase in the total of the top 20 companies of more than 6,000 people, or a massive 32 %, to 26,833 people, up from 20,318 in 2018. The vast majority of extra people are at Shanghai Pangyuan. In 2018 the total increase was just 6.7 %.
After all these increases it was perhaps surprising that the number of depots was lower by 352, or 13 %, to 2,330.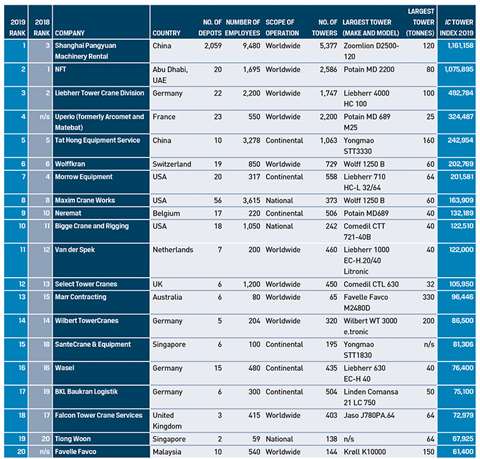 IC Tower Index
Companies are ranked by their IC Tower Index, calculated as the total maximum load moment rating, in tonne-metres, of all tower cranes in a fleet. All companies in the list, plus other prospective ones, have the opportunity to supply fleet information and other data. Where companies supply the full data the figure used is calculated by them. In cases of insolvency, acquisition or lack of information, companies are withdrawn from the table.
While we make great effort to ensure the accuracy of information provided, it cannot be guaranteed and International Cranes and Specialized Transport and its publisher, KHL Group, accept no liability for inaccuracies or omissions.
The IC Tower Crane Index will next be updated in the first half of 2020. If you think your company should be included please contact ICST for an application form.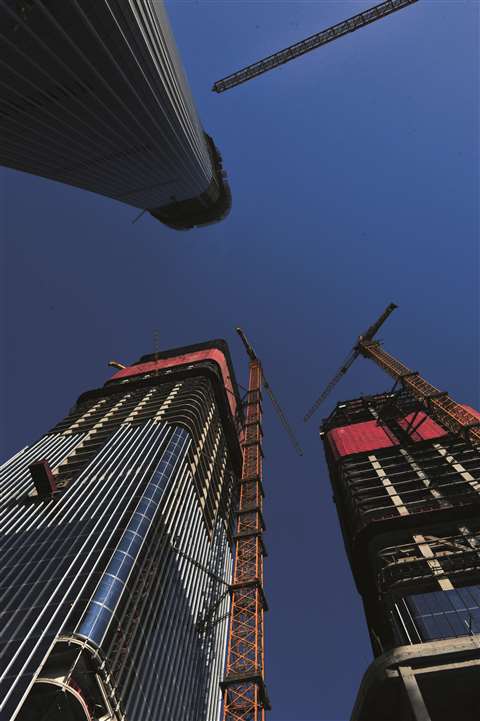 Shanghai Pangyuan Machinery Rental regains the top slot after three years in second and third place
Supporting documents
Click links below to download and view individual files.
NEWSLETTER
Delivered directly to your inbox, International Rental Newsletter features the pick of the breaking news stories, product launches, show reports and more from KHL's world-class editorial team.
CONNECT WITH THE TEAM
CONNECT WITH SOCIAL MEDIA