Home Depot interview: Giant steps
By Murray Pollok23 September 2020
If a globally renowned brand with US$110 billion in annual revenues said equipment rental was a big opportunity and it would be making "significant investments", you would sit up and take notice.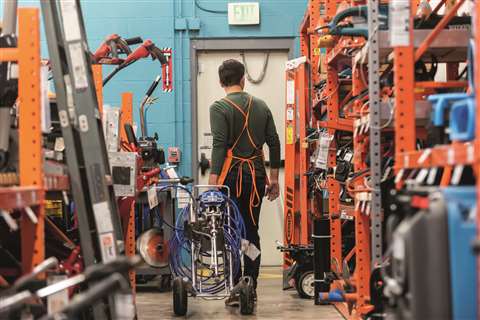 In fact, it has already happened. North American DIY giant The Home Depot said last year that an expansion of its almost $1 billion revenue in-store rental business was firmly in its sights, with key targets being more rental stores, a migration upwards in equipment sizes, and an increased focus on serving the professional customers who are the biggest spenders on rental.
Leading this rental expansion is Tony English, Home Depot's senior merchant for rental. An experienced supply chain and procurement specialist at Ingersoll Rand and then Sunbelt Rental – where he worked for almost six years – English has spent the last nine years focused on the DIY chain's rental operation.
It is already a massive business. Started in 1995 with trial rental centres in Nashville, by last year it had grown to become a $940 million concern – behind only Sunbelt, Herc Rentals and United Rentals in North America – and with a target to exceed US$1 billion this year. Eight years ago, the rental business was less than $400 million, which corresponds to a compound annual growth rate of 12%. (The pandemic has had an impact on Home Depot, of course, but not halted its growth – see box story overleaf.)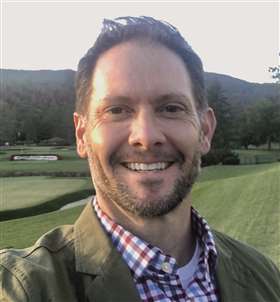 "Now we are growing the larger equipment business very aggressively", English tells IRN, "We want to cater to larger Home Depot customers and go as large as their needs require. We have a vision to take a step or two up the equipment ladder, but we're doing it carefully… it's a growth opportunity that we are putting energy and resources into."
One reason for this is the fact – revealed by the company last year – that while 90% of its professional customers rent equipment, only 25% of them were renting from Home Depot.
(The initiative comes just as its largest North American competitor – Lowe's – announced its own national tool rental programme.)
Deeper range
To target these customers, the aim is to provide a deeper range of large equipment. Investment in this segment has increased "meaningfully" over the last three years, and the business has already focused for many years in the compact equipment sector, in particular through its 2009 alliance with Compact Power Equipment Centres – the business run by Roger Braswell.
Compact Power placed rental yards at selected Home Depot stores and rented small skid-steers, excavators and tool-carriers which could fit in a traditional US pick-up truck or on small trailers. That 'non-tool' equipment was supplemented by small scissor lifts and towable aerial platforms.
"We called that towable equipment – any mini excavator, skid steers, that could fit on a trailer," says English, and typically weighing under 10,000 pounds. That represents around 20% of its rental business. The Compact Power business eventually expanded to 1,000 Home Depot stores and was fully acquired by the retailer for $265 million in 2017.
The current shift to larger equipment will mean going beyond the carrying capacity of a pick-up or small trailer and will require larger trucks, with Home Depot offering a delivery service.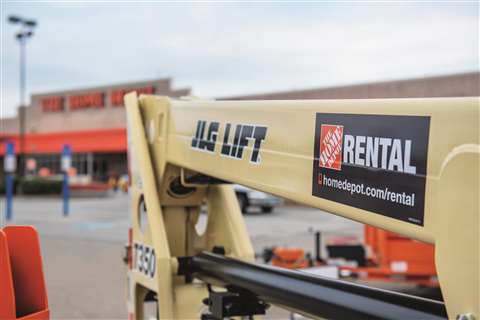 "That will take real-estate, training, people", says English, "We're proceeding down that path very deliberately." There will be a hub and spoke strategy, with larger equipment and delivery services located at the hubs.
How quickly this will be done depends on the results. He points out, as well, that although Home Depot has been delivering equipment for five years, the infrastructure to do this is still in its infancy.
In terms of the equipment involved, what will it mean? "We're going to compare to the bread and butter of what a large equipment rental house would offer – such as 2,000 or 2,500 pound capacity skid steers", says English. "That's where we're going."
The larger range will include tandem rollers, rough terrain telehandlers up to 6,000/8,000/10,000 pound sizes; excavators up to the 4.5-5.0 US ton range; and tractor backhoes.
Moving up
The 'moving up the ladder' metaphor is appropriate for its aerials business. Most of its MEWP fleet of more than 2,000 units comprises small electric scissors and towable booms, but English says "for several years we have been evaluating how much larger we will go. We believe 60ft is probable and 80ft booms. Above 80ft is unlikely."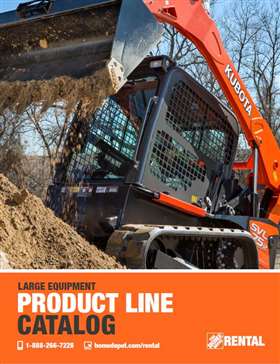 Its 'heavy equipment' catalogue now includes self-propelled booms up to the Genie S-85XT and JLG's 860 SJ – both telescopic – as well as the articulated JLG 800AJ and Genie Z-80/60. Below that there is a mix of 45 and 60ft JLG and Genie articulated and telescopic booms. On scissors, the range now goes up to a 32ft working height rough terrain Skyjack model, although most of the smaller models are Genie and JLG, with some of Custom Equipment's Hybrid scissors at the lower end.
English takes care to point out that the investment in larger equipment, and the associated delivery infrastructure, does not mean any kind of retreat from its core tools business; "Tool rental will be $600 million this year. That is a vitally important part of the business. It's critical – it drives footfall, drives projects and associated purchasing."
Alongside the shift upwards in product size, there will be continued expansion of the rental network. "We have rental locations at 1,281 of our 2,000 stores in the USA and we are found in 177 in Canada", he says. "That number has grown very quickly over the past five years or so, as the rental concept has grown." He thinks that 1,800 rental sites within five years would be "fantastic".
That is a lot when you consider that, aside from the equipment, a typical Home Depot rental store could have around six employees, comprising a couple of technicians, two sales assistants, a department head, and mobile service technicians covering several stores. (Home Depot also rents smaller, domestic items such as floor and carpet cleaners from many of its stores, even where there is no dedicated tool rental centre.)
"We will expand to as many stores as makes sense", says English. "It depends on volumes, location, proximity to other stores. We have a team working on that."
Despite the large scale of its rental business, you wouldn't really say that Home Depot Tool Rental competed directly with the rental giants of North America, although local 'mom and pop' rental businesses located close to a Home Depot would no doubt view things differently.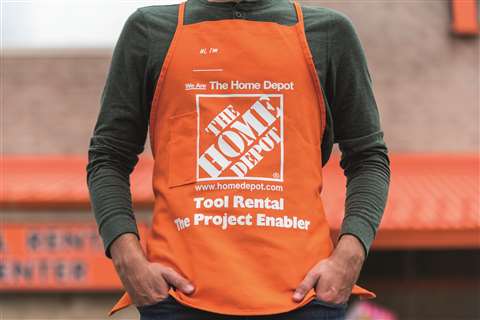 Customer base
Will that change with the addition of larger machines and the greater focus on professional customers? English plays that down; "I don't think we're going head-to-head. We want to take care of Home Depot customers and offer more convenience for them." That said, targeting the existing professional customers who already rent, but not from Home Depot, tells its own story.
The retailer has been a unique presence in the North American rental market for 25 years. Known about certainly, but, by virtue of its in-store format and focus on homeowner and smaller professional customers, not given quite the same profile as giants like Herc, Sunbelt and United. That could be changing.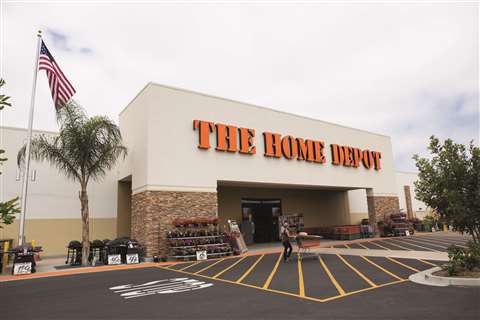 In-store story
The Home Depot's DIY in-store rental operation is without a serious rival in North America, although it will soon face more competition from rival DIY chain Lowe's, which recently announced that it will pursue its own tool rental programme.
Lowe's move will not be its first foray into rental: for more than 15 years it has leased space at some of its stores for rental operations run by Sunbelt Rentals (which were taken on from NationsRent following its acquisition in 2006 by Sunbelt's parent, Ashtead Group).
In Europe, it is a long-established rental model, with many builders' merchants and DIY chains providing rental services run by the chains themselves or outsourced to a rental specialist.
The UK, with its mature rental culture, has several examples of builders' merchants, such as Jewson and Travis Perkins, who offer tool hire operations at most of their stories, and run in-house. These are serious rental businesses, with annual revenues up to €100 million in Jewsons' case.
In mainland Europe, the outsourcing model is more prevalent. For example, Kiloutou in France offers in-store rentals at the builders' merchants chain La Plateforme du Bâtiment. The undisputed leader here, though, is Boels Rental in the Netherlands, which, alongside its 430 stand-alone locations (not counting recently acquired Cramo) runs in-store rentals at many hundreds of DIY locations through partners including Hornbach (Germany, the Netherlands and Austria), Praxis (the Netherlands) and Brico (Belgium and Luxembourg).
None, however, have the scale of Home Depot's too rental business.
Growth through the pandemic
While the rental sector worldwide has suffered during the Covid-19 pandemic – with second quarter revenue falls typically in the 15% to 20% range – The Home Depot saw second quarter sales increase by a remarkable 23.4% as its consumers invested more in home improvements during lockdowns.
The retail giant does not split out sales for its tool rental operation, but the company reported healthy growth in revenues from both its professional and homeowner customers, although led by homeowners. It is the professionals who are among the biggest users of its rental services.
Net profits for the quarter rose to $4.3 billion on sales of $38.1 billion, despite having to make additional Covid-related payments and benefits to staff of $480 million during the period.
Speaking in mid-August at a conference call for financial analysts, Bill Lennie, Home Depot's Executive Vice President, outside sales and service, said, "We did see good Pro [Professional] sales growth across all cohorts, all end markets and all geographies. There was notable strength with the low-spend Pro.
"They were less impacted with the downturn in Q1 but continued to rebound and accelerate in Q2. The high-spend Pro also continued to rebound, and I would see that as being an outcome of permitting and job inspections coming back online. There are areas where homeowners are becoming more comfortable with having Pros and service providers in their homes."
The growth was achieved despite a 25% reduction in store opening hours during the peak of the lockdown.
NEWSLETTER
Delivered directly to your inbox, International Rental Newsletter features the pick of the breaking news stories, product launches, show reports and more from KHL's world-class editorial team.
CONNECT WITH THE TEAM
CONNECT WITH SOCIAL MEDIA