Equippo chases unicorn status
By Lucy Barnard19 April 2022
Michael Rohmeder, co-founder and CEO of used equipment portal start-up Equippo is hoping that the company's latest funding round will help it achieve 'unicorn' status. Lucy Barnard finds out how.
Every time Michael Rohmeder gives an interview, his used construction equipment online marketplace Equippo is compared with another tech start-up.
In Colombia, La Republica called it "the Uber of machinery," in Germany, Business Insider dubbed it "Zalando for excavators." And in Switzerland, Zurich-based daily newspaper Tag Anzeiger, described the business as "eBay for construction machinery."
Equippo.com allows customers to buy inspected used heavy equipment, from bulldozers to forklift trucks, and then get them transported directly from jobsite to jobsite with upfront shipping costs calculated before purchase.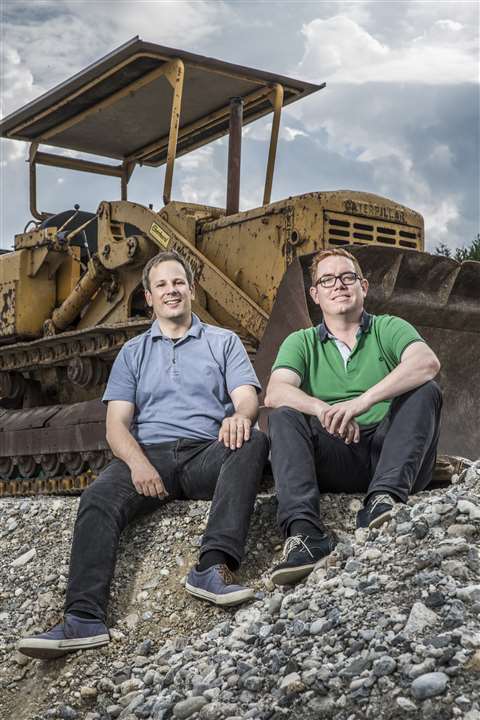 For Rohmeder, who co-founded Equippo in 2014 with technology whizz Philipp Knobel, the comparisons also fuel a long-held ambition to take his business from start-up to a US$1bn valuation, achieving a so-called 'unicorn' status.
According to business analytics platform CB Insights, as of March 2022, there are only around 1,000 unicorn companies in the world with only a handful based in the construction or construction tech space.
Now Rohmeder, a former account manager at Canadian headquartered heavy equipment auction specialist Ritchie Bros auctioneers, is introducing real time tracking of fleet value and carbon emissions information for fleet owners as part of ambitious expansion plans.
Certainly, if Equippo's investors are anything to go by, then expectations are high. Among its backers, the company can count Credit Suisse and McKinsey as well as Swiss venture capitalist firm btov Partners and entrepreneur Daniel Gutenberg, an early investor in Facebook and Airbnb, who can count at least 12 unicorns among his portfolio.
"Gutenberg is known as the unicorn hunter because he seed-invested in at least 12 unicorns to date and I plan to be one of his next – probably not his very next but I plan to be one of his next couple," Rohmeder says.
Over the past eight years Equippo has grown from a start-up to a major player in the used construction equipment market, facilitating thousands of sales each year from sellers mostly in its core five markets of France, Germany, Switzerland, the Netherlands and Belgium to buyers all across the world with clients as far afield as Colombia, Tanzania and Vietnam.
In 2019 the company started holding regular online auctions as part of what Rohmeder describes as "business model changes." And now, he says, the company is ready for major expansion.
Although Rohmeder says Equippo's accounts are "not set up" to measure profitability, he estimates that the core business is either profitable or "very close." However, he says the firm's high growth model means it is regularly investing substantial sums into new markets and new tech.
Wallenius Wilhelmsen leads latest fundraising round
In February the company closed its latest funding round, raising 'millions' of Euros from a cash raising led by Norwegian-Swedish logistics and shipping giant, Wallenius Wilhelmsen Group as well as VC firms Venture Incubator and btov Partners.
The fundraising round meant that Wallenius Wilhelmsen acquired a minority stake in the company, bringing the total number of Equippo shareholders to six – two founders, two VC investors and Japanese multinational Sumitomo Corporation which bought a stake in the company in an earlier fundraising round – all of whom own similar sized stakes.
Rohmeder says that Equippo already has a strong relationship with Wallenius Wilhelmsen's Abnormal Load Services (ALS) division in the Netherlands which it employs on a regular ad hoc basis to provide manpower helping with pickups and deliveries or replacing spare parts. And, in the long term, he hopes it will perhaps enable Equippo to replace spare parts and add value while the machine is in transit.
"When we look for investors, it's fairly easy to get money but it is not that easy to get smart money," Rohmeder says. "We don't just want an investor that is looking in a very short-sighted way at the return on investment because we are building something big. We are looking for investors that can help us get to that scale and that size quicker than just money.
"We're partnering with them because of the knowledge that they have about equipment logistics but secondly the long-term potential that we could use some of their infrastructure to build a product for buyers where we can add value to that equipment as it ships."
So, could the investment signal the first stage in a broader company buyout or merger? Rohmeder is quick to rule nothing out at this stage but insists that was not the intention behind the deal.
"I think it's great when you have multiple potential exit scenarios," he says carefully. "As a founder, I think the most obvious one is that we would take the company public one day. Another scenario could be that we sell to any kind of corporate buyer and it's great when you have multiple interested parties that trust you – but that's not really the reason that we let them invest. In fact, we wouldn't want to have anybody having a preferential route to buying us."
Equippo plans to spend the money it has raised in building its tech offering. The company is planning to roll out to customers two tech packages which it has already developed for in-house use which he claims will enable equipment owners to estimate the value of each piece of heavy equipment in their ownership and then, using an AI analysis of real-time market trends scraped from across the internet and an in-depth inspection app to assess condition, work out the best time to sell them.
Equippo's new tech offering
"Our key advantage over everybody else has to be our tech," Rohmeder says. "We are building a lot of value in our approach of how we evaluate and price our used equipment and this software which we have in production for our internal purposes will become the key content element of our new software where we make that technology available to rental companies and to construction companies."
It's a bold move in an increasingly competitive and growing marketplace. In 2020, Ritchie Bros acquired Los Angeles-based data specialist Rouse Services for $275m as part of a plan to provide inventory management solutions to customers. Northern Ireland-based Euro Auctions, which is currently in the process of being acquired by Ritchie Bros, is also planning to offer customers analytics data.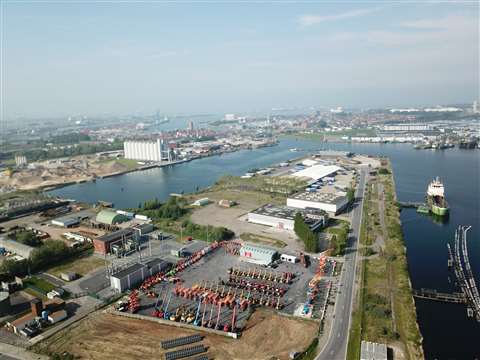 Rohmeder, who boasts about buying his first piece of heavy equipment at the age of 14, takes especial pride in the company's vehicle inspection app. It enables fleet owners to inspect and upload machine information in granular detail, using IOT information from sensors, engine error codes or rental return inspections to assess a machine's electronics, hydraulics and engine.
"Nearly everybody in the industry constantly makes the mistake of giving a price without knowing the condition," he says. "I have a 2008 JLG 260 boom lift what's it worth? There is no right answer without asking the question what's the condition? And that question needs to go into details. You need to really have a very good picture of the condition otherwise you will be wrong with your assessment of the value so that is our key strength."
Ultimately, he says, Equippo will provide fleet owners with a simple web-based fleet value cockpit that plugs into IOT data sources of fleet and then gives a real-time condition and configuration-based fleet value with trend information and then the right suggestion when to sell and when to hold. And, monetary value is not the only thing Equippo says it's cockpit will be able to assess. Rohmeder points out that it will also be able to assess carbon emissions, enabling fleet owners to easily see which machines are more polluting than others and how to offset emissions.
Rohmeder says that by providing reports, videos, videos and functionality tests to buyers before they commit to a purchase, Equippo is reducing the chances of having to go through with its high-profile money back guarantee where the company offers a full refunds and free returns on any machine with which the buyer is not completely satisfied during a five-day test period. Currently he says customers are invoking the guarantee in around 0.3% of the company's total annual sales.
Money-back guarantees 
"When it happens it is very costly, very painful," he says. "In most cases we're dealing with professionals, we're dealing with companies that know exactly what they want. And then if we do a good job describing the equipment in an honest way, it doesn't come back."
The second area in which Equippo plans to use its new cash is to fund an aggressive expansion in both France and Germany with the aim of becoming market leader and selling around 3,000-3,500 units each year in both.
"We want to be one of the big players in the worldwide used equipment market as a fast-growing start-up and tech driven marketplace," he says. "We have become a very substantial player that is larger than most trading companies but not in a market leadership position anywhere."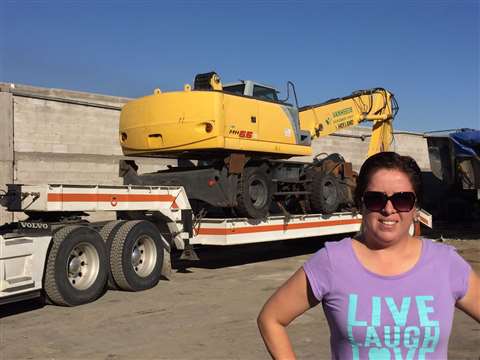 "We're telling our investors that we want to be market leader in Germany or France. At the moment, we are selling thousands of units a year, but that number is for the whole company not just in Germany or not just in France. So there is still a little bit of ground to cover. Then very shortly after that has been reached, we want to use that playbook for growth across other European markets and also venture into the US."
According to the company, between 80% and 90% of its business is international, meaning it crosses an international border. And, of that international business, between 30% and 50% counts as intercontinental with machines leaving Europe for elsewhere in the world.
"Every month is different," Rohmeder says breezily. "We gave up on predicting where something goes a while ago. Sometimes you just know – this is for Vietnam. But most of the time that's not how the market works. I think that just contributes to a very diverse international way of selling."
"The faraway buyers, they love us so much because we enabled them to buy something in a trustworthy way, so it's very hard for them to buy domestically without having bad experiences. So, they are just really happy with us."
But with war in Ukraine casting a shadow over global business, will there even be much demand for used construction equipment going forward?
Orders to Russia and Ukraine cancelled
Equippo was quick to cancel orders to Russia as soon as the invasion started and orders to Ukraine have been unable to get through so have been cancelled too. But Rohmeder says that the impact of the invasion on the entire market is likely to be much greater.
"I think the market has been massively changing since the invasion," he says. "What was a very clear low supply high demand type situation is currently unclear. We have data points that indicate that it might be massively changing. But then the question is where?"
"The worldwide market is 200 countries balancing themselves out. That's 200 little scales that are all inter-connected. There are many other countries that are close to Ukraine that are extremely worried about what will happen, even Germany and France. We used to see very strong demand from Eastern Europe but that has currently dried up. The question is whether that is now a permanent market change or not."
NEWSLETTER
Delivered directly to your inbox, International Rental Newsletter features the pick of the breaking news stories, product launches, show reports and more from KHL's world-class editorial team.
CONNECT WITH THE TEAM
CONNECT WITH SOCIAL MEDIA