'Substantial growth' planned for Hyundai
By Construction Europe11 July 2022
Hyundai Construction Equipment Europe (HCEE) is planning substantial growth, with a host of new and improved machines, a leading role in the move to a zero-carbon future and a doubling of sales over the next three years. Sales and Marketing Director Dr Hubertus Muenster talks Construction Europe through the plan.
Hyundai Construction Equipment (HCE) should be considered something of a sleeping giant in the European machinery market. The company's parent Hyundai Heavy Industries Group acquired a controlling interest in fellow South Korean manufacturer Doosan Infracore last year.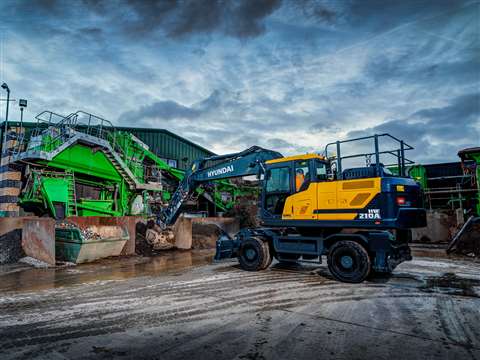 Though keeping the two companies separate, this will inevitably lead to some crossover in technology, along with synergies in new product development, manufacturing and procurement.
"We will extend the range, but not into all market sectors," said Dr Hubertus Muenster, Sales and Marketing Director of HCE's European equipment business.
"We want to give our dealers more equipment and opportunities to grow their share of the wallet with us and extend their offer. With our current portfolio, we cover 80% of the European equipment market at present, but we want to grow. We want to double our 2021 figures in terms of machine volumes over the next three years."
This will not simply be growth for the sake of it. He believes that the important thing is not simply to increase volume, but to gain market share. This will in part be driven by a growing awareness of the Hyundai brand in the marketplace.
"We need to let the brand shine. This brand is fantastic," said Dr Muenster. "In some markets, a certain percentage of our target group doesn't even know that we exist, yet we have dealers in Europe with market shares above 10%. The growth opportunity arising from that imbalance is huge."
The dealer network will be key to the company's future growth plans, and he is keen to maximise the potential of the firm's distribution network, both for HCEE and for the dealers themselves.
"We are not entirely happy with what we have in the dealer network. Some regions have a mature network, others have an incomplete or not fully focused network," said Dr Muenster. "Network development is one of our key objectives and represents another substantial growth opportunity for us."
Supporting growth of dealer networks
Hyundai Construction Equipment and Doosan Infracore will not share dealer locations. They will remain competitive, in much the same way that Hyundai and Kia, which is a Hyundai Motors brand, are competitors in the passenger car market.
"We want to let dealers know that they can have a much bigger business with Hyundai Construction Equipment. We are fully committed to our dealer businesses and we want to be much closer and more supportive to our dealers. We call it the Growing Closer Together initiative. But dealers have to focus and invest too," said Dr Muenster.
One step in this path to growth, has been establishing a key accounts business within HCE's European organisation. Whenever possible, business with key accounts will be channelled through the dealer network, to provide growth opportunities for its dealer network through those key account customers.
"We want to develop another revenue and profit stream with key accounts," said Dr Muenster.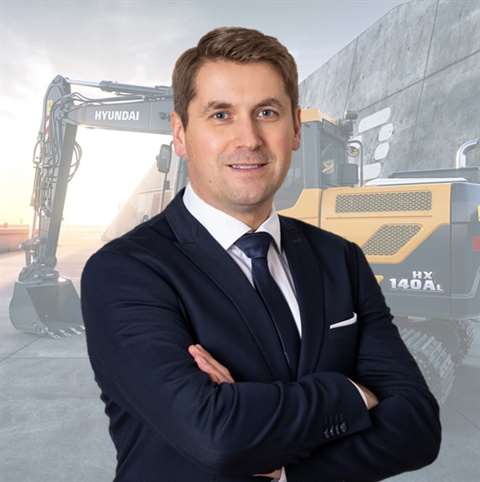 "In future, key accounts can represent as much as 30% of our machine sales. We have taken some time to learn and to analyse the specific needs of key account customers together with our dealers and we are now getting ready to hit the market with our activities."
Key account customers have recently been increasingly attracted to HCE's products through machinery like the firm's new A Series wheeled excavator range.
Available with operating weights from 6-tonnes through to 21-tonnes, the A Series wheeled excavators benefit from load sensing hydraulic systems in all bar the HW210A, much improved operator comfort and increased lifting capacity and stability, achieved through repositioning of the rotating turret.
"We now have one of the most comprehensive wheeled excavator ranges on the market," said Dr Muenster.
"We've touched on all aspects of the machines, but operator comfort is a key element in the wheeled excavator sector. These machines are giving us access to customers that we had previously struggled to get in touch with. That in turn is opening doors for us with other products. The wheeled excavator forecast for next year from dealers is tripling and more."
The impact of hydrogen on construction
This drive to improve product and routes to market is being supported by HCEE's parent company Hyundai Heavy Industries in South Korea. The construction equipment business is attracting increased support from the parent company, including a €150m investment in the Ulsan production facility, that produces much of the machinery sold in Europe.
HCE is investing heavily in new equipment and technologies for the future. Next to the launch of two articulated dump trucks at the Hillhead show in June and an update to its mini excavator range at Bauma in Munich, this will include a concept machine powered by a hydrogen fuel cell.
The wheeled excavator will demonstrate a possible path ahead to a zero-carbon future for construction machinery. More than that though, HCEE will demonstrate how, through partnerships with other Hyundai businesses, it will be able to support a hydrogen infrastructure in the future.
"Hydrogen will really impact construction, materials handling, even shipping," said Dr Muenster. "We believe that the fuel cell is the best route for heavy equipment and our partner Hyundai Mobis is developing that technology.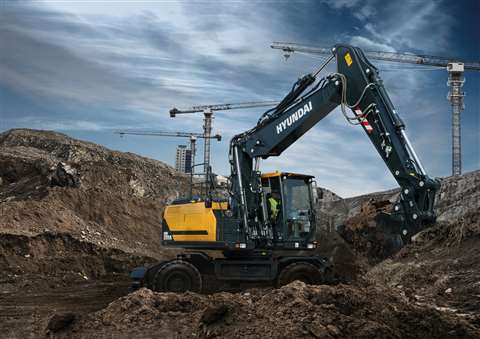 "We have ideas for setting up the infrastructure, in shipping and in renewable energy. We have our hands on all stages of the hydrogen chain. We will be a hydrogen-focused equipment supplier, offering the infrastructure too."
The company has also upgraded the activities of its customisation centre at its import location near Antwerp. Dealers will be able to request customer-specific options for semi-knocked down stock European equipment.
Many machines will be delivered without a specific boom, with the site fitting monobooms or two-piece articulating booms locally, to suit customer demand. Cab guards, Trimble weighing systems and machine guidance and control systems will also be added at the centre, along with Engcon tilt-rotators.
When will demand for machinery return?
Of course, Hyundai has not been able to escape the component delays and pandemic restrictions that have held back machine sales for many manufacturers over the last two years. Dr Muenster is confident though that the future is looking brighter.
"I think 2023, towards the end of the year, I would expect more normalisation of demand," he said. "The boom of the last 18 months and for the next six months is being driven by fleet renewal and this will be reflected in future market demand. While 2023 will still be a good year, by 2025 the market should have stabilised and levelled off.
"Many things are in place for us to take the next step in this journey, with new machines, new technologies and support from our parent company. For dealers and customers, we are one of the best options on the market today."
NEWSLETTER
Delivered directly to your inbox, International Rental Newsletter features the pick of the breaking news stories, product launches, show reports and more from KHL's world-class editorial team.
CONNECT WITH THE TEAM
CONNECT WITH SOCIAL MEDIA